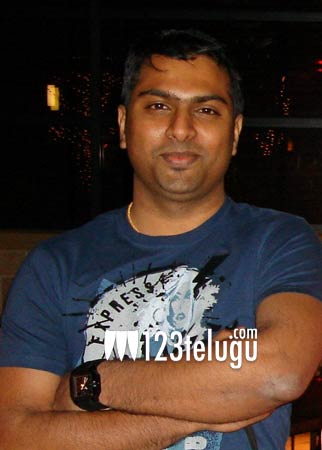 Arun Rudra is the director of the film 'My Heart is Beating ..Adola', which is releasing today. The movie is a soft romantic love story set in the USA and Arun directed the movie along with Kiran Meegada. Arun is a working professional with an infectious passion for movies. This is the transcript of his exclusive interview.
Q) Tell us about yourself
A) I joined the IT industry after my MS in USA. My mother is a story writer and member of writers association and we used to discuss stories now and then. I was very passionate about films rights since my +2 days. When I was doing my MS, I started story writing. I attended New York Film Academy and spent a lot of time learning film making, visual storytelling, camera fundamentals, scene composition and screenplay. I did courses in film directing and have a good understanding on cinema.
Q) What can you tell us about your movie 'My Heart is Beating'?
A) My Heart is Beating is a sweet love story with a good moral. Even though it has a US backdrop, it has something for people in India as well. It is romantic comedy with 6 lovely songs shot in the locales of New York, New Jersey and Pennsylvania. It has elements like love, hatred and respect for family traditions built into the story line.
Q) How did this project happen?
A) I worked on this script for 2 and half years and in 2009, with a lot of courage, I initiated the project with a small group but couldn't execute it successfully. I met Kiran Meegada through one of our common friend. Soon, we discovered that we shared a similar wavelength and the first conversation lasted for an hour. We were introduced to our lucky producer Raj Shekar Kandukuri, who is an award winner, in July 2011. We had a full bound script in hand and Mr. Raj was impressed with the story . He gave the green signal. and we completed the shoot at a record pace of 42 days
Q) Was it hard to shoot a movie with two directors at the helm?
A) Not at all. As I said, we quickly got connected and we used to spend hours together discussing film making. We had differences of opinion but used to conclude on the best solution keeping time and money in mind, which matters a lot. I am very happy that I met Kiran.
Q) This is your first project as a director. Did you find it tough to shoot a movie with no experience?
A) If there is a perfect plan in place then all you need are the execution skills. I believe in meticulous preparation. I spent a lot of time in pre-production we had various versions of the script,as I was trying to make it better with every version. We had our producer's support at all times. Murali Pallikonda, who handled camera, was very cooperative and from our direction department – Ravi Kothapalli, Kapileshwar Punna did a commendable job.
Q) How did you pick your lead cast?
A) We were looking for fresh faces and preferably telugu speaking people living in the US. We had our own concerns on immigration issues to bring actors from India, so we started a talent hunt in the Indian community in USA via Facebook and conducted auditions. We picked Revanth and Rajitha as lead cast. RajniKanth, Srayu, Srini Kolla, Ashwin Nalla and Phani play pivotal roles in this film.
Q) Are there any established artistes in the movie?
A)  No. We did not want to go for established ones because we thought we might miss the fresh feel. We had some concerns on our decision but after some initial auditions, we got a lot of confidence looking at the performance potential of the participants. Believe me there is lot of talent in the Indian community here in US.
Q) How is the feedback over the film's audio album?
A) Very good. The songs are an instant hit. They are among the chart busters on Raaga. Micheal Makhal gave fresh tunes and he has done an exceptional job. I am sure he has the potential of becoming a successful music director. We canned the songs in beautiful location of New York, New Jersy and Atlanta. Our Choreographer Siva Turalapti has done a wonderful job and his brilliance elevated the songs visually.
Q) You are a debut director. How did you find a producer?
A) For a team to work, relationship between the team members matters. We put in our best effort to reach out to people and in the process, were introduced to Mr. Raj through one of Kiran's contacts. He is a dynamic person and we connected instantly. We briefly put forth our execution plan. He believed in us and respected our decisions. He was there all the time supporting us and today he took this film to a different level. We are lucky to get a producer like Mr. Raj.
Q) Any message you would like to convey?
A) First, I would like to thank 123telugu for arranging this interview. I truly thank the whole production team who were behind this project and for their support. I would like to also thank my parents, siblings and especially my wife who supported me and respected my decisions. We have put our honest and sincere efforts to bring out a good cinema to the Telugu people. I request everyone to please watch it and I assure you that you won't be disappointed.
Let us wish Arun the very best for his flick 'My Heart is Beating..Adola'.
Interviewed by
Mahesh K.S.
Articles that might interest you:
Ad : Teluguruchi - Learn.. Cook.. Enjoy the Tasty food