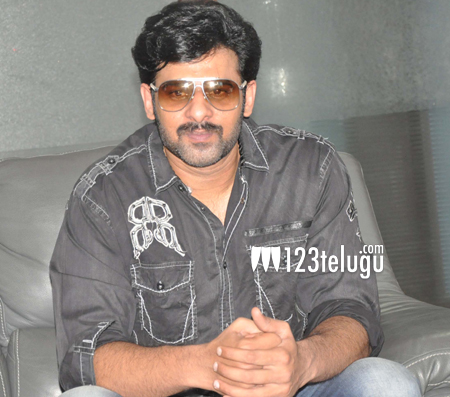 Young Rebel star Prabhas, who made an impressive debut with 'Eeshwar' in 2002, is one of the top league actors of the current generation in Tollywood. Varsham, Chatrapathi, Darling, Mr.Perfect, Mirchi etc. are some of his hit movies. His latest film,Bahubali, for which he spent more than two and half years , is getting ready for a massive release worldwide on the 10th of July. We caught up with him for a brief interview. Let's see what he has to say.
Q) Which crucial point in the story line interested you to sign this epic fantasy directed by SS Rajamouli ?
A) Starring in a period drama is a big dream for any actor. A massive war episode, spectacular visual effects and many surprise elements in this movie interested me and I wanted to fulfill my dream by acting in this epic fantasy. So, I signed this movie and devoted a lot time. This is a once in a lifetime opportunity.
Q) Didn't you think it is a risk for your career to allot unreasonable time for this film ?
A) I never thought that i took a risk by signing this project. After listening to the story, it occurred to my mind that this is going to be humongous project. Taking into consideration various factors like Rajamouli's vision, Sabu Cyril's art work and producer's business logistics, I felt that a lot of time was needed to bring the best for the audience. So, none of unit members felt that it was a risk to allot such a long time for this magnum opus.
Q) The story of this movie seems to be a regular one.Is this movie a fantasy just with the regular plot or anything more than that ?
A) Bahubali is a classic laced with commercial elements. Moreover, this movie is not a predictable drama. Apart from the lead roles,there are many strong and emotional characters which will connect well with people in real life. Also, there is a point on caste-system in this movie. This point will be elaborated in second part.
Q) How different can the two characters Bahubali and Shivudu be ?
A) The most common thing in both the characters is that they are very strong. Amrendra Bahubali is a prince who is a great warrior with good qualities. Whereas Shivudu is a carefree person who grows up in a different ambiance. Both characters have different attitude.
Q) Which character did you like the most. Shivudu or Baahubali ?
A) I might have played a similar character of Shivudu in my previous movies but I loved Bahubali character very much. I should appear sturdy for this character and so I put on huge weight and built muscle for this character. This character will go well with the audience.
Q) Tell us about Rana's character in this film ?
A) Rajamouli has a good knack of showcasing villain's role in a superb way. Rana played the powerful role of Bhalaldeva, who is masculine and ferocious in his approach. I need to thank Rana for doing this role and no one else is apt for this character.
Q) Tell us briefly about the female characters in this movie?
A) All the lady characters are powerful and you will experience the power of woman through this movie. Ramya Krishna as Shivagami appeared in a strong and powerful character. Both Anushka and Tamannah also did a superb job in their roles. The stunning looks of Tamannah and her feats will impress audience big time.
Q) Won't the grand visuals in this movie overshadow the crucial characters and the story in this movie ?
A) From the first day, Rajamouli was very confident on the story and added the grand visuals as required without eliminating any crucial points in the story line. Every character in this movie has an emotional touch which will connect well with the audience. The movie will be high on the trademark elements which you will find in every Rajamouli film.
Q) What difference did u notice in Rajamouli in the gap of ten years after you worked with him for Chatrapathi ?
A) Rajamouli improves a lot for each of his movies. He is a dedicated filmmaker who gives his cent percent in every segment of his films. He took a lot of care in the visual effects of this movie. He had a lot of clarity on each and every scene in the story and extracted the best out of everything.
Q) You took a long gap while your success graph is improving. Don't you think it will disappoint your fans?
A) I know that fans are disappointed due to this long gap. As this is the biggest motion picture on Indian screen, I don't mind taking such a huge gap in my career. I am pretty confident that fans will forget the gap after the release of this movie.
Q) Tell us about the most memorable and also the sad moment in this journey ?
A) There are many joyful moments in this journey while shooting and the saddest moment is getting confined to bed for three months due to a surgery to my shoulder.
Q) Have you encountered stress and strain for any particular sequence in this film?
A) I was under a lot of stress while shooting for the war episodes and action scenes in this movie. I also performed lot of stunts in this film.
Q) Are you planning to act in a new movie before shooting for Bahubali part 2 ?
A) No, I am currently taking a gap and will commence shooting for Baahubali part 2 from September. I will start a new project after the completion of part 2.
Interviewed by Raghava
CLICK HERE FOR TELUGU INTERVIEW
Articles that might interest you
Ad : Teluguruchi - Learn.. Cook.. Enjoy the Tasty food