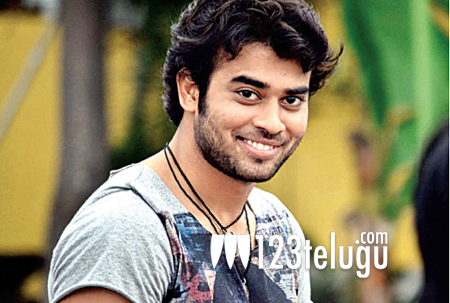 Continuing with the series of exclusive interviews with the cast of Vennela 1 1/2, today we bring you the films lead actor Chaitanya Krishna. With a surprising new look for his next movie, Chaitanya spoke to us at length about Vennela 1 1/2 and his future in Tollywood. Here is the transcript of my exclusive interview with this budding actor.
1. What's with the whole new get up?
Ans: Laughs ! It's actually for my next movie.
2. Now that your film's release is near, are you nervous or excited?
Ans: Not at all, I am very confident about this movie. I know we have made a honest and simple film, which would be liked by all. I always feel that hard work always pays and so will the film.
3. Tell us something about your film journey?.
Ans: As you already know i have done a few films till now. In fact i need to thank Mr Shyam Prasad Reddy for giving me a break. I made my television debut with Shyam Sir's famous television show Dhee. He was the one who noticed my talent and asked me to participate in the show. I got good recognition from that show, and my dancing skills in particular were highly appreciated. In fact I can say that I owe everything to Shyam Garu.
4. Tell us something about your character in Vennela 1/2
Ans: I play a love guru in this movie. My character in designed in such a way, that young boys and girls come up to me for breaking up with their lovers. That's why the name Love Guru. It's a very interesting character and i had a lot of fun playing it.
5. You seem to impress with your dances, did u get trained for that or it just comes to you naturally ?
Ans: Thanks for the compliment. I have trained hard for getting my dancing skills right. I always had a passion for dancing and also got some formal training. One song in Vennela 1 1/2 has some really cool dance moves, and I think I would impress you all with my skills.
6. How was it working with Vennela Kishore ?
Ans: Oh ! it was lot of fun. I never felt that i was shooting for a film. We had so much fun on the sets. Kishore is a very talented director and improvises so much on the sets. He is exactly the same to that of his screen image, funny and witty.
7. How was it working with Monal Gajjar ?
Ans: She was wonderful to work with. I am so happy for her film Sudigaadu's huge success. She is completely a director's actor and has given a rocking performance in the film.
8. Do you have anything to say about the film's 'A' certificate.
Ans: To some extent even i agree that there are some double meaning jokes in the film, but you would thoroughly enjoy them while watching it on big screen. Everything is related to the script.
9. What do you think will be the output of Vennela 1 1/2 ?
Ans: This movie has different sensibilities. The comedy quotient is very unique and once you connect with it, you will have a blast. I am very positive and confident that the film will do really well.
10. What do you think are major highlights of the movie?
Ans: I can't exactly pinpoint one. The film on the whole will be unique. We have made a simple film with lots of humor. Master Bharat's performance will stand out in this movie. There are so many hilarious moments in the film and you need to watch Vennala 1 1/2 to know what i am talking about.
11. Your Future projects?
Ans: I am actually working in a film called Kaali Charan. This is a unique and  hard hitting subject based in the 80's. I am working really hard on this project and feel that it would be my breakthrough role in Tollywood. Let's hope for the best.
With that note we came to the end of our interview, as Chaitanya rushed to his other promotional commitments. So lets hope that Vennala 1 1/2 gives this budding and sincere actor a big break in Tollywood. keep watching this space for more updates on Vennela 1 1/2, and its complete movie review.
Interviewed by Avad M
Click Here For Interview in Telugu
Articles that might interest you:
Ad : Teluguruchi - Learn.. Cook.. Enjoy the Tasty food