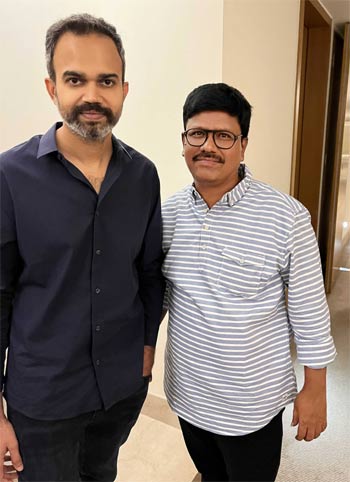 A film poster is the one which creates a lasting impression on the audience. There are a few films whose first looks have created a sensation of sorts. But one does not know who is behind these poster designs. Today, we bring you an exclusive interview of Dhani Aelay,
who has been designing posters and first looks of films from the last 25 years. He has worked on films like Badri, Pokiri, Akhanda and now KGF2. Let's see what he has to say.
How did you start your career?
I started my career as a lettering artist way back in the 90's. I worked for Eenadu and used to draw titles and headlines for papers. Then as the technology grew, I learned photoshop and slowly ventured into designing.
Tell us about your first break in the industry?
I got my first break in the industry with Krishna Vamsi's Sindhooram. I designed all the posters of the film which got noticed well. From there, slowly my talent was recognised and I have worked on close to 400 films to date.
How do you design the first look/poster of a film?
The director gives me basic ideas and tells me about the theme of the film. I also get exclusive stills of the film and from there, I make rough drafts and create multiple designs of a poster and showcase it to the makers. Right from the logo design of the title to the font used, I design everything.
Tell us about some posters which earned you a good name?
If you remember, a poster of Pawan Kalyan in Badri where he is pulling the zip of his pants. That poster was designed by me and it was a sensation those days. Puri sir showed faith in me and gave Pokiri. The iconic poster where Mahesh is seen in a running pose was designed by me as well.
Any special posters which brought you a good name recently?
I designed the posters of Balakrishna's Akhanda. They won me very good applause and has brought me good offers as well. There is an intensity in all the posters and I feel the posters themselves created a solid vibe for the film with the logo and font used.
Which of the posters got you good appreciation from the stars?
Ram Charan appreciated me a lot for the poster designs of Chirutha. The same way, Pawan Kalyan and Mahesh Babu sir specially called me and appreciated my work for their films.
Tell us about your biggest project KGF 2?
All the credit should go to the director Prashanth Neel. He was the one who was keen on having me on board. I have worked so hard on the poster designs of KGF 2. I can say that getting an approval from Neel sir was quite tough. He is the one who has strong knowledge in every aspect of filmmaking and rejected several designs before okaying a few.
How many days does it take to design a poster?
I like the work that challenges me. When designing, I don't think it is a small film or big film. For me, every film is the same. Generally, after taking the inputs from the director, it takes 10 days to design a poster or a first look. When creating designs, I put myself like any common man on the street, who in his busy life manages to get attracted to film posters.
Not many know about you irrespective of such an experience?
Yes, the directors and makers do not speak about us much. It is us and the work we do through the first look which creates an effect on the audience. But sadly, we are nowhere seen in the picture. I feel that the makers should speak about technicians like us who work in the background.
Posters are hardly seen these days. How do you feel?
Things have really changed for good. As it is the digital age, the exposure is more. If 100 people look at my poster, now thanks to social media, lakhs of people see our work and we get the feedback right away. So poster designing and creating a first look for us has become even more challenging.
What's your goal?
I have been in this field for 25 years and now, I want to go to Pan-India. I want to do big hero projects in Hindi and other languages and not limit myself as an artist.
Future projects?
As of now, I am working on Hindi Chatrapati, Ram's Warrior, Bichagadu 2 and many more Telugu films. But I am waiting for the response of KGF 2 which will bring me a good name all over.
Articles that might interest you:
Ad : Teluguruchi - Learn.. Cook.. Enjoy the Tasty food