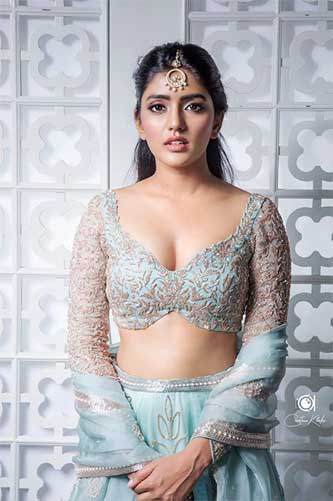 The Coronavirus has kept all the stars indoors as all the shoots have been halted. So, we have started a series of lockdown interviews where we talk to a few stars about these difficult times. First on the list is the beautiful Eesha Rebba. In an exclusive phone interview, she opens up the lockdown and her career. Let's see what she has to say.
Firstly, what is your whole reaction to this deadly virus?
Initially, when it started in China, I did not pay much heed to it. But now that it has spread worldwide, I am quite shocked by its effect. The best we can do is to stay indoors and help the government in dealing with the disease.
How are you dealing with the lockdown situation?
I am only going out if it is quite necessary. Generally, I am very busy all the time. But this lockdown has given me a lot of time to unwind. Apart from binge-watching various shows and working out, I have started learning to cook and am trying recipes every single day.
What are you binge-watching these days?
I have been watching a lot of shows on Netflix. I just loved Money Heist and felt that the show had rocking performances. Apart from that, I am watching all the films which I missed out recently.
If not for the lockdown what movies of yours were lined up?
I am making my Tamil debut this year with the film Aayiram Jenmangal. We promoted the film in a big way but sadly this lockdown happened. The film has come out quite well and I am sure that it will give me a new lease of life in the Tamil industry.
Looks like you are also making your Kannada debut this year?
Yes, my film with Shiv Raj Kumar has been announced and I am looking forward to it. I have also two good offers from Bollywood and once the lockdown gets over, I will announce them. My first OTT show that is a remake of Lust Stories will be out soon. Then, I have signed two other films in Telugu which will be announced soon.
So much is being said about your bold role in Lust Stories remake?
The script is bold but there is no skin show in the series. The stories are quite hard-hitting but there is a beautiful theme for each of them. My part is directed by Sankalp Reddy and I had a great time working with him. There are bold scenes but they are no sleazy.
You are a Telugu girl and have a good image. Such bold roles will bring a lot of trolling?
Trolling is a part and parcel of an actor's life. I feel that the minds of people have changed a lot. Telugu cinema is itself changing a lot. Content-based films and commercial movies have struck a fine balance and I feel such bold stuff will also be welcomed with open arms.
How do you react to link-ups and the trolls that come for your glam Insta images?
Frankly speaking, I read all the comments. I feel very happy about the compliments and ignore the bad comments. I don't take things to heart. I have become immune to such nasty comments. But touchwood, I get good feedback for my posts.
You have been in the industry for seven years. How do you look at your career?
Touchwood, things are going very good these days, Initially, I had to struggle with the Telugu girl tag but things are changing and I am getting good work. The next year will be crucial and my career will surely take off in a big way. I feel that for a local Telugu coming up till here is itself a big thing.
What kind of offers are you getting these days?
Post the Lust Stories series, I have been offered a lot of OTT shows. But I have been rejecting them a lot as I did not like the scripts. In Telugu too, good women-centric films are being offered which is a very good thing as I can showcase my acting skills as well.
Is there any heroine that inspires you?
Yes, I love Nayanthara a lot. She does all kinds of roles and keeps away from the media and other Hungama. I want to be like that. Our work should only speak and nothing else.
Your message to the people during this lockdown?
One needs to stay home and obey the orders of the government. Wash your hands regularly and spend time with your loved ones. I have seen panic shopping happening a lot and one needs to stop that as of now. If we are at home safe, others will automatically be safe.
With that, we ended our interview with Eesha and wished her the best of luck. Keep watching this space for more such interviews.
Interviewed by Avad