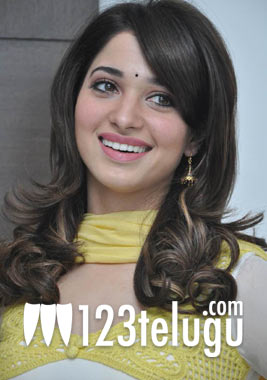 Tamanna is one heroine who has made up to the success ladder with her sheer dedication and hard work. She will be seen in this weeks release Endukante Premanta opposite the highly energetic hero Ram. Directed by Karunakaran this movie has generated lot of positive buzz in the movie circles for its music and dances. We caught up with lead actress Tamanna for an exclusive interview. Here is the transcript of the interview folks.
1. Are you feeling nervous about tomorrow's release Endukante Premanta?
Ans: – Not at all, I am actually feeling very relaxed and confident about tomorrow. With every film that I do I feel a sense of nervousness, but with this film it is not like that. I am pretty confident that we have made a good movie and the audience will surely like it.
2. Is Endukante Premanta you most satisfying role?
Ans: Yes it is a very challenging role I have done till date. It is about an Indian girl who is based in Paris, so I had to be very sure that I get the western look in my behavior, body language and in my appearance.
3. Looking Beautiful in Karunakaran's Visuals. Director inputs or any special care form your end.
Ans: Since my character is based in Paris, we got a chance to try something new and very western. Nishika Lulla who has been styling for all my films, has done clothes for this movie too. You can see me in dresses which I have never worn before. So much care has been taken in terms of color combination and styling.
4. How was working with Ram?
Ans: Oh! He is always a live wire on the sets. He is full of energy and always has some ideas about the scene or the whole movie. For his age, Ram is very knowledgeable and passionate about movies. Since I already did a small cameo with him in Ready, I always wanted to a full fledged film with him. It was great working with a star like Ram and we both look fabulous on screen.
5. Director Karunakaran is always good at making love stories, how was it working with him?
Ans: I had so much fun working with him. I have never seen such a humble and down to earth director in my career. After completion of every scene he goes to each and every actor and congratulates them for the scene. He is very clear about what he wants. He has projected me in a completely new way form my other movies.
6. You have said that Mughal E Azam and DDLJ are your favorite movies many times. Any specific reason?
Ans: Yes they are my all time favorites and I don't even know how many times I have ended up watching DDLJ.
7. What do u like about Hyderabad?
Ans: I have been continuously traveling all over India because of my profession and I personally feel that Hyderabad is the cleanest city I have ever visited. This city always gives me positive vibes. I don't hang out much, but when ever I am in city I like visiting the GVK Mall.
8. Are you a Foodie? Cuisines that interest you?
Ans: I am no that great of a food person but like the Hyderabadi Biryani very much. I like how every restaurant in Hyderabad has a different taste of Biryani. I am especially fond the Chapala Pulusu very much.
9. How are you with money? Spender, Saver??
Ans: I am not that much of a spendthrift person and I always mange my money nicely. I just buy what is necessary and do not go for expensive stuff.
10. Glamorous roles or DE-glamorized, intense roles? Which one is Tamanna's preference?
Ans: It's up to the directors who want to cast me in these kinds of roles. I have done both kinds of roles in my films. If I get a good script which requires me to go de-glam I would surely do it, like I did in Oosaravelli where I have a de-glamorized role in the second half.
11. You are a very good speaker of Telugu. How did you pick it up? And any plans to dub?
Ans: I always feel I am from here, so obviously the language also comes with ease. I always made sure that I interact with all my assistants in Telugu just to pick the language. Touch wood I have been speaking good Telugu off late, and will surely some day dub by my own.
12. Friends from the industry and fav actors / actresses?
Ans: See I don't believe in competition and have always had a good relation with all my costars and other actresses. What has to come my way will surely come. I am in regular touch with Shruthi, Ileana and Kajal as we have a lot of common things to talk about.
13. The most satisfying moment of your career so far?
Ans: Not moment but satisfying role of my career would surely be Maha Lakshmi form 100 % Love. That role gave me a superb chance to do so much as an actress.
14. Future Projects:
Ans: I am doing Rebel with Prabhas which is almost complete, and also doing Cameraman Ganga tho Rambabu with Pawan Kalyan. I have also just signed a Hindi movie tilted Himmatwala with Ajay Devgan.
15. Finally tell us what is the USP of Endukante Premanta? And why we should watch it?
Ans: – If you look at the last few months, only commercial films have released. So our movie is quite different from that format and has a fresh and interesting subject which the audience will surely love. The screenplay of the movie is very gripping and there is suspense element also in the movie. This movie has all the commercial factors going as well as a different theme running in the movie.
16. Any message for 123telugu Viewers?
Ans: Please watch all my movies and always keep loving me.

Avad M.
Articles that might interest you:
Ad : Teluguruchi - Learn.. Cook.. Enjoy the Tasty food