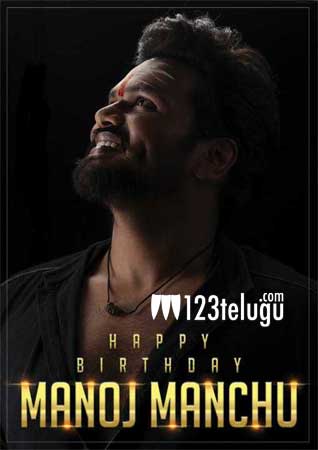 Today is quite special as we bring you an exclusive interview with none other than the super talented star hero Manchu Manoj. He is celebrating his birthday today and in a heartful conversation, Manoj talks about Aham Brahmasmi, dream projects, helping others during the lockdown, and how he fought through personal problems. Here is the transcript.
What have you been doing during this lockdown?
The farmers and migrant workers are the most affected due to the lockdown. I have been taking care of the migrant workers myself by sending food packets in the surrounding areas. Also, in the days to come, I have made full plans to send these workers back to their native places by hiring several buses. All the expenditure until their journey is complete will be borne by me.
So, what are your birthday plans?
I am in no mood to celebrate my birthday. When the world is going through such a crisis, how can I celebrate? I have also asked my fans to help others rather than wasting money on unnecessary activities.
What do you make of the whole lockdown situation?
Lockdown has come at the right time and proved that even money cannot save lives. All those who are power, money, and position hungry have become one and the same along with the poor during this time. It is a big lesson for us to value things in life. I feel that this year is gone away from us and one needs to plan things accordingly for the next year.
You bravely announced your separation. Was this planned?
There was nothing to hide. I am a very honest person and whatever I do comes from my heart. That is the reason, I put things out there for everyone to know. Everything was done in a very respectable manner. I feel that everyone has their own set of issues and one needs to fight it out on their own.
How did you get through the bad phase?
I gave time to myself, went on long trips, did trekking, and became quite religious and found solace in my lord Shiva. Then, there was my entire family, friends, and fans who kept me going. One fine day, things became normal by itself and the first thing that came to my mind was to get back on the sets.
Media wrote that you went into depression because of your flops?
I never bothered what the media wrote about me. Common man, I am someone who is born and brought up in the industry. "Oka Naalugu flops Vaste Evadanna Depression Loki Veltaada". I used to laugh at such rumors and was very confident about my capabilities and waited for the right time to make a comeback.
Tell us more about Aham Brahmasmi?
The film has a crazy subject and will shock many. It is a high-level action film that is being made with the best of standards. For the first time, I am working with Peter Heins Master and we have planned a fight sequence worth 6 crores. Now, you can imagine what kind of an ambitious film it is. I am super thrilled about it and am getting myself ready for the physical stress.
Don't you think your previous films were way ahead of their times?
Yes, you are true. I always feel the same that some of my films like Prayaanam, Nenu Meeku Telusa, and Mr. Nookayya would have been solid hits if they would have come now. Times have changed and it is for our good only.
How are you planning your film career from now on?
From now on, it will only be one film at a time for me. As of now, my mind is fully occupied by Aham Brahmasmi and once this is done, I will think about other projects.
How do you see the whole OTT boom?
It is a very good sign. All the small producers have a great opportunity to sell their films. Previously, there was a problem with big films giving no chance to small films at the theaters. Now, small and content-based films are in safe hands because of this OTT platforms. In the future, I am game for this platform and if I feel the content I make needs OTT audience, I will plunge into it.
When are you going to enter politics?
Laughs! I am not interested in politics at all. Even when I went to my native place in Tirupathi, many thought I will join politics with a bang. There is nothing of such on my mind as I am only thinking about films and helping others in life.
Any Dream projects?
Yes, I have a solid dream project which is underway as of now. It is my biggest dream ever and once things click with it in Hyderabad, I will expand it in Tirupathi and other areas as well. I don't want to talk more and jinx it as of now. I myself will come up with an announcement next year.
Finally, a word for your fans and audience?
These are very serious times and I appeal to everyone not to be selfish and help each other. Take care of your family, friends, and even pets. A small help to the needy can change their life and that is my birthday wish this year.
With that, we ended our chat with Manchu Manoj and wished him a very happy birthday and best of luck for his films.
Interviewed by Avad
Articles that might interest you:
Ad : Teluguruchi - Learn.. Cook.. Enjoy the Tasty food