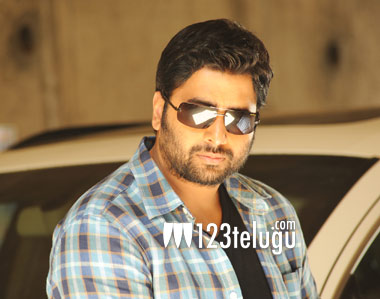 Talented hero Nara Rohit, made a successful entry with Banam. There after, he proved his mettle as a commercial actor in Solo. He is now back with a political entertainer in Pratinidhi. On the eve of the film's release, we caught up Rohit for an exclusive interview. Let's see what he has to say.
Q) How did this movie shape up?
A) Exactly one year back, Anand Ravi narrated me this script, which I liked immensely. Ravi himself suggested that my assistant director from Sankara, Prashanth Mandava should direct the film. Once this was finalized, we went ahead with the project.
Q) Tell us something about Pratinidhi ?
A) This film is based on a common man's struggle against the corrupt system. I play the title role in the film, who is the common man's representative.
Q) Weren't you apprehensive of working with a début director like Prashanth ?
A) Absolutely not !. From the day one, I was very confident, and the way Prashanth has carried out simple but key scenes is a big bonus for the film. His execution was spot on, and we are very confident about this flick.
Q) What according to you is the major USP of this film ?
A) Major highlight of the film will be the script and emotional dialogues. Every dialogue will make you think towards the society, and Sai Karthik's background score is superb and will elevate the film to another level.
Q) As the elections are near, will you promote or target any party through your film.
A) Though this is a political satire, none of the scenes will either encourage or question the ethics of any party. This is just a common man's fight against the corrupt system.
Q) Looks like you have gained weight for this character. Did you prepare for this role separately ?

A) Nothing like that. I had a minor accident during this film, and had gained weight as I was on medication.
Q) When everyone is doing commercial entertainers, why are your experimenting with films like this ?
A) I could not leave out a script like this. Every person would get connected with this film and by the way all my upcoming films will be hard core commercial flicks.
Q) How has your association with Nandamuri family been ?

A) The legendary NTR is a true inspiration for me. I have learnt so much from Balakrishna garu. His discipline, choice of films and acting are big learning aspects for a actor like me. Coming to the other young heroes of Nandamuri clan, I have very less interaction with them.
Q) What will be the future of TDP in the upcoming elections ?
A) The future of TDP looks promising in the upcoming elections. If Seemandhra people want to see real development in their state, they should elect Chandrababu and TDP into power. He is the only man who can bring about a change in the society.
Q) What do you have to say about the reports that you will be campaigning for TDP ?

A) I will be promoting my film on the 25,26 and 27th of this month. Once I am done with this, I will be campaigning for TDP. All the details will be revealed to you shortly.
Q) Why has this film's release delayed so much ?
A) As there was some minor problems with the financiers, there was a delay. But I treat this as a blessing in disguise, as this is the right to release my film.
Q) Do you have any dream roles in mind ?

A) I want to do the role of Duryoudhana. But films like these are rarely made.
Q) How do you see your career ten years down the line ?

A) I have not planned so far in life. But I will surely continue to entertain the audience with different films like Banam and Pratinidhi once in a while.
Q) What are your upcoming projects ?

A) Sankara is ready for release, and Rowdy fellow has completed 80% of the shoot. I have two more projects in the pipeline and you will see more of me in the coming future.
With this we wrapped the exclusive interview with Nara Rohit, and wished him the best of luck for his film.
Interviewed by Raghava
CLICK HERE FOR TELUGU INTERVIEW

Articles that might interest you
Ad : Teluguruchi - Learn.. Cook.. Enjoy the Tasty food