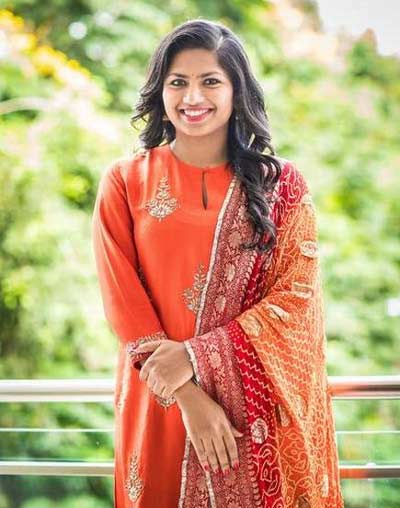 Neeraja Kona has been a top name in the industry when it comes to styling. She has worked for over 7 years now and has done many films and styled top stars in the south. In an exclusive interview with 123telugu, Neeraja talks about her career, working with stars like Vijay and Suriya, getting into writing, and making the big leap into film direction. Here's the transcript.
Has the lockdown changed you in any way?
Initially, I was very upset with the whole staying at home concept. But with time, I have come to find my own space and also understood the seriousness of the situation. The more you stay at home, the safer you are. I have found a new love for cooking and half of the time is gone for cooking and taking pictures of it.
Your Insta is filled with food pics. What's up with that?
I have always been a food freak and that is also the reason, I started a restaurant in Hyderabad which my friend manages now. Apart from this, I had put on a lot of weight and that was also an inspiration to make healthy food and now I am loving it completely. As I am a stylist, I spend a lot of time decorating it.
Your book is out. What made you get into writing?
Right from the time I was in the US, I used to write poetry and put it up on social media. That is how one publisher approached me and my new book Waves Sand and Magic came into the picture. The book is a collection of 101 poems and 101 pictures that I have taken over the years. So far the book is getting a superb response as we have already sold 4000 copies.
So, any chance of writing scripts for films?
Yes, I have plans. Very soon I will direct my debut film. As of now, I am approaching a few actors for my first film. It is a new age rom-com that I am super excited about. Also, I have five bounded scripts ready and will direct them in the years to come.
How are you managing so many things at a time?
I feel that one should have the urge to achieve things in life. I am a full-time mother and also handle my career with the utmost interest. There has never been a day where I felt tired or said I have a family and let's do things later. The urge in me to make it big or give my best for everything has put me where I am.
You have a solid political and film background but are very grounded. How is that possible?
Maybe I was brought up like that. Also, the people I met in the industry are good. I worked with stars like Nithin, Samantha, and Nani who are quite grounded and that is also the reason, I do not get into unnecessary Hungama. My friends ask me how come you manage all the stars so well. I tell them I will be myself at work and create a simple and friendly atmosphere.
You started your career in 2013. How do you look back at your career?
Touchwood, I am so happy about it. I came from the US with a degree in Fashion Marketing. I was trying to figure out what to do in life and that is when my cousin Kona Venkat was working for NTR's Baadshah. He suggested styling and since then, I am in this profession and have done 68 films so far. It has been a long journey and I have worked very hard and have been part of some path-breaking films so far. I have never taken things for granted and got to work as a school student.
What kind of respect does a female stylist get in Tollywood?
Things were a bit difficult initially but now stylists are getting good recognition. I have worked with stars like Vijay, Karthi, and Surya in Tamil and was also quite new to the Tamil industry. I had so many doubts as to how these stars would approve my styling. But they encouraged me and made my work quite smooth. In today's time styling has become quite important and a person like me is involved from the pre-production of the film itself.
How was it working with a star like Vijay and Suriya?
Both these stars are quite cool and have a lot of respect for women. They were quite open to my designs and allowed me to work freely. I still remember the first day I met Vijay sir, he knew about me and spoke so well. I was so flattered and this made my work so easy.
Tell us about your special bond with the newly married Nithin?
Nithin and I go a long time back. I started working with him from Gundejari Gallantayyinde. I used to hang out with him a lot and became good friends. It has been so many years and we are now very close friends and business partners as well. Now that he is married I feel so emotional and happy. In fact, he hid his relationship from all of us till the very end and shocked us with the announcement.
You created a trend with special looks for film promotions. Tell us about that?
I have always been fond of the Hindi fashion brigade and used to feel why are the big magazines and fashion channels not showcasing our Telugu stars. Then, I planned things in such a way that we made special looks for Samantha and Rakul Preet Singh. They clicked and our stars got started getting featured in several magazines. The trend thus started and now it is quite compulsory when it comes to promotions.
Samantha has upped her fashion game in the last few years. How much of you take credit in it?
Samantha and I have been quite close and yes, she has upped her game. She is one who is easy to handle and also had the same thought of putting south cinema on a pan-India pedestal. She allowed me to experiment with looks and I am so happy that she is a fashion icon now in India and many follow her
Among the new stars, who according to you is quite stylish?
Among the girls, I feel Rashmika and Pooja Hegde are quite fashionable. In boys, Vijay Devarakonda's fashion game is up there and I live the way he carries different styles well.
How do you keep yourself updated when it comes to fashion?
I am so much on Insta and follow social media a lot. Also, I love traveling alone and that is where I draw my inspiration from. There is a lot of competition around and I feel one should be updated to take on the world. There is so much work to do everywhere and when things come to you, you should give the best and impress everyone with your work.
With that, we ended our interview with Neeraja Kona and wished her the best of luck for her debut films and career.
Interviewed by Avad
Articles that might interest you:
Ad : Teluguruchi - Learn.. Cook.. Enjoy the Tasty food