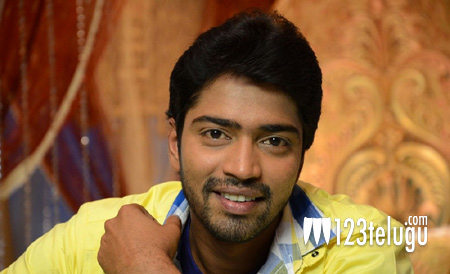 If there is a minimum guarantee hero in the Telugu Film Industry today, it is Comedy King Allari Naresh. The lanky young hero is loved by all sections of the audience for his fun entertainers. We caught up with Naresh for an exclusive interview today. He spoke to us on the sets of 'Action 3D' and the conversation was as enjoyable as his films. Read on to see what he had to say.
Q. You have attempted a socio-fantasy film for the first time. How was the experience?
A. (smiles) I am very happy with the reception the movie is getting at the Box Office. After the success of 'Sudigaadu', expectations will naturally be high. I am glad 'Yamudiki Mogudu' is doing well. As for the experience of working for a socio-fantasy film, its a completely different ball game.
Q. Did you find it tough to shoot for extensive green mat sequences? (green mats are used for shooting scenes that require graphics)
A. I wouldn't say tough, but I would say that you need a lot of patience. There are so many things that need to be take care of during green mat shots. You need to stay frozen after a shot is over, so that some technical measurements like camera height etc are noted. You also need a lot of imagination and visualization to get the shot right. It was a good learning experience. Since I am keenly interested in direction, I am very happy to have worked in this project.
Q. So direction is on your agenda?
A. In future, yes. I love direction and I am keen on realistic love stories like 7/G Brindavan Colony. Though I can act in comedy films, I cannot write comedy. I am better at writing love stories. I don't want to step on two boats at the same time. Acting is my priority now. About 5-6 years down the line, I will attempt direction.
Q. Would you direct yourself?
A. No. I will not direct myself. It will be a different hero.
Q. Many films have come out on Yamadharma Raja. What gave you the confidence to attempt one more film in this genre?
A. The concept of a guy falling in love with Yama's daughter seemed novel. Instead of the usual hero dying and going to Yamalokam, the approach in this movie is unique. Instead of the usual Yamalokam scenes that we have grown used to, this film shows the domestic life of Yama and his family pressures. So it is a fresh new approach to this subject.
Q. How was it to work with Ramya Krishna?
A. This is my third film with her. She still has the Box Office pull and you can see that from the super response to the 'Atto Attamma Kooturo' song.
Q. Shayaji Shinde is an unconventional choice for Yamadharma Raja. How was he chosen?
A. My films are basically comedy films where entertainment is the primary motive. Shayaji Shinde has a lot of experience playing Yamadharma Raja during his stage play days. With his typical diction and expressions, the required comedy quotient came perfectly from him. We have a Tom and Jerry relationship in the movie and to get that feel, Shayaji Shinde is the right guy.
Q. Chiranjeevi's hit song 'Atto Attamma Kooturo' has been remixed in the movie. Were you nervous about any comparisons ?
A. Obviously yes. But the song is perfect for the scenario where it is required in the film. The idea was actually given by music director Koti himself. Director Sattibabu was explaining the scene to Koti and he immediately suggested that a remake of 'Atto Attamma Kooturo' would be apt. We are happy that it worked out well.
Q. After a graphics based socio-fantasy movie, you are now working for a 3D movie. Is the experience helping here?
A. To a certain extent, yes. You have to be equally patient while shooting for a 3D film. For example, if you have to kick a coke bottle onto the camera for the 3D effect, you need to kick it to the exact pre-determined spot for the effect to work out. There are two different cameras that have to focus on a point and there is a lot of technical stuff that you need to get right for each and every shot.
Q. When will Action 3D hit the screens?
A. The movie will release as a summer entertainer. We are very excited about the film as it is the first comedy film to feature 3D and we are making it with very high technical values. Director Anil Sunkara is working very patiently and with great focus.
Q. What do you do in your free time?
A. I love watching movies. I watch a lot of movies whenever I get the time. I sometimes wish I were a movie reviewer as it would give me a chance to watch all films on Day 1 (laughs). I also watch cricket and play a game or two when possible.
Q. You seem to have a number of projects lined up….
A. Yes. I will have two releases for summer. One is Action 3D and the other is 'Kevvu Keka' . Summer is a lucky season for me and fortunately, I am having two releases this season. I have films lined up with Satti Babu, Srinivasa Reddy and others.There are some other projects in the pipeline.
With that, we ended our conversation with Allari Naresh and wished him the best for his future projects. He went back to the shoot of 'Action 3D', which was being filmed at the Gandharva Mahal set in Manikonda.
Interviewed by Mahesh S Koneru
Articles that might interest you:
Ad : Teluguruchi - Learn.. Cook.. Enjoy the Tasty food