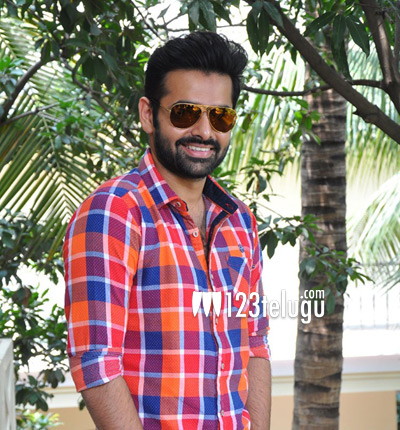 After a string of flops, Ram made a huge comeback with Nenu Shailaja. Continuing with the success, he has now come up with yet another interesting project Hyper. On the eve of its release, we caught up with Ram for an exclusive interview. Here is the transcript.
Aren't you bored of doing back to back commercial entertainers ?
Frankly, why does everyone look down upon commercial cinema. Majority of the audience love this genre and this is what has a good reach too. On the other hand, my last film Nenu Shailaja was a complete love story and this is completely different from it.
What is so unique about this film ?
The father and son relation has been narrated in a very entertaining manner and also, there is a very strong social message in the film.
You found success after a string of flops. How tough was that period ?
I need to clear one thing here. Even though my films bombed, I was personally not targeted and only my choices were. Whenever I did some different films like Yendukanta Premantha, Jagadam and Masala, many did not like it. Finally, I struck a balance with Nenu Shailaja and impressed everyone.
Everyone loves you in commercial entertainers. So, how difficult is to find new scripts ?
Yes ! it is quite difficult. In today's age, the tastes of the audience have changed drastically. What one likes, the other dislikes it completely. In such a case, I am being very careful and selecting what is best for me. Some times things work and sometimes they don't.
Didn't you feel pressure when you roped in Santosh Srinivas who gave a huge flop in Rabhasa ?
Who am I to decide someone's fate. It is only the script which excites me. Even I have given flops in the future and am no special. Same was the case when I worked with Kishore Tirumala. Everyone asked me to back out as Kishore did not give any hits that time. But things worked for me because of the script.
You seem to have a good chemistry with Raashi Khanna ?
Yes ! we have clicked well. She has a very good comedy touch in her performance and suited her role perfectly in Hyper.
Do you agree that with your talent you should have been a even bigger star ?
Frankly, I don't like lobbying for star status, roles and being in the news all the time. I have created my own path and my work will speak for itself. There will surely come a time where my films will get the needed recognition.
Have your previous experiences made you like this ?
Yes ! I saw huge success in the form of Devdas and Ready. Kids have specially flown in from the US just to meet me after watching Ready. At the same time, I have seen the worst too. I was confused initially but I have slowly realised what works for me.
Very less is known about you. Why ?
I am one of those who feel that your personal life should be kept only to you and not to the public. So whenever I have time, I travel the globe, spend time with myself and enjoy life.
If all the restrictions are removed, what kind of films will you choose ?
I would be a different actor altogether and pick some very character driven roles which will excite me as an actor.
Are you aware the competition around you ?
Yes ! it is a must these days. One should be very careful and see what others are doing and learn from them.
So, when is marriage happening ?
Seriously, I have no plans as of now. When things will happen, it will surely come out some how.
Finally, why should we watch Hyper ?
The narration itself is quite different and entertaining. Also, the film all the elements which are expected of my films.
Your upcoming projects ?
Have one in the pipeline. Will announce soon.
With that, we ended our conversation and wished Ram the best of luck for his future.
Interviewed by Avad
Articles that might interest you:
Ad : Teluguruchi - Learn.. Cook.. Enjoy the Tasty food