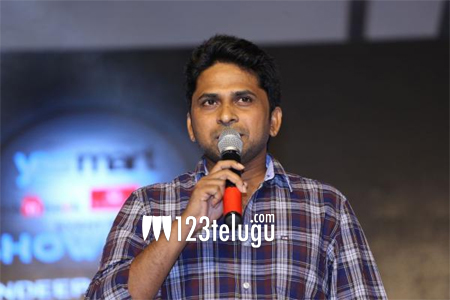 Shiva Nirvana is one of those rare directors who has given two solid hits in his career. His films Ninnu Kori and Majili have beautiful emotions and Shiva is now all set to shoot his new film Tuck Jagadish with Nani. On this occasion, we caught up with him for an exclusive interview where he speaks about his struggles and future projects. Here is the transcript.
What is the status of Tuck Jagdish?
The film is 25% complete. We were shooting for the film in full swing and all of a sudden the lockdown happened. Now, after a gap of six months, we will get back to shoot from the 5th of October and will wrap up the film by the end of this year. Once the shoot is done, we will plan the release date.
Tell us something about Tuck Jagadish?
The film will be completely different from my previous films and has Nani, Ritu Varma, and Aishwarya Rajesh in lead roles. The film will have comedy, mass elements and is a good mix of emotions coupled with commercial aspects. I am very confident about the film which has a unique set up.
Not many know about your background. Tell us about it?
I am from the small town of Sabbavaram and studied in Vizag itself. I did my MSC- BED and worked as a teacher for some years in the Bhashyam group of schools. My dad was the one who inspired me to read. From a very early age, my dad used to bring several storybooks and I loved reading them. From the day I entered my 9th class, I wanted to get into movies. But like in every family, my parents wanted me to complete my education first.
So, how did you get into movies?
As I told you, I was a teacher who was doing the typical 9 to 5 job. But after a while, I decided to quit my job and sat down my parents and requested them to allow me to pursue my dream. With a heavy heart, they allowed me and I came to Hyderabad. With each passing day, I tried all sorts of things to get into films and joined a production house as an assistant director. From that day, I worked as an AD for 13 years until my first film Ninnu Kori.
What took you so long to become a director?
For the first six or seven years, I never planned to turn one. My only aim was to learn the art and get better with it. During this time, I wrote several scripts and put them aside. Though money was coming in, the struggle was not that easy. I made short films, also planned a small budget film with a budget of just 50 lakhs. I borrowed money and tried hard but things did not work out. But I never lost hope and worked as an AD with Parasuram garu. Eventually, as I had good stories in my hand, I met Kona Venkat Garu and got access to Nani. The rest is history now.
How difficult was your struggling phase?
Like anyone else, I too had a lot of struggle. But looking back, I never felt bad. There were days when I wanted to be on the film sets at any cost and used to wait in Krishna Nagar just for a chance. But mentally and emotionally, convincing my parents for 13 long years that I would become a director was the most difficult part. They used to call me every day with hope and always heard a no from me. But when I made it big, they were really surprised to see my work and quite appreciative.
Your inspiration to get into movies?
The moment I saw RGV's Satya, it impressed me so much that I wanted to join films at any cost. Then directors like Mani Ratnam took my interest to another level.
Any contemporary directors that have impressed you the most?
I loved Sandeep Vanga the most. He too struggled a lot to become a director and I loved the way he made Arjun Reddy. My fav was the 7 G Brindavan colony and when this film came, I fell flat for it. We both turned directors at the same time and also knew each other well so the liking is quite mutual.
Any Dream project?
I get flashes through my emotions and turn them into stories. It is not a planned process as once I get that flash, I find my story and write it in quick succession. As of now, my diary is filled with multiple films, and want to make them with different actors in the years to come.
Both your films Ninnu Kori and Majili are way ahead of their time. Tell us about that?
I am a very emotional person and bonding comes to me naturally. So, I feel that the emotions in my films are quite strong. For me, a story idea flashes all of a sudden, and I weave a story around it. For Majili, I used to play cricket during my younger days and we considered many as heroes. But when I used to visit them after some years, they used to become this normal husband and this was quite weird to me. So, Majili's story is about a person who has a strong past but things are not perfect with him. Ninnu Kori is also about getting a second chance in love. I feel the way I narrated the script by balancing the characters with the correct dosage of emotions worked for me.
Naga Chaitanya shocked many with his performance in Majili. Tell us about that?
Naga Chaitanya is always known for his posh image. But from the day he called me, we struck a chord and I observed him quite closely. I feel that one cannot do everything and has its own strength. I felt that Chay had this effortless deep attitude which is unmasked and I wrote his character with some dark shades with fewer dialogues. I knew that Chay would change things with his body language and he shocked many with his memorable and mature performance.
Why do you always maintain a low profile?
My aim is to work and not be in the news. The day lockdown happened, I rushed back home and spent close to three months with my parents and had a lovely time. I am the kind of person who uses social media only during the release of my films or to clear any issues in public.
About your future Projects?
My next with Vijay Devarakonda is confirmed and will go on floors once Vijay wraps up Fighter. I am so excited about the film as it deals with a very contemporary subject and will be a big U-turn from my previous films.
Your last two films have Bollywood flavor. So any plans to enter Bollywood?
I would love to make Hindi films but in the form of a bilingual. As of now, my aim is to make good Telugu films in every genre and tell new age cinema with solid emotions and bonding.
With that, we ended our interview with Shiva Nirvana and wished him the best of luck for his new film Tuck Jagadish.
Interviewed by Avad
Articles that might interest you:
Ad : Teluguruchi - Learn.. Cook.. Enjoy the Tasty food