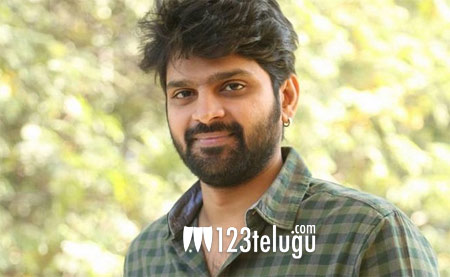 Continuing the lockdown interview series, today, we bring you an exclusive interview with the super talented and natural actor Sree Vishnu. In a detailed conversation, we spoke to him about his unique choices, future plans, friendship with Nara Rohit, and his favorite actor. Here is the transcript?
What have you been doing during this lockdown period?
I was shooting for my film Raja Raja Chola when the rumor of one person getting affected in Mind Space building started. We still continued shooting for days after but once the lockdown was announced, we stopped everything. As I was very busy in the last six months, I could not reply to messages from young directors. I am responding to emails, reading scripts, and talking to all those young filmmakers who wanted to work with me.
Why do you always choose different films?
Frankly speaking, I clearly know that the audience won't like to see me doing fights and dances. I know my strengths quite well and that is the reason, I pick scripts that many will not be interested in and see what I can do with it. I feel that if I choose such subjects, there won't be competition, and I can also be around for a long time doing what I like.
Is that the reason, you always work with new directors?
Not that I don't want to work with big directors, I feel that the young directors will showcase me quite well and that is why I choose them. During the making of my films, I get very close to them and that is how I have become a producer helming some of my own films.
You always keep a low profile. Why is that?
Frankly, one needs to act a lot and especially if you are an actor, things are even different. I am not the one who can act outside. That is the reason you won't see me a lot in the media. I believe that an actor should come out only when his films are ready for release(It's my perception). Many say to be in the game one needs to be all out but I think otherwise. Also, there is too much negativity outside and I don't like that.
You have been around for a long time. Do you feel that you are successful enough in your career?
It has been 12 years since I started my career. Even before Prema Ishq Kadal, I did 30 films as a sidekick, junior artist. From there to here, I have come a long way. Personally, I am very happy with my career as these are the films I always wanted to do and I feel I have made my own space in this industry now.
You are a natural actor. How do you prepare for your roles?
When the character is narrated to me I try to catch its inner fling. For example, Needi Nadi Okate Katha, I play a student and I am way past my student life. So, to get into the skin of the character, I started roaming with my brother's friends and observed them closely. I changed my body language and understood what they are feeling from inside.
Actors who inspire you in this generation?
I love Vijay Sethupathi's work and ever since I have started watching Malayam actor Fahad Faasil, I have become a big fan of his performances. He is such a versatile actor and I get inspired a lot from him. He is too good.
Did you always want to become an actor?
I am from a small village near Bhimavaram and did my education in various towns and cities. I always wanted to become an actor and the moment I expressed it with my friends or family, they used to laugh at me. But my parents have always been encouraging. The only thing they told is to finish my education and try in films.
Response from the industry?
Touchwood, the industry has been super sweet to me. Allu Arjun garu likes my films and always meets me personally when my film's release. Over the years, he along with Nani, Sai Dharam Tej, and Nara Rohit have been very encouraging towards my work.
Speaking of Nara Rohit. Tell us about your relationship?
Everyone knows that we are close. I don't know what triggered our friendship but we have stuck together for a long time. I have never seen such a giving person until now. We are very close and Rohit has never been upset with me even once. I forget to call him sometimes when I am busy but he calls me every single day and whenever he goes out, he shops so much for me and my family.
Why is he doing such fewer films?
Frankly, speaking, after not so impressive films, he wanted to take a break and come out fresh again. We are doing a big project together and that will be announced soon in the coming months. He also has a good line up of films.
Future Projects?
I am doing Raja Raja Chola as of now and have three other projects ready to be announced. I am super busy until the end of 2021 as you will see me on the big screen a lot.
With that, we wrapped up the interview with Sree Vishnu and wished him the best of luck for his future projects.
Interviewed by Avad
Articles that might interest you:
Ad : Teluguruchi - Learn.. Cook.. Enjoy the Tasty food