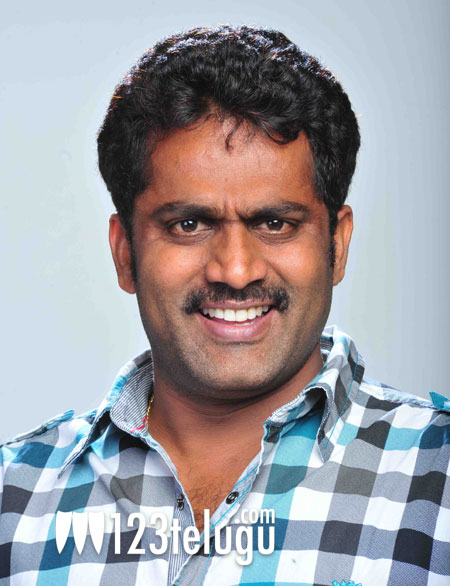 Veerabhadram Chowdhary is the director of Sunil's upcoming movie 'Poolarangadu'. This is his second film after his successful 'Aha Naa Pellanta'. We caught up with this director on location for an exclusive chitchat. Veerabhadram comes across as a confident and pleasant young director. Here is that transcript for you folks. Enjoy!
Q) Poolarangadu is around the corner. What are your expectations from the movie?
A) The movie has shaped up very well. Sunil and Isha Chawla have done an excellent job. Sunil will get an action hero image with this movie and he will no longer be known as a comedy hero. We have completed the movie in 85 working days and we are extremely happy with the outcome of the film.
Q) So will Poolarangadu be an action film?
A) I would prefer to say that it is an action entertainer. The movie will be extremely entertaining and there will be a good mix of comedy, sentiment and action. The movie has 5 songs and all of them have come out well. This is a universal story that has good appeal.
Q) What are the highlights of the movie ?
A) Every scene will be a highlight. Sunil's six pack body will stun everyone and he will reveal this in the climax fight. The people of all sections of the society will love this film. Sridhar's dialogues will be a highlight. Pradeep Rawath will also be seen in a stunning new characterization. He has never attempted such a character before and the audience will love it. His character will be hilarious with some serious shades in it.
Q) What about the comedy quotient?
A) There is terrific comedy in the film. Ali's character will be a major attraction. He has a full length role in the movie as Sunil's friend and his characterization is hilarious. Kota Srinivasa Rao garu will be seen in a very crucial role in the film.
Q) How was it working with Sunil?
A) Sunil has worked extremely hard for this movie and he will stun everyone when this movie releases. He has got a name as a good dancer with Andala Ramudu and Maryada Ramanna. With this movie, he will also become famous for his action sequences and powerful performance. He worked extremely hard for his six pack and it looks very good.
Q) What about Isha Chawla?
A) Isha Chawla is a very talented artiste. I have screened some other actresses for this role but in the end, I felt that only Isha Chawla would be able to do justice to this character. The heroine's character is very crucial in this film and it is not just for the sake of glamour.
Q) What about the role of the villain?
A) There is an extremely strong villain character in the story. Dev Gill has portrayed that role and he has done a good job. He will impress you all with his evil performance.
Q) Your first movie was a successful comedy movie. Your second venture is also has a lot of comedy. Do you prefer this genre?
A) I prefer entertainment. I want the audience to get entertained when they watch my film. It can be comedy, action or sentiment. My movies will have a mix of all these elements. Basically, people should not get bored when they watch my movies.

Q) Who is your inspiration? Is there someone you try to follow in your style of direction?
A) I consider E.V.V. Satyanarayana garu as my guru. He is my inspiration. He always used to tell me " Producer needs to make a profit if the industry is to be healthy and happy". I follow that principle. Apart from that, I do not follow anyone's style while directing my movies.

Q) Can you give us some details about the production of this movie?
A) K.Atchi Reddy garu is a great producer. He has always supported me with whatever resources I required. We have made this film within the estimated budget and we have also completed the movie on time. This is a big budget movie and it is my luck to be associated with Max India and R.R.Movie Makers Banners in my second movie itself.

Q) Who are your favourite actors?
A) I absolutely adore Sr NTR. It is my dream to do a movie with Nagarjuna. I also like Mahesh Babu, Jr NTR and a few other heroes. Among actresses, I like Kajal Aggarwal a lot. She has the right mix of glamour and talent.
Q) So can we assume that your dream project will be with Nagarjuna?
A) Absolutely. I have even readied a script for him and I have met him once. Hopefully, after the release of Poolarangadu, I will get a chance to work with Nagarjuna.

Q) There are some very big movies with top stars in the race for Sankranthi. Do you think Poolarangadu can survive that competition?
A) Yes. Our movie is a big movie too. We are going to release the film in 450 theaters worldwide. People will watch a movie if it is good. My first picture 'Aha Naa Pellanta' was a hit in a similar way when there were many big films in the fray.

Q) How did you end up in the film industry?
A) I was always passionate about movies since my childhood and I come from a small town in Godavari Jilla which is very close to the native place of E.V.V. Satyanarayana. I joined as an assistant director under him and I also worked as an assistant director under other prominent directors.

Q) Have you confirmed any other projects apart from this?

A) There are some projects in the pipeline. I will be able to give more clarity on the issue once this movie releases. I will personally invite you folks over and give you the news (laughs).
With that, we ended the conversation as Veerabhadram went back to supervise the picturization of the song on Sunil. We hope you enjoyed reading the interview folks.
Mahesh K.S
Articles that might interest you
Ad : Teluguruchi - Learn.. Cook.. Enjoy the Tasty food