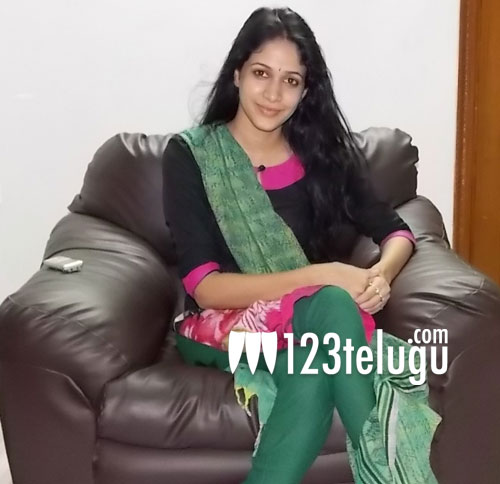 Lavanya, the lead actress of the upcoming film 'Andhala Rakshasi', is currently the most talked about new heroine in the industry. She has been making waves among movie lovers with her natural beauty. We caught up with Lavanya for an exclusive interview and came away after having a very enjoyable conversation. She bowled us over with her jovial nature, her lovely dimples and her professionalism. Lavanya spoke about her character Mithuna, her experiences with the Andhala Rakshasi team and life in general. Read the transcript of that interview folks.
Q. How does it feel to be the 'Andhala Rakshasi'?
A. (Laughs) It feels great. I had a very memorable experience with 'Andhala Rakshasi'. I just love the character of Mithuna as I relate quite a bit to it. This is a once in a lifetime character and I just had to do it the moment I heard the script. I do not want to give out names, but I let go of a Bollywood project for this film. I am happy.
Q. Interesting. How did 'Andhala Rakshasi' happen?
A. I was in Mumbai, taking a break from work when I got a call from a friend. She asked me to come over to her office, without makeup. I was told that someone was looking for a fresh face, an actress who could pull off a good look without makeup. A lot of pictures were taken and sent to Hanu. Hanu came over the next day to meet me. He is a very quiet person and I did not even know that he is the director. He looked so young. He never took any audition. It was just his strong instinct. He made me speak to someone and observed my mannerisms. After a while, he just came over and told me that I was selected. I was surprised,but also excited.
Q. What made you pick 'Andhala Rakshasi' over the Bollywood film?
A. The Bollywood project and Andhala Rakshasi were scheduled for the exact same dates. There was no possibility of working for both the films. Hanu was very confident about the script and he just asked me to listen to the story once. Once I listened to the story, I knew that this was a role I could not let go. Hanu narrated the story for over 4 hours, enacting even the minutest details and I just fell in love with Mithuna. It was very easy to pick 'Andhala Rakshasi' over the other project once I listened to the script.
Q. Now that you shot for over a year with Hanu, how would you rate him as a director?
A. Hanu is just incredible. He is so young but he has terrific knowledge about film making. When I first met him, I thought he was an assistant director, as he looked so young. But he is so mature and he is very clear in what he wants. I learnt a lot from him and he was my mentor on the set. I worked with some very big ad directors in my modeling career, but Hanu is the best. It was a very enriching experience to work with Hanu.
Q. What is Lavanya like in Andhala Rakshasi?
A. (Smiles) Mithuna is a simple girl who comes from a middle class family in a small town. She is from a typical south Indian family, with a strong affinity for our culture. She doesn't party and she is very innocent. She is very spontaneous and pure. Throughout the movie, her character evolves and it grows, like a flower perhaps.
Q, You are pretty good with Telugu. Any special efforts?
A. Well, language was never a problem for me. I basically am the kind of person who believes in doing the whole thing right. So I learnt Telugu, took classes and started picking up words. Once I shifted to Hyderabad, it was easier to improve my Telugu. I mouthed all my dialogues in Telugu and my dubbing artiste Chinmayee says that it really helped a lot in coming up with a convincing performance.
Q. Andhala Rakshasi is no longer a small film. It has got a good buzz going for it. Are you excited?
A. Andhala Rakshasi is a small big film (Smiles). I am very very excited but slightly nervous. People are expecting a lot from our movie. I know that we have a good product but I hope that we reach their expectations.
Q. We know Lavanya is a big fan of Pani Poori. What other foods do you like?
A. (Pleasantly Surprised) How do you know that? So you have been learning about me (Smiles). I am a crazy fan of Pani Poori and I keep having it whenever I get a chance. I love to cook and I used to make the Pani myself and get the Pooris from outside. But now I just keep having it outside. Apart from that, I love Chinese food. But Chinese food is not very good for the skin, so I have not been having too much of it these days.
Q. Apart from acting, what are your other passions?
A. I love dancing. I used to dance a lot during my school days. I have not been doing a lot of it due to work. I want to take a refresher course in dancing to get myself back to speed. Apart from that, I love travelling, trekking and rafting. I am very outdoor girl.
Q. Rahul and Naveen. How are they as your co-stars?
A. I did not talk to Naveen a lot on sets because our characters demand that. Rahul's character is different, but his character does not talk much. Apart from that, they are very sweet. All of us on the set were of a similar age and so we used to have so much fun.It was like working with friends and we bonded well. It was a very happening team.
Q. Favourite stars in Telugu?
A. I am quite familiar with all the big stars in Telugu as I used to watch a lot of south Indian films. I like Nagarjuna garu a lot. He has done some Bollywood movies as well and he is a little more familiar. I did not get a chance to watch 'Gabbar Singh' but I heard its fantastic. I have seen "Eega', 'Dookudu', 'Businessman', 'Ishq', and lots of other films.
Q. Any friends from the Industry?
A. Well, I went straight to Dehra Dun after completing 'Andhala Rakshasi' so I did not interact too much with people here. Friendships will happen with time (Smiles).
Q. What are your future projects? Plans to continue in Telugu?
A. Telugu Films will always have a special place in my heart. I will always have a soft corner for it. I do not want to sign any new films until Andhala Rakshasi releases. I look for meaty roles and characters that give me a chance to perform.
Q. Any dream roles?
A. Well not really. Everyone brings their own individuality to their roles. But Sridevi's role in 'Vasantha Kokila' is superb. She has done a special role and performed as if that role was meant for her. I want to get a good and meaty role so that I can bring my own essence to that character.
Q. Would you like to say something to our readers?
A. (Smiles). Please do watch Andhala Rakshasi. That is the most important thing for me. After that, give me your honest comments and feedback so that I can improve myself. Andhala Rakshasi is a pure and honest effort and I hope it will touch the hearts of people.
With that, we ended our conversation with Lavanya – The Andhala Rakshasi. Let us wish this beautiful actress the very best for the future.
Interviewed by Mahesh S Koneru
Click Here For Interview in Telugu
Articles that might interest you
Ad : Teluguruchi - Learn.. Cook.. Enjoy the Tasty food