First Posted at 9:30 am on Apr 15th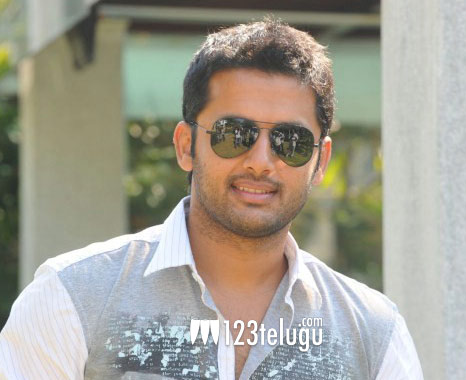 Nithin is getting ready to hit the screens this Friday with 'Gunde Jaari Gallanthayyinde'. The movie is coming after the success of 'Ishq',so there are expectations on the film. Nithin is aware of this and he spoke candidly about it during our exclusive interview with him. He also discussed his experiences, his hobbies and his future plans with us. Is Nithya Menen his lucky charm? Nithin has answered that question as well, so check out the transcript to see what this young actor had to say.
Q. 'Gunde Jaari Gallanthayyindhe' is coming after 'Ishq'. Are you nervous about the expectations?
A. I am definitely a little nervous as 'Ishq' was a big milestone for me and any project that comes after a big success is very crucial. I did not want to disappoint viewers after the love they showed me , so I took a lot of care for this film. We worked extensively on the script, to fine tune it constantly.
Q. What special care did you take for this film?
A. There is a lot of comedy in this film and that comedy is very fresh. We have ensured that humour is woven into the story, between characters. It will not appear forced or routine. The dialogues and the scenarios between the characters will generate the humour. The film will be very cool and romantic. Compared to 'Ishq', this movie will have significantly more comedy and romance.
Q. How did GJG happen?
A. I heard this script before 'Ishq'. I liked the story immediately, as its main concept was quite unique. This kind of a love story has not been attempted before and I am very happy about that. We worked on this for 8 – 9 months to improve it further. Together with dialogue writer Harsha and some other people, we sat down as a team and it evolved. Once we were happy, we started discussing it with some people and they all reacted very positively. In fact, Nithya Menen instantly agreed to act in our film after listening to the script. She did not take any time to decide. Such positive reactions from multiple people really gave me a lot of confidence.
Q. Is Nithya Menen your lucky charm?
A. (Laughs) Well, you could say that. For whatever reason, our combination worked well with the audience and I got my first big hit after many years. So, there is nothing wrong in considering her a lucky charm. But we did not cast her in this film because of our 'Ishq' sentiment. The romantic quotient in this film is higher, so we needed a naturally talented actress. We explored the possibility of casting a few other leading heroines, but we finally zeroed in on Nithya again. She can dub in her own voice and that is a major asset when it comes to portraying emotions effectively in a romantic film. We wanted someone who could connect well emotionally with viewers.
Q. What can you tell us about Isha Talwar?
A. Isha Talwar's character is very crucial for GJG. We needed a second actress to maintain the curiosity factor in the minds of viewers. We also needed a fresh face. "Veedu Evarini Chesukuntaadu? ane oka feeling undaali" .. Isha Talwar has done well in the film and she is also a great dancer.
Q. You generally try to change something about yourself for every film. What have you done for GJG ?
A. I like to try out new things as an actor. With GJG, I have tried full length comedy. I have attempted comedy before, but not like the role I played in this movie. There will be some scenes where I appear fully drunk. Trying to make people laugh while acting as a drunkard is quite tough. I rehearsed extensively for those scenes even before shooting started and I think I did a decent job. As I said before, the comedy in this film will be quite fresh and I enjoyed myself.
Q. Are you satisfied with the work of your director?
A. Vijay Kumar Konda is a very passionate director and he is extremely hard working. This is his first film, so that natural fire will be there in his belly. I do not know if he will be like this for his second film (laughs). For the past few weeks, he has been sleeping very little. He is taking personal care about every aspect of post-production and I am quite happy with his work.
Q. The trend of multi-starrers seems to be catching on. Are you open to it?
A. Yes. I would love to appear in a multi-starrer. I have not received any such proposals till now. But if I get good scripts, I will accept them for sure.
Q. Any dream roles that you would like to attempt?
A. I do not have any specific dream role as such. But I want to attempt a character that requires total transformation. If you look at 'Ghajini', Surya had to transform himself completely for that role. I want to attempt a character that requires me to challenge myself as an actor, both physically and mentally. I love such challenges.
Q. Apart from films, what excites Nithin? How do you spend your free time?
A. I used to play a lot of cricket earlier, but I have cut that down due to a lack of time. I hang out with friends at coffee shops in the city. I also watch a lot of films, irrespective of whether they are hits or flops.
Q. Who is/are your favourite heroine/s?
A. Sada, Genelia, Nithya and Ileana are my favourite co-stars. They have all worked with me and that bonding will be there.
Q. Best buddies among actors?
A. I am on good terms with almost everyone. I have a lot of friends among young actors. But if you ask me to name my closest buddy, it will have to be Manchu Vishnu. We are very close and we hang out together often.
Q What are your upcoming projects?
A. I am currently working for 'Courier Boy Kalyan'. The movie has a radically different storyline, something I can proudly say as 'never before in Indian cinema'. We have completed about 50% of the film's shoot. Looking at a few other projects as well.
Q. Anything you would like to say to our readers?
A. The film is a cool summer entertainer with lots of comedy, romance and good music. The remix of Power Star Pawan Kalyan's song will be a major highlight of the movie and it has come out really well. The film will be a very fresh experience for you, so go and have fun.
With that, actor Nithin signed off. We hope you enjoyed reading this transcript of our conversation.
Interviewed by Mahesh S Koneru
CLICK HERE FOR TELUGU INTERVIEW
Articles that might interest you:
Ad : Teluguruchi - Learn.. Cook.. Enjoy the Tasty food