First Posted at 16:24 on Apr 16th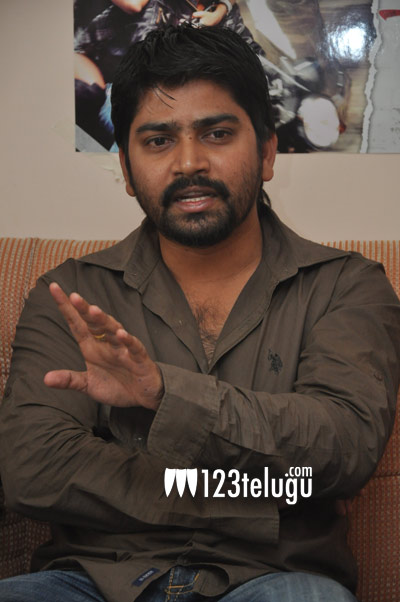 A.K. Kambhampati is the director of the upcoming film 'Chinna Cinema'. He is an NRI who quit his job to purse his passion of film-making. A graduate of the New York Film Academy, A.K comes across as a smart and level headed guy. He is not expecting miracles to happen for his first film and he is realistic about the film's chances. He spoke to some journalists today about 'Chinna Cinema', which is gearing up for a release this Friday. Read on to see what this young director had to say.
Q. What is Chinna Cinema all about?
A. 'Chinna Cinema' is a satirical comedy. About 80% of the film runs purely on satirical comedy and there is a nice philosophical touch as well. A major portion of the film has been shot in the US and the rest of the film has been shot in Hyderabad. There are some good emotional moments in the film – like the pre-interval sequence and the pre-climax sequence. The title 'Chinna Cinema' is very apt for this movie. There are no larger than life characters in the story. Every character is key for the film and the story runs on small conflicts.
Q. Is the film related to the film industry? Are the satires targeted at film personalities?
A. Not at all. None of the satires are targeted at the film industry or film personalities. They are purely funny conversations between the lead characters of the film. We named it 'Chinna Cinema' because of its scale and because everything about the film is truly small. It is a small film, but it is not a substandard or bad film (smiles). We made a film with good values.
Q. How did this project start?
A. I have always been very passionate about films. In 2004, I pursued a course in Film Editing but nothing materialised after that. I later moved to New York from Chicago and I decided to join the New York Film Academy to study filmmaking. This excited my friend and cousin Sekhar, and he supported me completely. After completing the course, I pursued my dream aggressively and together with Sekhar, worked on some lines. The success of filmmakers like Sekhar Kammula and Deva Katta gave me a lot of confidence.
Q. Who are the main actors in the movie?
A. The hero of the film is Arjun Kalyan and he is a graduate of the New York Film Academy. The heroine of the movie is Sumona. She is a Bengali and she has worked appeared in a number of ads. The main villain of the film is Mahesh, and he is an NRI. Apart from these actors, we have Thagubothu Ramesh, L.B. Sriram, Vennela Kishore and Komal Jha.
Q. What are your expectations from the movie?
A. I am not expecting miracles. I learnt quite a bit while making this film and we believe we did a decent job. If viewers connect to the emotional points and the comedy in our film, I am sure they will like it. I will be happy as long as people recognise our efforts and appreciate us for making a decent effort.
Q. Is the film targeted at NRI viewers?
A. No, we are not targeting NRI's specially. The target audience for this film is much bigger. I would say that the film will appeal to young adults and people who are below 35 years or so. The humour and the satires will appeal well to them. We are releasing the film on a small scale in the US. It will release in 10 Centers. A premiere will be held in 3 centres.
Q. Did you conduct a lot of workshops before you started shooting?
A. Not really. We had a brief 14 day workshop. Most of the training happened during the shoot. That caused us a few delays and we spent more time than anticipated for the shooting. I learnt a lot of lessons in planning and pre-production.
Q. You gave up a lucrative job for a career in films. Any regrets?
A. While shooting for the film, I faced a number of challenges and I had second thoughts. Every single day, I faced situations that got me to doubt my decision. I took a huge risk and that tension was always present. But I blindly pushed ahead and completed the film. Because of the limited resources available, I had to take care of many aspects personally. This helped me to gain exposure to most of the 24 Crafts. I am now just concerned about audience reactions. If they appreciate our efforts, I will be quite happy.
Q. Did your family support you in your decision?
A. When I told my wife about my decision, she was quite surprised. But she came to terms after a few days and supported me in my decision.
Q. Without any film industry background, did you find it tough to shoot in Hyderabad?
A. Initially,yes. We had to learn everything from scratch in Hyderabad. We had no clue about who the publicity designers were or how to approach production teams here. But help arrived in the form of P.G.Vindha. After he came on board, he helped us get a production manager and introduced us to all the right people. That speeded up things considerably and we wrapped up our shoot two days ahead of schedule.
Q. What are some of the highlights of this film?
A. Comedy, dialogues and some emotional aspects will be the biggest attractions. L.B.Sriram, Thagubothu Ramesh and Vennela Kishore will be crucial for the film.
Q. The film seems to have some raunchy scenes?
A. No, not at all. The film is a clean U/A rated film. There is no vulgarity. Whatever scenes you see will be shown in a very aesthetic way.
Q. What are your future plans? Will you go back to the US or pursue projects here?
A. We will make another film for sure. I will wait for the result of this movie before deciding on my future course of action. But I will surely make another film. If 'Chinna Cinema' becomes successful, I will start my next project quite soon. If it does not do well, we will go back to analyse our mistakes and come back stronger.
With that, A.K. Kambhampati signed off. The movie has managed to create some impact among A centre crowds and netizens. Let us see if this young filmmaker's dreams stand the test of the Box Office this Friday.
CLICK HERE FOR TELUGU INTERVIEW
Articles that might interest you:
Ad : Teluguruchi - Learn.. Cook.. Enjoy the Tasty food