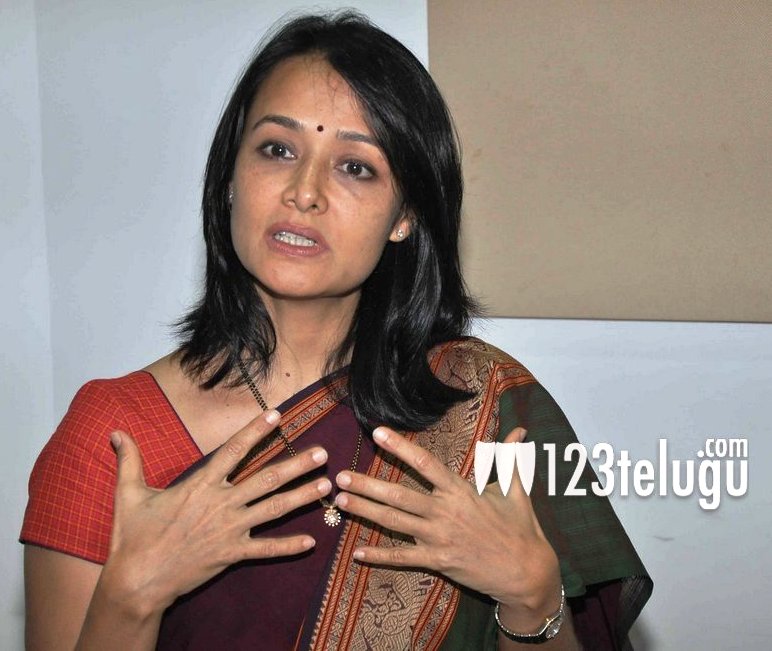 Amala Akkineni is making a comeback to the silver screen with Sekhar Kammula's 'Life is Beautiful' . She interacted with us today to talk about 'Life is Beautiful' . She also spoke at length about her work, her family and life in general. We had a great time talking to Amala, who was very graceful and charming. Read on to find out what she had to say.
Q. You are making a return to the silver screen after 20 years. How does it feel?
A. (Smiles) Yes. I am making a comeback to acting after 20 years, but I have always been involved with films and the industry behind the scenes. With my whole family being in films, I was never really away all these years.
Q. What did Nagarjuna say when you decided to accept Sekhar's offer?
A. He was actually very amused. He was also quite pleasantly surprised. But he gave me a lot of support and gave me a few basic guidelines since the industry changed a lot in 20 years. He also quipped "Neeku interest unte naa film lo ne act chese pani kadha".
Q. After such a long gap, was it tough to get into the comfort zone in front of the camera?
A. I though I forgot how to act and I was a little nervous on the first day. But then Sekhar asked me to be myself. "Don't act. Just be yourself and I will give you small inputs here and there ", he said. I also noticed some of the young girls on the set feeling a little nervous. I went out of my way to make them feel comfortable and I lost my apprehensions in the process.
Q. What made you say yes to Sekhar's offer?
A. It was a combination of factors. He was very persistent and promised me that my work would be over in 7 days (laughs, hinting about the broken promise). He also showed me some rushes and I think that was a very clever strategy from him. I loved the visuals and the fact that I could play mom to girls was too much to resist.
Q. Did your work really finish in 7 Days as promised ?
A. (Laughs). Well, not exactly 7 days. We shot in peak summer and it is tough to shoot for extended periods under harsh lights. So we used to shoot for a few hours from about 5am to 7am or 8am. That pushed the shoot beyond the expected 7 days.
Q. Can you tell us about your character in the film?
A. I play the role of a widow, a single mother. My character is that of a very strong woman, a very inspirational character who manages to stay positive despite the challenges she faces. It is a very endearing role and I am very happy about it. Sekhar Kammula has managed to bring out a certain sweetness and positive vibration to the character. The character is that of a woman who is very soft outside but has steel inside.
Q. Is there any similarity between that character to your real life persona?
A. Thankfully, I have had a very blessed and content life. So I have never faced any such difficulties in real life. But I have interacted with such women during my work with social organizations and I have great respect for them. I hope such women gain appreciation after people see this movie.
Q. You have worked with many big directors before. How would you rate Sekhar Kammula as a director?
A. Well, I would rather not rate, if you don't mind. You see, film-making has changed a lot over these 20 years. During my active years, we never had any monitors to review shots or see how we performed. We had to trust the director completely and wait for 2- 3 months to see the output. Its not the case now. Technology has improved a lot and film-making has become more natural and easier now. Sekhar has studied film -making professionally. He is very clear in what he wants and he is very easy to work with. Sekhar is very appreciative and he makes you feel comfortable right away.
Q. Have you seen the film ? Do you think it will be a fit role for your comeback ?
A. I did not think so much. I don't even know how I accepted the film and how I shot for it. I have not yet seen the movie, I will only see it next week.
Q. Have you seen Shirdi Sai ?
A. (You can sense her pride as she is about to respond ) Yes. And I was so happy to see Nag in the role. I could not speak because of emotion after watching the movie and I just held on to him. After I found my voice, I just said "I am so proud of you".
Q. Will you act in films on a regular basis from now?
A. My family and my work for the betterment of society is paramount to me. I do not want to start a career and I don't need to earn or prove a point to myself. So I won't go looking for roles. But if good roles come my way and if I am required to act for only 7 days (laughs again in a mischievous way), I will consider them.
Q. When is Akhil making his entry?
A. I think there are a few more years to go. He is studying film and theater in Los Angeles right now. I want him to be happy and content in whatever he does.
Q. What are your future projects?
A. Nagarjuna decided to use the money he got from Shirdi Sai to do something for the society. So we are building some permanent structures in the Blue Cross compound. We are also planning a few initiatives in education and other areas. I will be busy with that.
We wished Amala the very best for her comeback and wrapped up our conversation with that. Her endearing smile and simple charm will be with us for a while.
Interviewed by Mahesh S Koneru
Click Here For Interview in Telugu
Articles that might interest you:
Ad : Teluguruchi - Learn.. Cook.. Enjoy the Tasty food