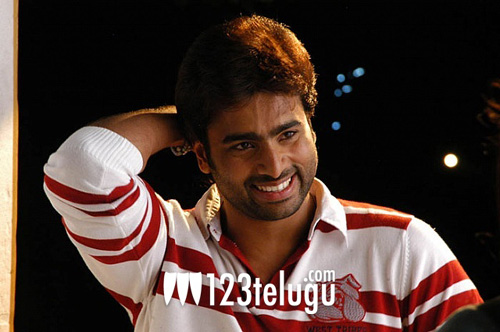 Nara Rohit will be hitting the screens shortly with 'Solo – A Solid Love Story'. The movie is an action entertainer with a family backdrop and Rohit is quite confident about the movie's success. We caught up with the budding actor for an exclusive interview. Rohit was a jovial and relaxed guy and we had a great time talking to him. Here is the transcript of the chat for you. Enjoy folks.
Q) Hello Rohit. Solo Audio has become a success. Congrats.
A) (Nice dimpled smile) Thanks. I am very fortunate in that aspect. Mani Sharma has given me some amazing tunes.
Q) Your first film was a critically acclaimed one. Second film is a commercial entertainer. Is it a deliberate strategy?
A) Well, you may look at it that way. I wanted to win the praise of the audience and the critics in my first movie. Banam was a sensible and stylish movie. But then, Solo is a sensible film too. Both are very different movies, but the script is the King in both cases.
Q) What are your expectations from Solo?
A) Solo will do well at the Box Office. I hope that with Solo, I win a place in the hearts of the Telugu audience. There are some very entertaining aspects in the movie and it will appeal to everyone. You have seen only one aspect of my performance in Banam. With Solo, you will notice a number of new variations in my performance. There are some nice dance moves in a song. There is a major fight in the movie and I really enjoyed myself while shooting for that sequence. I think I actually emote very well in fight sequences (laughs)
Q) Was it always your dream to enter the film industry?
A) Actually no. My dad was very keen on my film career and I started taking interest only after completing my education. I took classes for diction and voice modulation before I left for the US. I did some courses on various aspects of film making to familiarize myself with the whole process. It helps me to understand what is going on behind the camera as well as in front of it.
Q) You took a long gap between your two films. Was that intentional?
A) No. I was actually supposed to do a couple of projects, but for various reasons, they did not materialize. I never wanted such a long gap, but then not everything is in our control. (Smiles)
Q) How was your experience working for Solo?
A) It was a great experience. Director Parasuram is like a friend and we had a lot of fun shooting for this movie. He is one incredibly talented director and we will work together again. I was nervous initially when working with Prakash Raj as he is such a terrific actor. But he soon put me to ease and he is one very nice human being. It is a great experience watching Prakash Raj in front of the camera. The movie has some riveting scenes between me and Prakash Raj.
Q) How do you rate Nisha Agarwal's performance?
A) She is a major asset to the movie. We were a little apprehensive initially but she put in a lot of effort for the movie. She used to come early to shoots to rehearse a lot and when you put in that kind of effort, it shows.
Q) Who are you close to in the industry?
A) To be very honest, I don't spend a lot of time with the industry folks. Most of the time, I only meet people during movie functions and other such events. I play a lot of cricket in my free time and I watch a lot of movies. In fact, you will be able to find me at Prasads almost every Friday.
Q) Ok. Let us rephrase that. Who is your favourite actor in the industry?
A) I am a major fan of NTR garu, especially his mythological roles. Apart from him, I like Surya for his ability to consistently reinvent himself for every new role. In the Telugu Film Industry, I like Mahesh Babu's diction and Prabhas's action.
Q) Good to know you like Mythological roles. Any dream character you want to take up?
A) I love the character of Duryodhana. I would love to play that role. Everyone says that I have a good voice and good diction, so hopefully I will be able to do justice to such a role.
Q) What are your future projects?
A) I have signed up for a new movie in the direction of Srinivas Raga. I will also be doing another film with Parasuram from April 2012. Another project with the producers of the movie 'Prasthanam' is in the pipeline.
We ended the chat with that and came away impressed with Rohit's cool and jovial attitude. Let us wish this talented actor the very best for his upcoming release 'Solo'.
– 123telugu team
Articles that might interest you:
Ad : Teluguruchi - Learn.. Cook.. Enjoy the Tasty food