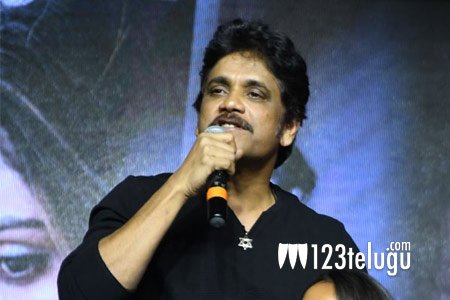 After a long gap, Ram Gopal Varma is teaming up with his mentor Akkineni Nagarjuna for a film called Officer. The action drama is ready for a release tomorrow and on this occasion, we met Nagarjuna for an exclusive interview during the shoot of his multi-starrer with Nani. Here is the transcript of that interview.
You have been here for so long. Do movie releases make you tense anymore?
Not anymore. I feel a bit anxious and find out whether all those involved are safe or not. I have crossed the stage where I used to bother about the box office collections and what the critics will think and how hard is the competition around you. I have been through my egos and struggles of scoring a hit long back and all those do not bother much.
So, what excites you these days?
I feel that I have crossed 70% of my prime in movies and I want to have a gala time spending the rest of that 30% doing memorable films. It's more about working with young people, pairing up with interesting actors and having some good time on the sets. I am just loving the entire process of filmmaking these days.
No actor has tried different roles as you have. Is there anything left?
I feel that I have a lot to offer to the mythological genre. I am surprised that no one feels that I will be able to carry such roles. I would love to do such films and prove myself as an actor.
What took you so long to associate with RGV?
Post the success of Shiva, RGV took a different route and established himself in Bollywood. You would be surprised to know that post-Shiva, I would have met RGV hardly 10 to 15 times in those ten years. Now, when he came up with the idea, I was very excited and told him that he better come up with a good script. He kept his promise and came up with Officer which I liked immensely.
What change did you observe in RGV after working in Officer?
His passion for filmmaking is the same even after years and he has gone way ahead than all of us in the technical department. The first few days of the shoot was quite hard as he used to place cameras in every nook and corner and it was hard for me to grasp things. Once I spent a little time on set, I loved his new style of making. In fact, I suggest you that everyone should watch Officer in a theater with a good audio system as the sound design is just amazing in the film.
Your role has been modeled on the ex-cop from Karnataka. Did you meet him for the film?
No! I did not meet him. I just followed RGV's directions and inputs and went according to the script. The action is very real and is filled with a lot of heroism which was missing from the last few years in Telugu. I have done all the stunts on my own without any body double and the action part will be the highlight of the film.
How do you look at the current social media and the various trolls that go on social media?
I only say everyone needs to get a life and do something very serious in their careers. Even if the social media is helping your films, personally our lives have gone for a toss. Everyone has a phone these days and wants a selfie wherever you go. As a celebrity, it has become very hard for us to walk out free and do our own things. Even though we are surrounded by so much security, all this looks like a burden on us. I am completely missing my privacy in life.
You gave a break to RGV and now you worked with him when he is at an all-time low. How do you look at it?
I never think in that angle. RGV is a master craftsman and has made many great films. I feel that he has made this film with utmost sincerity and when he works with his heart, things turn out good.
Your sons are also in films. What suggestions do you give them when things do not work for them?
I do not give suggestions but only support them wholeheartedly. I only tell them that future will be even better and all the small problems that they are going in life currently will look quite silly in the course of time.
How is it working with young actors like Nani?
I am having a lovely time working with him. He is so full of life and doesn't look back and works with all his dedication and seriousness. Apart from this, I am working with Aswini Dutt garu after a long time. The success of Mahanati has brought a respect towards their banner and they are beaming with pride and all that is showcasing the way things are progressing in our film.
Finally, why should we watch Officer?
Officer is a very realistic cop drama which is quite new for us. The situations, drama, emotions and other aspects have been kept real most of the time. Also, you will see me in a very new avatar doing some hard-hitting action after a long time.
With this, we ended our conversation and wished the superstar the very best of luck for his films and future projects.
Interviewed by Avad
Articles that might interest you:
Ad : Teluguruchi - Learn.. Cook.. Enjoy the Tasty food