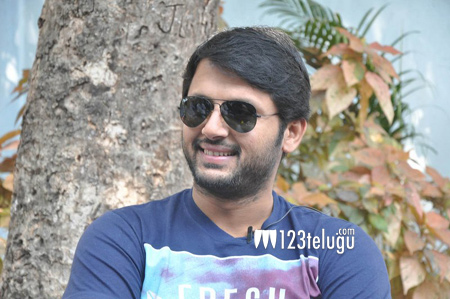 Nithiin is quite delighted with the early response that 'Heart Attack' is getting . He interacted with media members today, to share his feelings about this film and about his future releases. Read on to see what he had to say.
Q) What kind of a feedback are you getting for Heart Attack? Are you enjoying it?
A) I am getting a good feedback for Heart Attack. I am experiencing a sweet pain for the film. The entire team put in lots of efforts for the film and our hard work is being rewarded.
Q)After going through a lean phase, you are now enjoying back to back hits. Has this changed you as a person?
A) Nothing has changed. I am still the same old Nithiin. I went through a very bad period and I learnt many things then. Perhaps, without that lean phase, I would have become arrogant with back to back hits. But I am quite level headed now.
Q) Heart Attack has some violence. Do you think family crowds will have an issue with that?
A) Violence in Heart Attack is not too intense. If a film is good, all section of the audience will embrace it. Basically, to elevate heroism, we need a strong villain and that is what happened in the movie.
Q) What can you tell us about director Puri Jagan and Adah Sharma?
A) Puri is a very cool director. He does not get tensed very easily and he handles everything with a cool head. When the captain of the ship has a level head, shooting will progress smoothly and that is what happened in our set.
Adah Sharma has done a good job. For a romantic entertainer to work, the chemistry between the hero and heroine needs to be good. We are getting a good feedback from viewers, so this means she has done a good job.
Q) Some people said you cried after watching the film at Shanthi theater. What happened?
A) A lot of people tried to spread a negative talk about our film before release. But everything worked out despite that. After watching the positive response from viewers, I could not control my emotions. I shed happy tears and hugged Puri, who got emotional too.
Q) What is the reason for the negative talk in the industry?
A) An unhealthy trend is being observed in the industry right now. People are spreading negative talk intentionally. This is happening not just for my film. I have observed this for other movies as well and this is not correct. People speculate without even knowing about the story. I also have a request for reviewers. Please write about the general opinion of viewers and not what you feel. If you want to express your personal feelings, do so in a blog. Despite the good talk and the tremendous openings, reviews have not been very good.
Q) You involve Pawan Kalyan in some way or the other in your movie. Is it a sentiment?
A) Right from my earliest films, Pawan Kalyan references can be found. Because of the recent big hits, people are noticing it now. Pawan Kalyan is like a God for me in films and I deeply admire him. Including him in someway or the other is my way of showing my admiration. Pawan Kalyan garu also knows how much I admire him, so he does not feel bad.
Q) People are saying that you have hiked your remuneration steeply. What is your comment?
A) Ishq and Gunde Jaari Gallanthayyindhe were made in my own banner. I acted in Courier Boy Kalyan out of my admiration for Goutham Menon. Puri Jagan's banner is also like my own production house. My next two films will be in home productions. So where is the question of remuneration increase?
Q) What are your upcoming projects? When will Courier Boy Kalyan release?
A) Surender Reddy's assistant Srinivas Reddy will be working with me and this film will start on Feb 9th . Karunakaran's film will start in the first week of March. This movie will be a humorous commercial entertainer like Tholiprema, Darling etc.
Courier Boy Kalyan will release in the month of April. Talkie part for the Telugu version is complete and only one song remains to be shot. The Tamil version is being shot now.
We ended our conversation with Nithiin on that note. We hope you enjoyed reading this interview
Interviewed by Raghava
Articles that might interest you:
Ad : Teluguruchi - Learn.. Cook.. Enjoy the Tasty food