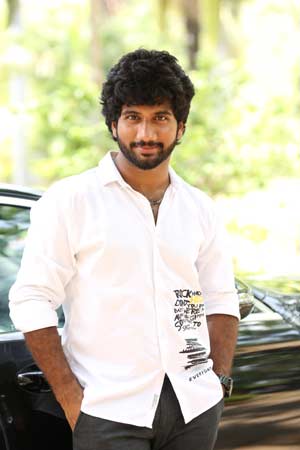 Hanu-Man is the first film from creative director Prasanth Varma's cinematic universe. The film stars talented hero Teja Sajja as the protagonist and is being produced by K Niranjan Reddy on Primeshow Entertainment and presented by Mrs. Chaitanya. The promotional content of the film that has already been released has raised huge expectations. Director Prasanth Varma shared special details of the film in a press conference ahead of the movie's release.
When will Hanu-Man be released?
The VFX work is currently underway and will be completed by the end of June. We will announce the release date in the first week of July after we check the final output of the VFX. US and China renders are very time-consuming. Expectations increased after the teaser's release, and we added some more to meet those expectations. If given time, the VFX work will come out very well.
How did you come up with the idea of doing a superhero story?
Many great directors have made films of different genres in Telugu, but I don't think I can surpass their work in the industry. To create a unique space for myself, I focused on unexplored genres, which led me to make films like Awe, Kalki, and Zombie Reddy. While brainstorming for my next project, I came up with the idea of making a superhero movie. Many people can relate to this fascination with superheroes, and I believe that the genre has commercial potential in the international market. That's why I decided to try my hand at making a superhero film.
Did you add anything new after the teaser response?
Yes, I decided to include a new character in the film's story after watching it in its entirety. I felt that it was already 95% complete, but adding this new character would make it 100%. After filming and incorporating this new character, I now believe that the movie has far exceeded its potential, reaching a level of 200%.
Did you initially plan to release Hanu-Man in so many languages?
At first, we intended to release the movie exclusively in Telugu. However, after we unveiled the title, we received an unexpectedly positive response from audiences in North India. Then, after Teja's first look was released, we also received inquiries from viewers in Tamil, Kannada, and Malayalam regions. As the demand for our product grew, we decided to expand our release plans. If we hadn't received these requests, we would have stuck to our original plan of releasing the movie only in Telugu.
Will this film be developed into a franchise?
Every superhero film has a strong origin. The character who became a superhero in the first movie had a strong impact on the audience. There is curiosity about what the character is going to do next after ending the evil. Teja's role as Hanuman is impactful in this too. I am interested to see what he will do after the completion of the film. We are also creating comics, and we have started work on this.
Did you exceed your budget for the film?
Regarding the market for Hanu-Man, it has the potential to reach great heights. Many people are excited to watch a movie based on Hanuman's name. As the saying goes, Hanuman doesn't know his own strength. Similarly, we didn't know how far our film's reach would be. Even if we start small, we believe it will grow like Hanuman and become something significant. We have faith in the concept of Hanuman.
Why did you choose Teja for Hanu-Man?
The lead in the film requires an underdog. A common man is only interested in an underdog getting superhero powers. Teja's image is perfect for this role, and I thought it would be more interesting if he got powers. For this role, Teja did a hundred per cent justice, and he got a special makeover for this.
Tell us about your upcoming movies
Adheera is currently in pre-production and is part of PVCU. The movie will feature some characters from Hanu-Man's world and follow a unique concept that is similar to the interconnected universe of the Marvel series. I pitched an idea to Balakrishna garu and he liked it very much. When he gives time, the movie will go on floors.
What are your birthday special plans?
I will announce Prasanth Varma Cinematic Universe (PVCU) on my birthday. We have focused on creating a big franchise in the next ten years, with about eight superhero films. It is not that I will do everything myself. I will invite young talent. My idea is to run it like a Hollywood studio with a team of around 100 people. I have been working on this for the past few years.
Articles that might interest you:
Ad : Teluguruchi - Learn.. Cook.. Enjoy the Tasty food