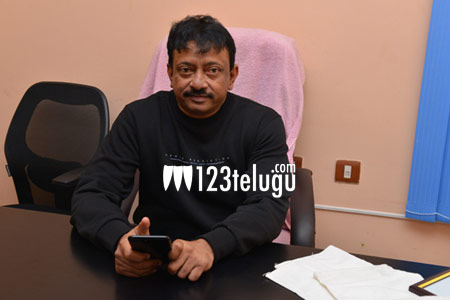 Whenever you interview Ram Gopal Varma, you never expect what he is going to talk and in which manner. We spoke to the maverick film-maker on the occasion of his film, Vangaveeti's release. Let's see what he has to say.
What took you so long in making a biopic on Vangaveeti?
The incidents that happened in Vijayawada are a part of my life as I came to know so many things from them. It was quite difficult for me to see it as a film as I was also indirectly involved in them during my stay in Vijayawada when those incidents happened.
So, you strongly feel that Vijayawada has a strong rowdy culture?
Yes ! it had a strong vibe during those days. Though I never met any of them during my younger days, there is a rowdy subculture in Vijayawada which I have seen from close quarters.
The film looks quite high on violence?
Yes ! the film has hardcore scenes which I have shot them in so much detail. For example, there is a murder scene which I have shot for close to 15 minutes.
How are you going to justify both gangs in the film?
I did not take any sides and have shown what exactly happened in those days. Both the parties are quite aware as to what I am going to showcase and for this, I have used all real names and locations.
Vijayawada politics had a lot of caste feeling problems. How did you tackle it in the film?
Except for the song which was banned, I never used the word caste in the film.
Why didn't you choose known actors for the film?
It was quite intentional. Already, the characters which I was making were quite popular and I had to kill them in my film. If I had a star, it would have made things tough because of their image.
How did you finalize Sandy as the main lead?
I met Sandy at a private party in Puri Jagan's house. He was silently standing in the corner and after observing him for some time, I felt that he was a good choice. Right away, I asked him to send him pictures dressed as Vangaveeti. After seeing the images, I was stunned and finalized him right away.
A word about producer Dasari Kiran Kumar?
He is a fantastic producer and gave whatever I wanted right away. I remember asking him close to 100 ambassador cars for the film. Withing just three days of time, close to 80 cars were assembled outside my location which I felt was huge as ambassadors have gone out of use mostly.
Rather than making a film on Jayalalitha, why did you opt for Sasikala's biopic?
For me, Sasikala is a more interesting character than Jayalalitha. I feel that it will be very interesting to showcase a story about a lady who became so powerful without having any major post.
How is Sarkaar 3 shaping up?
We are done with the film and are ready to release it on march 17th 2017.
Articles that might interest you:
Ad : Teluguruchi - Learn.. Cook.. Enjoy the Tasty food