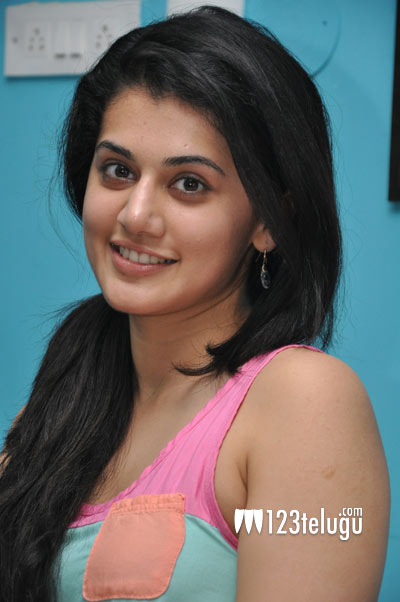 Actress Tapsee is delighted with the positive response to her character in the film 'Gundello Godaari'. She is seen as Sarala, the daughter of a rich fish merchant. We spoke with Tapsee today and here is the transcript of that conversation. See what she had to say about her career, about shooting for steamy scenes and about her future.
Q. Your role in Gundello Godaari is generating a lot of buzz. How do you feel about it?
A. I am very happy and I must express my thanks to the viewers for accepting me in a character that has grey shades. I now have the confidence to experiment more and more in my future projects.
Q. Were you apprehensive about playing a character with negative shades?
A. No. Actually, I thought of it as an opportunity to try something different. While shooting for the film, director Kumar wanted to make a few changes to the lines he had written for me. He thought they were a little too negative for a heroine to utter. But I did not want him to. I told Kumar "I don't want to be a good girl in this movie. I want those dialogues".
Q. You are a very different person in real life. Was it tough to act in a role that has such a radically different personality?
A. (Smiles, forming dimples) You see, I love challenges. It is tough to play a character that is so different from who you are in real life but that is what being an actress is all about. I want to do something different in every film and surprise people. I had a similar experience while shooting for 'Aadukalam', my first Tamil film, and I loved it.
Q. There is a scene in the film where you handle fish…..
A. Yeeeooowww… I hate fish.. I just can't take the smell. They made me handle fish and I just hope I never have to do it for any other film again. I was like literally washing my hand off with Dettol after that scene.
Q. So fish is off your menu completely?
A. No. I am eating grilled fish these days as part of my diet and fitness regimen. But I don't enjoy it too much. Chicken is what I like. But while shooting for 'Gundello Godaari' in the Godavari area, Lakshmi literally force fed me with fishes of all sizes and shapes, cooked in different styles.
Q. How was the Godavari Delta?
A. It is so beautiful!! I don't know why we go to foreign locations and leave such stunning beauty untapped. For example, we shot the 'Jillu Mandhi Vayasu' song completely in the Godavari area, at a place near Antarvedhi. Many people thought it was some exotic foreign location when they saw the visuals on screen. We were given a grand welcome in Palakollu and the warmth of the people was just so awesome.
Q. Many people felt that your role could have been longer in the film….
A. Thank You so much, for saying that . And please tell that to Kumar Nagendra as well (giggles)…Honestly, I accepted this role only for Lakshmi. I would not have agreed to it if someone else was making the film.
Q. Why? Is it because of the negative shades?
A. No. I would not have accepted it because it is not the main character in the film. I play second fiddle to someone and my presence is relatively short. But I am glad I did this film. I did it for Lakshmi.
Q. You seem to share a very good rapport with Lakshmi…
A. Yes. Lakshmi is an inspiration. She is a terrific actress and is immensely talented. It is not easy to handle a production like Gundello Godaari in this industry. Lakshmi is also a very naughty co-star. She is fun to hang out with.
Q. You were seen in some steamy scenes with Aadi. How did you feel while shooting for that song?
A. I was quite nervous. I was not very comfortable and I expressed my reservations to Kumar Nagendra. He gave me complete freedom and said " Shoot as long as you feel comfortable. We can stop when you don't want to continue". But my co-star Aadi was very professional and he made feel very relaxed. He was such a good boy. (Smiles)
Q. How is Shadow shaping up?
A. My look in this film will be very different and stylish. From head to toe, a lot of attention has been paid to my style in this movie. It is a regular commercial film and the last song needs to be shot. And it is such an enriching experience to work with Venkatesh garu. He is a walking, talking film school. His knowledge on filmmaking is immense. He is also a thorough gentleman, someone who knows how to treat people with respect and courtesy.
Q. Your Bollywood film is getting ready for release. Will you shift focus to Bollywood now?
A. I will never give up Telugu films. I may decrease the frequency of Telugu projects if I get more work in Bollywood, but I will never stop working here. I am getting a dream debut in Bollywood, with a prestigious banner like Viacom and a star director like David Dhawan. I can't ask for more.
Q. Is working in Bollywood a very different experience?
A. Well, actors are treated like Gods here. You get so much respect and so much care. In Bollywood, everyone in the production unit is more or less equal. You also do not get second chances in Bollywood.
Q. What are your future projects?
A. I am currently working for 'Shadow' and Chandrasekhar Yeleti's film with Gopichand in Telugu. In Tamil, I am working with Ajith and Nayanatara for Vishnuvardhan's film.
Q. Any other plans for the future, apart from being an actress?
A. No. I will work as long as I can. Maybe 10 years down the line,after I no longer have work, I will settle down in a foreign country. I want to lead an anonymous and normal life. I don't want to settle down in a place where people recognise me. (Smiles) .
With that, we ended our conversation with Tapsee after wishing her the very best for her upcoming projects. We hope you enjoyed reading the transcript of our conversation.
Interviewed by Mahesh S Koneru
Articles that might interest you:
Ad : Teluguruchi - Learn.. Cook.. Enjoy the Tasty food