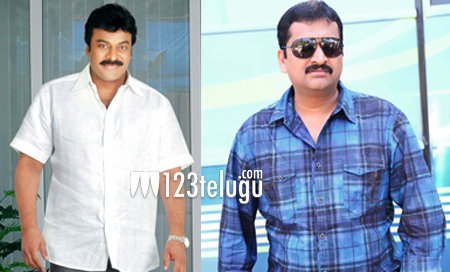 Popularly called as 'Blockbuster Producer', actor turned filmmaker Bandla Ganesh drenched his favorite hero Megastar Chiranjeevi in unlimited praises. This morning, the producer took to his Twitter page and showed his immense admiration for Chiranjeevi, much to the thrill of fellow Mega fans.
In his tweets, Bandla Ganesh praised Chiru's rise to fame from a nobody to an influential figure in the history of Telugu Cinema. A loyal Mega fan, Ganesh also said that Chiranjeevi is the prime source of inspiration for the youths to learn dance or walk stylishly. He also said that Chiranjeevi has not forgotten his humility and warmth even after acquiring a demigod status.
Needless to say, the Mega fans are pleasantly thrilled with the producer's sudden display of affection for Chiru.
జై చిరంజీవ!! జై చిరంజీవ! చిరంజీవ చిరంజీవ సుఖీభవ సుఖీభవ!!!

— ganesh bandla (@ganeshbandla) March 16, 2015
ఈ పేటకు ఆయనే మేస్త్రి. కొడితే ఆయనే సిక్సు కొట్టాలి. ఆయనకి అభిమానం పంచిన తమ్ముళ్ళం మనం. మెగాస్టార్ జిందాబాద్.

— ganesh bandla (@ganeshbandla) March 16, 2015
boxoffice ni redifine చేసిన మెగాస్టార్ చిరంజీవి సైకిల్ స్టాండ్ ఎంప్లాయి నించి నెంబర్ వన్ ప్రొడ్యూసర్ దాక ఎదురుచూసే సినిమా మెగాస్టార్ సినిమా

— ganesh bandla (@ganeshbandla) March 16, 2015
చిరంజీవిలా కష్టపడి పైకి రా అని కొడుకుతో అంటాం. కష్టపడి పైకొస్తాం అని చిరంజీవిగారిని ఆదర్శంగా తీసుకుంటాం.

— ganesh bandla (@ganeshbandla) March 16, 2015
డాన్సు నేర్చుకోవాలంటే ఫైట్స్ ప్రాక్టిస్ చెయ్యాలంటే నడవాలంటే నిలబడాలంటే చూసే CDs మెగాస్టార్ చిరంజీవిగారివి కాదా.

— ganesh bandla (@ganeshbandla) March 16, 2015
రామారావుగారు నాగేశ్వరరావుగారు కృష్ణగారు తర్వాత స్వయంకృషితో నెంబర్-వన్ అయ్యి మూడు దశాబ్దాలుగా నిలబడిపోయిన మెగాస్టార్ చిరంజీవి.

— ganesh bandla (@ganeshbandla) March 16, 2015
రాముడు లేని రామాయణమ్ చదవం.చిరంజీవి పేరు లేని తెలుగు సినిమా ఊసు ఎత్తం.కాలం మారినా గుణం మారని ధ్రువ నక్షత్రం మెగాస్థార్

— ganesh bandla (@ganeshbandla) March 16, 2015
Articles that might interest you:
Ad : Teluguruchi - Learn.. Cook.. Enjoy the Tasty food