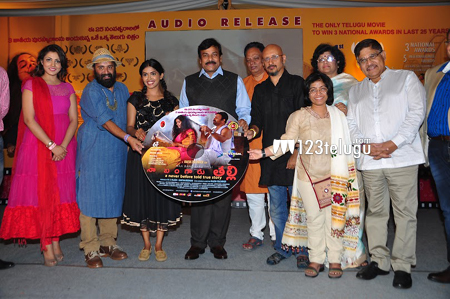 Based on the real life story of a girl, who became a victim of human trafficking, Rajesh Touchriver directed the film 'Naa Bangaru Talli'. His wife, social activist and founder of Prajwala organization, Sunitha Krishnan, is the producer of this film. Shantanu Moitra, who composed music for Bollywood films like '3 Idiots', 'Mardaani', 'PK' etc and Sharreth composed the music.
The audio of this film, which won three national awards and five international awards, has been launched at Taj Banjara in Hyderabad. Chiranjeevi graced the event as the chief guest and launched the audio. Allu Aravind, Rajesh Touchriver, Sunita Krishnan, Shantanu Moitra etc have also attended the event along with the girls from Prajwala foundation.
Sunitha Krishnan said, "'Naa Bangaru Thalli' is the story, which I really saw. It is a powerful story, which revolves around a father and a daughter. It is a story which has shaken me. I've to make a film based on the story and want to tell the people what the world is about. I've approached many producers, but no one has come forward to produce it. So I produced the film myself. It has been a beautiful journey because, we did the film selling whatever we had. But the real problem started when we want to take the film the theatres. The film has even received national and international awards. I tried so much to release the film and waited for someone to help us. But no one came forward and at one point, I wasn't able to do anything and left it to the universe. Then I saw the miracles happen. Amala Akkineni, MAA television and Allu Aravind helped us. We are very thankful to them. I've done my bit to bring the subject to the people and I request everyone here to become ambassadors for 'Naa Bangaru Thalli', so that it will reach everyone. Because no one deserves to be violated. Everyone has a right to live according to human values. No one from any other planet will come to help us. We should do it ourselves. I hope the film will reach everyone".
Shantanu Moitra, who opted to not attend the audio launch of his 'PK', to attend the audio launch of this event, said, "I've been a part of many landmark films. But "Na Bangaru Talli' is one of the most important films for me. While I am very happy for the film, I never had to films like this. These type of films should not be made. There is no need to do films like this for the society. That is what I pray for and hope. Because when a film like this happens, it means that the problem still exists in the society"."India is an amazing country for many languages and styles. The only reason why regional films do not cross connect is not because of language, but because of money. You take away money, every body will work in every other region. I think this film is really a case in point", Shantanu added. Anjali Patil said, "I thank my director and Sunitha, who has been my inspiration when I was acting in this film and even now. I never had the chance to dedicate the national award I received for this film to anyone. But on this occasion, I dedicate this award to Telugu language because I got the award for this film. After that, I want to dedicate award to all the girls, especially the Prajwala girls. They called me after watching this film and said that they liked my performance. That call is the bigger award that any national award. I never liked that I got a national award for my performance. I didn't expect it and I think I don't deserve this award. Because, I still feel that I could portray only 10% of what many girls are going through. I feel that I couldn't do justice to their pain".
Allu Aravind said, "I didn't do so much as Sunitha said. I only introduced her to some people and asked them to help her in such a good cause. Especially, I asked Chiranjeevi to watch the film and tell a few words about it, so that it will reach many and they will watch it. Every one with a social responsibility should watch the film and there is a need that many more films like this should come. So I requested Chiranjeevi to watch the film. That is the biggest help I did to Sunita. After watching the film, Chiranjeevi came forward to help. I thank him on this occasion".
Chiranjeevi said, "We go to some events so as to satisfy some people. But attending some events gives us so much satisfaction. I am very satisfied coming to this event. First of all, I want to tell about my ignorance. When Allu Aravind called me and said that Sunitha from Prajwala foundation, wants to meet me, I thought to avoid the meeting because I am regularly attending the audio functions and I want to stop it. I thought so only because of my ignorance and as I know very little about her then. But when she met, I was really moved by the stories she told. She told me very heart touching stories of many girls, who became victims of human trafficking. After knowing about her work, I couldn't help praising her. She is really doing a great work to rescue human trafficked victims, their rehabilitation and for reintegrating them into the society. When Aravind said that she deserves a Nobel prize, I felt he is exaggerating. But after seeing the work she is doing I am sure that she will get a Nobel. When she invited me and my wife to watch the film, I asked my wife to stay at home as I felt she may get disturbed watching the film on such a sensitive subject. But after watching the film, I felt I was wrong. It is not a disturbing film but a filmwhich educates. Many think this is an art film.But it is an out and out commercial film.
Everyone can watch it. Human Trafficking is a social evil and many girls were becoming victims of it. Government should help people like Sunita, who are fighting against it. Heroine Anjali Patil has done a fabulous job and her acting is praiseworthy. Director Rajesh Touchriver is a very good director. He kept me glued to the seat with the film, as I couldn't imagine what is going to happen next. Audiences, who spend hours for tickets of big heroes' films, should spare two hours to watch a good film like this. I am sure they will be moved by it". Director Rajesh Touchriver said, "We have faced many problems for this film. Sunitha Krishnan told the story of a girl, whom she rescued some time ago and asked me to do a film based on it. She asked me to do it not as an art film but as a commercial film. I felt it was very difficult to do a film on such a sensitive subject with commercial elements so that the whole family could watch it. But I want to do it and I am happy that it came out well. I thank Sunitha for producing this film. I am happy that I could the tell the story of not one but lakhs of girls, who are suffering, through a powerful visual medium like cinema" Madhu Shalini said, "When I saw the film, I was speechless. I couldn't believe a person goes through such a pain. Incidents like this happen everyday and we should put an end to them. I thank Rajesh for doing such a great film and Sunitha for making this film happen. Sunitha is a fighter. She has done a lot. We will be always there to support this film".
Everyone who attended the event praised the film and wished the team all the very best.
Articles that might interest you:
Ad : Teluguruchi - Learn.. Cook.. Enjoy the Tasty food