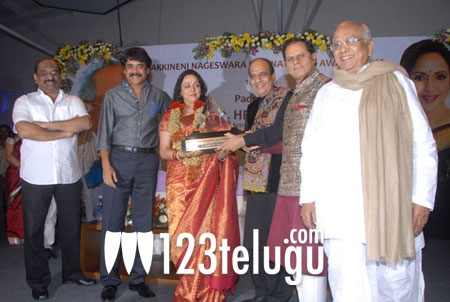 Bollywood legend and world famous actress Hema Malini was conferred the Akkineni National Award today at a glittering ceremony held at N Convention center Hyderabad. The Union Minister of Railways Shri Dinesh Trivedi was the chief guest at the venue. The event was attended by many famous personalities from the movie industry apart from the Akkineni Family.
Hema Malini "It is my great honour and privilege to receive this award instituted by the Legend of Telugu Cineman,Shri Akkineni Nageswara Rao. It is wonderful to see the entire family involved in the activities of the industry and in other social activities. Subba Rami Reddy has always been a great supporter of art. I am known to him since many years. He inspires me a lot. I have been in the industry for the last few decades. What is important is the active involvement of the artistes in the industry. My mother moulded me and guided me to greatness. I thank all those people who had faith in me in my early days. I thank my fans for giving me so much love. I am accepting this award with so much happiness".
Venkat Akkineni " I welcome and thank Mr.Dinesh Trivedi,Honourable Minister, for taking the time to grace the function. I have watched only a handful of Hindi movies as a child.But I will never be able to forget 'Johny Mera Naam'. Hema Malini is a lady of dignity and honour. It is a privilege to welcome her to this event"
ANR "Our Chief Guest had to leave the venue due to an extremely urgent meeting. Coming to the function, Subba Rami Reddy is my dear friend. He has a great quality of hiding his anger even towards his enemies. I feel happy that the committee has chosen Hema Malini for this year's award. She is a terrific actress and she was a dream girl for many young people. She is an accomplished Bharatanatyam Dancer. She needs to be appreciated for her dedication towards Indian culture. She has so much energy and I would love to act with her if given a chance. I feel proud that an award in my name is being given to an artist of such calibre."
On the International Film School Dr ANR said, " When I went to USA in the 60's, I was impressed by the movie institutions there. I wanted to start something on those lines but I could not until now. My family has respected my wish and they have all come together to make my dreams a reality "
Subba Rami Reddy" Dr. ANR got a unique idea to honour an artiste or technician from the film industry. Being a man of action, he instituted the award by depositing 1 Crore in the bank as deposit. With this, he is awarding a prominent personality every year. God has been partial to Hema Malini. She is an incredibly beautiful lady and she carries herself with such grace and dignity. It is indeed a fitting tribute to her and I am confident that this award will remain a prestigious award for a long time to come. Hyderabad is very happy to see Hema Malini here."
Dinesh Trivedi" I am honoured to felicitate Hema Malini. When I used to watch her on screen in my youth, I never imagined that I would share the same dias with her to felicitate her. She is a timeless actress with incredible talent. What a Journey it has been. From Johny Mera Naam to Baghban, she has been an incredible actress. However, I must say that there is no award bigger than Shri Nageswara Rao and Hema Malini themselves.With the talent we have, our film industries can do better than even Hollywood. Have belief and have faith".
Articles that might interest you
Ad : Teluguruchi - Learn.. Cook.. Enjoy the Tasty food