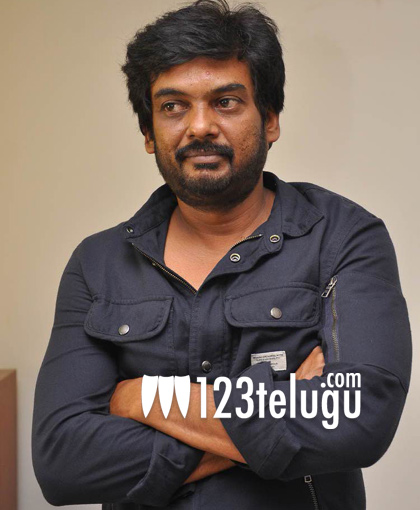 Maverick movie maker Puri Jagan is certainly not a man who minces words. In a press meet held today in his office, Puri Jagan interacted with the media to speak about his upcoming movie with Power Star Pawan Kalyan. Puri confirmed the movie's release on October 18th.
During this conversation, a scribe happened to ask Puri "You are making films at lightning speed with top heroes. You did it Mahesh Babu and you have done it again with Pawan. What is your secret?" . After a moment's reflection, Puri Jagan replied "I don't think I am shooting at a fast pace. Other directors are shooting slowly and that is making my work look fast. We don't need more time for our cinema".
Wonder what the other directors have to say to this. One thing is a fact though – Tollywood in general has picked up pace when it comes to completion of projects, if you compare it with the scenario a few years ago.
Read on to for some more interesting things Puri Jagan had to say during this chitchat.
Q. You worked with Pawan 12 years ago. You have worked now again. What is the change in him?
A. Pawan Kalyan gave me a life with Badri. I will always be indebted to him. He has not changed one bit in these last 12 years.
Q. What was the inspiration for CMGR's story? How did you convince Pawan?
A. I wrote the story about 4 years ago. I narrated it to Ravi Teja first. He immediately suggested Pawan Kalyan's name for the script and said that the movie will be a big hit if he does it. I narrated it to Pawan and he instantly agreed to do it. Infact, he enjoyed the movie and the scenes in the film so much that he is bringing over his friends to show them a few scenes from the movie while dubbing for it.
Q. What is Rambabu's character in the movie? Is the film going to be ready in time ?
A. Rambabu's character will be that of a socially responsible journalist who reacts to crimes and atrocities around him. His character will be very entertaining. The state is beset by a big problem and how Rambabu faces that is the story of the movie. Currently, the final mixing is being done and the movie will release worldwide on October 18th without fail.
Q. Have you showcased the media in a positive light or a negative light in this movie?
A. In a positive way. In fact, journalists will feel proud after watching this movie. There will be some jokes on the media though. This is a movie that will bring Pawan Kalyan, me and the producers a good name.
Q. How did Tamanna perform in the movie?
A. This is my first movie with Tamanna and she did a very good job. She has a tomboyish character in the movie and that is the reason why we gave her the name 'Cameraman' Ganga. I expect a Nandi for Pawan and Tamanna in this movie.
Q. Your titles in the past used to be 'Idiot', 'Pokiri' , 'Desamudhuru' etc. Nowadays, you seem to be choosing positive titles. What changed?
A. Nothing changed. I am still the same old bad guy inside (smiles)
Q. You worked with Mahesh after Dookudu. Pawan after Gabbar Singh and now Bunny after Julayi. Any pressure?
A. No I dont feel any pressure. I dont worry about whether I can give them a big blockbuster or not. I just do my job. Hence, I dont let pressure burden me.
Articles that might interest you:
Ad : Teluguruchi - Learn.. Cook.. Enjoy the Tasty food