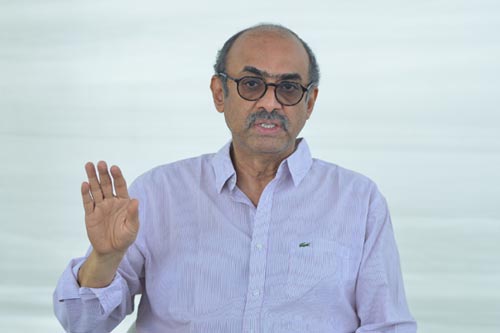 Hero Venkatesh's Narappa has skipped its theatrical release and is arriving directly on Amazon Prime Video on July 20th. The makers are promoting the film for the last few days, and, Narappa producer Suresh Babu interacted with the media earlier today. Here's an excerpt from the interaction.
Why did you prefer a direct OTT premiere over theatrical release?
The first reason is Narappa is a joint collaboration with Kalaipuli S Thanu. He lost Rs 10 to 15 crore expected revenue on Karnan in Tamil Nadu due to COVID-19 second wave. When we took the decision, the second wave was at its peak. So Kalaipuli S Thanu was quite worried. I cannot deprive him of profits when he gets a fancy OTT deal. The second reason is that it is not fair to ask the audience to come to theaters, when we do not send our own family members to theaters. Also, we were not sure about the audience coming to theaters. So, we opted for a direct OTT release.
Do you think OTT is here to stay?
I tried to fight digital when I had a Kodak lab. There is no use in fighting anymore. The markets will evolve. We have seen the satellite and the Hindi dubbing films coming in. OTT has come now and COVID has accelerated the growth of OTT and it has also become a savior for us. We should co-exist and use OTT to the benefit of the industry. Theaters will survive, but in a different form.
What excited you about choosing Asuran remake?
Every actor wants to do different films. Writers and directors here will not approach such stories keeping the image of the stars in mind. At that time, films like these from other languages excite us. Asuran is a commercial film shot realistically. It is a family drama with many mass elements. Vetrimaran could create heroism in this realistic subject. That's what I primarily liked in Asuran. The atrocities are also dealt with intelligently, without saying it on the face.
How hard did Venkatesh work for this film?
Venkatesh worked really hard for the film. We shot a schedule for 53 days in Tamil Nadu. Venkatesh is in the character for all those days and did not take even one day break in between. The movie is also physically exhausting for him, going through all those emotions and also doing action sequences. He has never played such a role in his career so far. But it is the kind of character which he always wanted to portray. The fight before the interval was very difficult for him.
Why did you rope in Srikanth Addala to direct Narappa?
He came to us to narrate some other script. He mentioned about Asuran and asked me to give him a chance. We spoke about the film and discussed at length about the essence of the film. I realized that he understood the story well. Moreover, he knew how to deal with subtle emotions, which is very interesting. That's how he was brought on board.
You have Mani Sharma, but still reused a couple of songs from the original?
It happens with all the remakes. Mani Sharma is more than capable. When we see the original many times, we cannot imagine any other song in that place. Even if they are better than the original, we cannot get convinced. That's the reason why we reused those original tracks in the remake. It happened in the Chanti remake too.
Did you mention any real issues of caste atrocities in AP and Telangana?
We did discuss certain issues. However, there will be no direct references. The audience will still feel and relate to the story. Even in the original, in the end, they tried to project it as an issue between two families.
Did you make any changes to Asuran script?
We made a very few changes mostly to suit our nativity. There are relatively more changes in Drushyam 2, especially in the first half. We have changed 4 to 5 scenes in Drushyam 2.
Articles that might interest you:
Ad : Teluguruchi - Learn.. Cook.. Enjoy the Tasty food