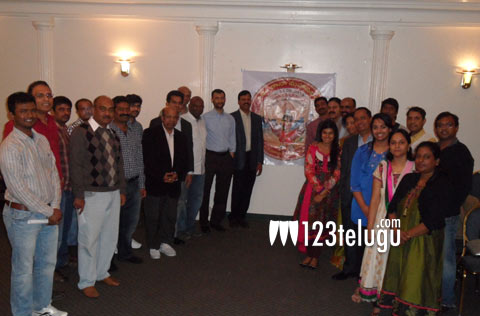 "Teamwork and dedication to experience and showcase the glory of Telugu to the world" is the theme of the afternoon gathered at the Pasand Indian Restaurant in Irving TX, as a part of the 19th TANA Convention Planning Kick-off hosted by the Telugu Association of North America (TANA). TANA, founded in 1977, is one of the oldest and largest Indo-American national-level organizations with its charter to perpetuate, integrate, and assimilate the cultural heritage of the Telugu-speaking people of the North American continent into the mainstream of the cultural heritage of North America. This program was hosted under the leadership of Prasad Thotakura, President of TANA and Murali Vennam, Coordinator of 19th TANA Convention scheduled from May 24th to 26th at the Dallas Convention Center. Telugu Association of North Texas (TANTEX), established in 1986 as a non-profit, non-religious organization to preserve, protect and perpetuate the cultural heritage of Telugu speaking people of North Texas is co-hosting this event
Dr. Raghavendra Prasad, Chairman of the Convention Advisory Board invoked Goddess Gayatri and quoted "This convention would not only bring all the Telugu people under a single umbrella while serving their needs but also will maintain the spirit of brotherhood which is the true measure of success".
Murali Vennam, Coordinator of the 19th TANA Convention introduced over thirty committed leaders and reiterated that Dallas is getting ready with extraordinary arrangements and around 10, 000 Telugu people from all over the world are expected to attend this mega event.
Chalapathi Kondrakunta, Convention Secretary shared the ongoing fundraising activities scheduled at various locations across the United States. Manjulatha Kanneganti, Regional Representative- Southwest quoted "I am so proud to host this unprecedented event in the region with the highest life members"
Prasad Thotakura, President of TANA shared the unique opportunities and differentiators at this convention in comparison to its predecessors to provide the experience and showcase the glory of Telugu to the world. The key points of worth noting are:
• Giving high priority to our next generation youth and hosting of the popular "Paadutaa Theeyagaa" music competition with E-TV for which 18 talented singers from the USA and 4 winners from ETV-Padutaa Teeyaga were already chosen
• Received over 1,000 applications to compete in the first ever global Science Fair hosted by TANA
• Priority to film, folk and classical music competitions through "DhimTana" being hosted along with TV9
• Already committed dignitaries and illustrious leaders from Cultural, Film, Literary and Political wings from Andhra Pradesh and around the globe
• Special recognition of film personalities from golden years on the occasion of 2013 being the "Indian Movie Centenary"
Convention Website Launched. Visit www.tana2013.org
The leadership team of TANA lead by Prasad Thotakura, President, Dr. Raghavendra Prasad, Chairman of the Convention Advisory Board, Murali Vennam, Convention Coordinator, Chalapathi Kondrakunta, Convention Secretary, Ram Yalamanchili, Secretary, Manjulatha Kanneganti, Regional Representative, Rajesh Veerapaneni, Chair, Web Committee, unveiled the newly created website of the 19th TANA Convention www.tana2013.org. This website will serve as the launching pad to unite and communicate in real time with the all the Telugu people scattered around world.
Inviting Short Film Competitions
Prasad Thotakura, President of TANA invited film enthusiasts to produce short films of up to five minutes in length. He quoted "in order to preserve and protect our Telugu language TANA is inviting short-film entries on 1) Telugu Bhashanu Bathikinchukovadam ela? 2) Any Social problem – solution 3) Humor The short-film competitions will be conducted along with TV5 and Telugu One.com please stay tuned for more information"
Leaders of various committees, such as, food, transportation, logistics, guest relations, cultural, literary, web, souvenir, youth, audio/video, spiritual, short film, reception, non-profit, media relations, registration, business, art/photo exhibition, science fair, health, IT infrastructure and more provided updates and progress to-date.
Representatives of TANTEX, the co-host for this 19th TANA convention lead by Suresh Manduva, President, Vijay Mohan Kakarla, President-Elect, Dr. Narasimha Reddy Urimindi, Vice President, Subramanyam Jonnalagadda, Secretary, Krishna Reddy Uppalapati, Joint Secretary and Chinasatyam Veernapu, EC Member and Chair of "Telugu Velugu" Editorial Board and Web Committee attended this event and reiterated their commitment to serve.
There was a moment of silence in memory of those lost in the recent terrorist attacks in Hyderabad. The kick-off meeting attended by the enthusiastic Chairs and volunteers of various working committees came to an end with vote of thanks by Ram Yalamanchili, Secretary of TANA to the audience for their attendance, volunteers who spent countless hours of valuable time, Pasand Indian Restaurant for providing excellent support and facilities, to TV5 and TV9 for their excellent coverage before and after the event.
Articles that might interest you:
Ad : Teluguruchi - Learn.. Cook.. Enjoy the Tasty food