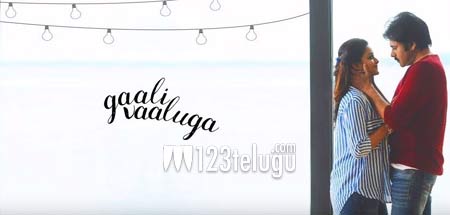 No this is not an article just about Pawan Kalyan's newest movie's second single. This song is much more than that. Do you remember the lines "Winter Lo Vidigaa Untaanantaavemaa" "My heart is beating adola", "freedom dorikinattu gallillo, welcome pilupu vinipisthundhe" or "Daaram tenchukunna kite nenu, sanivaaram rachagunna night nenu"? Do you know what is common in all of these besides all of them being written by Guruvugaaru and for Trivikram's movies? The kontethanam mixed with Tenglish(Telugu + English) usage of Guruvugaaru. Trivikram brings out the penkithanam in Guruvugaaru very well. So when the new single was advertised as "Gaali vaaluga" by Sirivennela Seetharama Sastry, I did not even have to read the second part of that. The very usage of "Gaali vaaluga" shouts out loud and crystal clear that it would indeed be by Guruvugaaru and so I was excited.
Coming to the song, I am no expert at music but I can say it was a tough lyric to sing to. Anirudh did a good job. His Telugu pronunciation is good except for one place where Osi sounded like Mosi. Coming to the lyrics, I would like to point out a few "Aani mutyaalu".
"Yem chesaave mabbulanu puvvullo thadipi thene jadilo munchesaave"
This line is what prompted me to write this article. "Antha bhaavaanni intha chinna line lo imadchadam Guruvugaarike saadhyam" Drenched in Love is a very common term used by poets but what Guruvugaaru does here is to take it to the next level. He says I am drenched in your love and it feels so sweet(nice/happy etc). And he conveys it by adding that she dipped clouds into flowers, no not to take their smell(like many poets would have told) but to take the honey in them to make the rain sweet. That thought and the wording used to convey it instantly brought a smile on my face.
"Nadiche harivilla nanu nuvvilla guri peduthunte elaa"
Again a novel usage. Many poets have compared girls to rainbow. Here the kontethanam of Guruvugaaru comes to the fore to compare the girl to a rainbow conveying how colorful and beautiful she is. And he does not stop there. He also uses the word harivillu(Bow of Lord Vishnu) in its literal meaning to convey that she is aiming that bow at the guy and hurting him(Sweet pain).
"Kora kora kopamela, chura chura choopulela, manohari maadipona, antha udikisthe."
The first three phrases have already been used earlier. The girl looking at the guy angrily and burning him was conveyed in many songs. But Guruvugaaru adds his touch to it at the end by saying that he might be burnt not because she is angry at him but because she is teasing (udikinchadam). Udikinchadam translates to boiling or heating.
Like Trivikram once said in a speech, Guruvugaaru creates a space for his signatures in Telugu songs and leaves them all over the place. It is left up to us to find them and relish the sweet genius in them.
This song, just like the title Gaali Vaaluga, feels like a song that smoothly touches you with a nice breeze of the wind. It just brushes you off with so much ease and when it's done it will leave you asking for more. So Gaali vaaluga on a loop folks.
–Column by Rohit (Opinions expressed are his own)
Articles that might interest you:
Ad : Teluguruchi - Learn.. Cook.. Enjoy the Tasty food