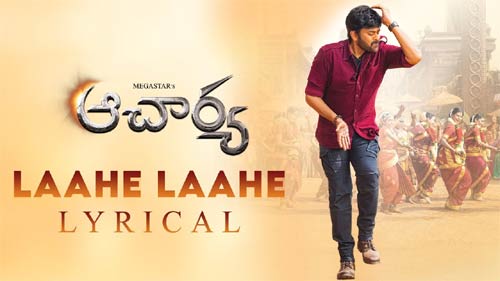 To start exploring Laahe Laahe song lyrics, one needs to first understand that Lord Siva and Goddess Parvati's love story is one of the most romantic mythological love stories in Hinduism. One of the famous poets, Kavi Sarvabhouma Srinadha had captured parts of that beautiful story in his famous Haravilasam.
Now with that back story out in the open, let us delve into yet another Manisharma's Lord Siva's songs after super hits Bham Bham Bhole(Indra), Sada Siva(Khaleja), Sri Ganga(Teenmaar), etc. Also if I am not wrong, this is the second Lord Siva song in the combination with Mani Sharma and Ramajogayya Sastry after the classic hit Sada Siva. Also, this is a comeback album for Manisharma and Megastar combo.
Kondalaraju bangarukonda
Kondajathiki andadanda
Madderaatiri lechi mangala gauri
Mallelu kosinde
Aatini maalalu kadatha
Manchu kondala saamini thalasindhe
I sense the sarcasm in this line. The daddy's princess, Kondalaraju aka Parvatha Raju's daughter Parvati aka Mangala Gauri as in the Goddess who is auspicious, wakes up in the middle of the night to get some flowers and starts weaving them into a garland. And then thinks of Manchu Kondala Saami, aka Lord Siva.
Mello melikala naagula dhanda
Valapula vediki egiripadanga
Onti ibudhi jala jala ralipadanga
Saambadu kadhilnde
Amma pilupuki saami
Attharu segalai
Vilavila naliginde
Lord Siva is feared by Gods and Asuras but one thought from Parvati Devi he is tensed. This line describes how he started immediately with the snake still around his neck and Vibhoodhi on his body.
Kora kora koruvulu mande kallu
Jadalirabosina simpiri kurulu
Errati kopalegasina kumkam bottu
Yennela kaasindhe
Peniviti raakanu telisi
Seemathangi siggulu poosindhe
Parvati Devi who woke up in the middle of the night is having her red hot eyes, unkempt hair and super red kumkum glowed up suddenly and felt shy with her husband's coming but in her seemingly Maathangi avatar, again I sense Sarcasm.
Now in the next line, she questions Siva why he could not come in proper attire for the unplanned romantic midnight where even she wasn't prepared herself.
Ubalaatanga mundharikuriki
Ayyavataaram choosina koliki
Endhaa sankam soolam
Bairaagesam endhani sanigindhe
Impuga eepootaina
Raalevaa ani
Sanuvuga kasirindhe
Lokaalele enthodaina
Lokuva madise sonthintlona
Ammori gaddam patti
Bathimaalinavi
Addaala naamalu
Aalumagala naduma
Addam raavule ettaati neemaalu
The line "Ammori gaddam patti bathimaalinavi addaala naamaalu" clearly explains the hierarchy in the scene. Siva here represents a head of a whole section of people that put "addaala naamaalu", Shaivas but when the wife is "Ammoru" as in angry Parvati, he has to bow down to her.
The next lines summarize how they do this all the time, as in how they both still totally in love miss each other, the cute fights, the cute alakas, and then the romance just in time to attend to their devotees.
Okato jaamuna kaligina viraham
Rendo jaamuki mudirina virasam
Sardhuki poye sarasam
Kudhire velaku moodo jaamaaye
Oddhika perige naalugo
Jaamuki gullo gantalu modhalaye
Prathi oka rojudhi
Jarige ghattam
Yedamokamayyi ekam avatam
Anaadhi alavaateellaki
Alakalone kilakilamanukotam
Swayaana chebuthunnaru
Anubhandaalu kadathere paatam
In short, the song is a funny and cute way of saying how duty and romance in life are important and I think that's how this will apply to Acharya played by Megastar Chiranjeevi.
–Column by Rohit (Opinions expressed are his own)
Articles that might interest you:
Ad : Teluguruchi - Learn.. Cook.. Enjoy the Tasty food