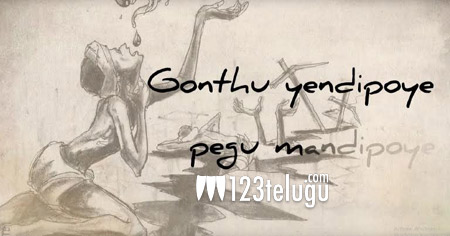 Most of us have seen the movie Khaidi No 150 by now. If you have not seen it yet, please be warned that there will be some plot line spoilers here. So I bring to your notice a song from that movie with some great lyrics that are filled with so much pain. A pain that is so contemporary and the one that needs every support it can get, our farmer's pain.
Please play this song (Neeru Neeru) in your earphones or in the background in repeat mode and then read this article for the best reading experience. The movie deals with the diversion of water from farming lands to corporate companies. So the placement of this song is at the peak emotional point where farmers take a drastic step to gain some media attention.
NeeruNeeruNeeru
Raithukanta Neeru
This was obvious. When the problem is related to water, the lyricist would be tempted to use the phrase "Kantaneeru"(Water in the eyes) at least once. Here it even signifies the harsh reality that water is only found in their tears but not on land for farming.
Choodanainachoodarevvaru
We all are busy in our daily life but we never miss a meal in the day. But we never observe the difficulties faced by our farmers who provide us that meal. They are just a news article for us.
Gundelannibeedu
Aasalannimodu
Aadarinchunaadhudevvadu
The farmland becomes barren but the usage here says hearts are barren. What that means is that their lands are so barren that their hearts too became barren to even let any hope grow in them. So their hopes are also dead.
Annadaathagoduninginantenedu
Aalakinchuvaruevvaru
With so many suicides of farmers, even though the "annadatha" problem is touching the skies hypothetically but there is no one to heed to and resolve it.
Neeruneeruneeru
Raithukantaneeru
Choodanainachoodarevvaru
Now it gets very hard hitting here and very painfully poetic.
Gonthuendipoyepegumandipoye
Gangathallijaadaledhani
We know without water/gangathalli your throat becomes dry but why does your bowels or intestines burn. "Pegu manta" is a phrase in Telugu signifying extreme hunger. Your hunger cannot be satisfied by water. But what those lines mean is that the lack of water is affecting farmer's earnings and so they are deprived of any food to eat. Hence the unbearable hunger. Sometimes just four words can hide a huge world of pain in them.
Neetipainaaaseneerugaripoye
Raathamaarudhaariledhani
This is an intelligent wordplay here. "Neerugaaripoye" meaning disappointment and it might have originated from a situation where the water fetched from somewhere in a pot or some vessel is all gone by the time it reaches the destination. Here the lyricist says their hope to get water is all lost along the days they were fighting their fight. This means utter disappointment with no chance of return.
Dhaahamaaruthundha
Pairupanduthundha
Dhaaralainakantineetitho
These three lines try to tie the song with the first two lines and say yes there is plenty for farmers to cry over in their situation and questions if any of those tears could quench their thirst or water their crop. These lines sound desperation from farmer's point of view saying that they are ready to cry and dry their eyes out provided if that would help their situation and solve their problems. We know it will not and they also know it won't.
Nela thalli Neduangilaripoye
Moogaboyeraithunaagali
Again the stress is the lack of water and how it drained out all the moist from the palate of their farm land which they consider their mother. Since the land is so dried out the plow can hardly dig through the lands and so it is silently in some corner with no work to do.
The next line is the one that has to justify the drastic step taken by farmers to commit mass suicide.
Aayuvanthachooduaarthnadhamaye
Gonthukosukundhiaakali
The first line says they used all their remaining life to produce one last loud cry, to be heard by everyone and they did that by cutting their throats out of their despair and hunger. If you look at it from a different perspective, it means they are so weak from hunger to even make a loud noise. So they cut their throats and their life short to gather as much energy as they can and produce one loud cry for the one last time………hoping to make their story heard. So hear the song now one more time focusing on the lyrics and if not anything then keep them in your prayers at least.
Hats off to Devi Sri Prasad for apt composition, Shankar Mahadevan for heartfelt singing, Murugadoss for such a script and importantly RamajogayyaSastry for brilliant lyrics.
– Column by Rohit (Opinions expressed are his own)
Articles that might interest you:
Ad : Teluguruchi - Learn.. Cook.. Enjoy the Tasty food