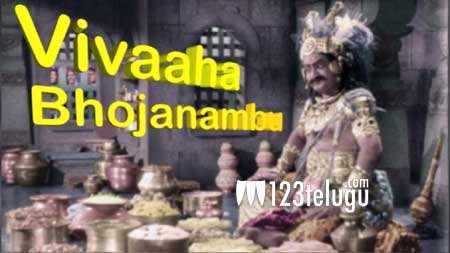 Let me guess, the first song that came to your mind when you read the title was the legendary evergreen "Vivahabhojanambu" from " Maya Bazaar". The legendary status of that song shows both how well that song was made and how Telugu people are "bhojanapriyulu". We all love that song. So today let me take you down a path of some references of food in our cinema.
Let's start with Mahanubhavudu Jandhyala's RenduJella Sita song "Kobbarineella" song. It is a humorous song where girl is all emotional about her love for the guy but the guy is so much into food.
Girl: "Aakasa veenallo nenu anuraagame nenu paadukunta"
Guy: "Gongurapachatlo nenu ullipaaye nanjukuntaa"
Girl: "Maativvu naaku manasichchukuntaa"
Guy: "Vadilesthe Vankaaya vandinchukuntaa"
Guy: "Sorry Vankaya vantikoora Pankajamukhisita vanti bharyamani annarukadhandi"
That's just the half song. Listen to the full song especially the ending lyric of the girl. Jandhyalagaaru at his one of the bests.
Let's move onto another Mahanubhavula duo, Bapu-Ramana. The song is one of their classic hits "PelliPusthakam" vanabhojanam song. "Vedivedi annammeedha kammani pappu kaachinaneyyi" is how the song starts and you are hungry already by then. Rajendra Prasad in this song proves why he is the best as he shoulders the song so beautifully and of course the brilliant direction too. The mention of Masala gaare, Jilebi, Baadusha, Samosa, Potato chips, Pakodi, Malaiperugu, Tomato chutney, Poornam, Kaarappoosa, Ariselu, Boorelu, Aavadabondalu, Janthikalu, Kaarapupachadi and theepiJaangiri will definitely give you the food coma. And the accidental mention of "Kakkalumukkalu, fish kebabulu" is the icing on the cake for the Non-Vegetarian lovers too. Now that's called catering to all the audience (pun intended). Thank you Arudra-Bapu-Ramana-Rajendra Prasad.
Mahesh Babu's Bobby has one full song on Pullattusung by Mano explaining how pullatu mix is made(on rolu) and pulaatu is made (on katlapoyi, rekupenam using atlakaada and sprinkling some podikaaram). This song should be on the list of every foodie cum music lover. In the same movie there is another song "Vaavaa" which uses different fruit juices for comparisons. A very nice folk song-ish composition by Mani Sharma and well sung by SPB and Sunitha.
As a kid I hated "Vankaya"(Brinjal/Eggplant) until I saw Laila singing praises of it in EgirePavurama. I would not say I love it now but after that song I at least give it a try. Now that is one hell of a marketing of food. This song is a song version of the recipe for "GuttiVankaya". The very sight of "allam" "Pachimirchi" on rubbudurolu being grinded and then mixed with Kothimeera is to die for. Watch it for that experience. The song has some bonus items too like "Letha vankaya la thovepudu", "Methavankayalatho chutney" and Tomato curry.
We also have songs on Coffee in movies like Mithunam, new Geethanjalietc and Chai song by none other than Chiranjeevi in Mrugaraju. Besides songs we have some movies where actors are cooks/chefs and we get to see some beautiful scenes of cooking. Venu explaining how making Vanakaya is an art in Chirunavvutho, Nagarjuna making Chapati dough and making Dosas in AllariAlludu, Vani Sri and Nagmamaking Biryani to trap Nagarjuna in the same movie and the very recent Pellichoopulu where the movie is based on food truck with some great visuals of food. All in all let me conclude by saying that Baahubali-The Conclusion should have had a scene with a grand feast in it and then it would have been a complete package. We Telugu people love cinema and love food and the combination of both in an efficient way will surely leave us with "bhukthaayaasam".
Hungry yet!!!
–Column by Rohit (Opinions expressed are his own)
Articles that might interest you:
Ad : Teluguruchi - Learn.. Cook.. Enjoy the Tasty food