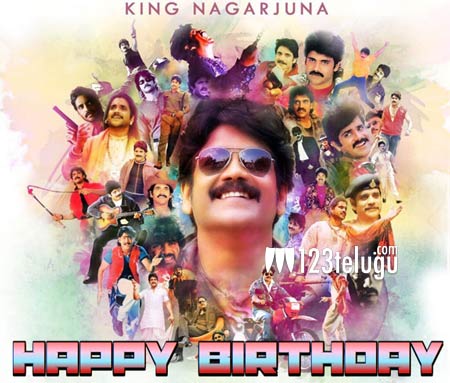 Today is a very special day for me. I did not become a movie freak overnight. It took years and years, decades and decades of adding up to the addiction called movie. No matter how hard I try I cannot recollect when it all started for me. But I can tell you that the first thing I remember as a movie freak is that I love Nagarjuna. My first memory related to the movies is that I was his fan. This was way before the trendsetting Siva or the gutsy Geethanjali.
As a true Nag(That's what his fans call him) fan, today, on the occasion of his birthday, I would like to take a walk down the memory lane with the readers, revisiting some special movies of Nag, I stress special not hits not blockbusters.
I have to start with Sankeerthana. A love story treading the topic of caste differences in our society. Nag shed his urban lifestyle, body language and fit into the character of a village guy. For many, Siva was the first gutsy step but in my opinion, Sankeerthana was no less, that too right after a commercial success Majnu.
Then he had some flops, few hits and then came Siva and Geethanjali. Everything that can be said about them has already been told. So I will skip those and talk about a movie that came after, Neti Sidhartha. It was a huge flop, but I loved it and later realized that it was Nagarjuna and Kranthi Kumar's tribute to the classic The Godfather. This was much before Ram Gopal Varma started churning out his various variations of The Godfather year after year. Do give it a try when you have time. The soundtrack of the movie by Laxmikant Pyarelal was ahead of its times for a Telugu cinema. I still can hear the songs "Osi manasa" and "Neeve kadha naa sweet figure" echoing in my ears, talking about this movie.
This was the time right after Siva. Telugu cinema had changed forever with Nagarjuna's one bold step and he was not one to stop there and bask in that glory. He moved on to give us many more path breaking movies but they all tanked real bad. Of course there were bad movies like Shanthi Kranthi, Agni etc. but majority of the Nag's flops that came during those times were all his attempts to break the mold of Telugu cinema. Chaitanya was a movie on car racing blended with a nice suspense thriller. It did not work. Jaitra yatra was a movie on the plight of the people of Stuvartpuram, which was notorious back then for the thieves that looted trains. It was not made to work and it did not. Telugu cinema connoisseurs who appreciated Sindhooram were too young back then to appreciate this one, may be. But nevertheless, it was a good movie that did not work.
Two other movies that did not follow the typical Telugu cinema format of those days were Antham and Rakshana. We all know and love Gowtham Menon's cop dramas but we had our very own brilliant cop drama Rakshana much before Khakka khakka. Nag fan or not, I will say that is a must watch for cop drama lovers. It is one of the best in Telugu.
There will be no one who had watched RGV's Satya and did not like it. But how many know that Satya was indeed Antham. There were even exact same scenes. Antham was Satya minus Bhiku Matre but a brilliant story still. Alas, it did not work and this was the first movie that pushed RGV away from Telugu cinema. Antham in my opinion ranks among his best works right by the side of Satya, Company etc.
Then for few years he stuck to commercial potboilers, very unlike Nag but they were all hits like President gari pellam, Varasudu, Allari Alludu, Hello Brother, Gharana Bullodu etc. This movies brought out the comedy timing in Nag. He was impeccable in Allari Alludu and Hello Brother, two of his best commercial movies.
Then he gave us Telugu Cinema's very own Rajshri movie, Ninne Pelladatha. What followed next surprised many, miffed some and shocked his fans. He signed up to play Annamayya. I still remember that day when I walked into the Kaveri theater in Nellore with my parents and so much worried and totally convinced that movie is going to be a mock fest. The movie started and Nagarjuna felt a bit out of place in the beginning, then came Kalaganti song. That moment in my life, I can say that I knew I am going to die a Nag fan. But I did not know that it was just the tip of the iceberg. Then came the climax, I do not know if I was crying in that scene due to the emotional quotient or due to the fact that Nag made his fans proud once and for all. Then I walked out of the theater, I think may be, few feet up from the ground, floating in the air and showing off.
After speaking about Annamayya, I can continue speaking of other hits and other experimental movies. But it would be a too much lengthy as Nag never stopped experimenting. But I cannot conclude this article without talking about Manam. Manam for many was a movie of four Akkinenis. But for a true Nag fan, it was one of his best performances. He nailed it as the son of Samantha. He sounded so innocent and so pure in portrayal of his love towards Samantha in the movie that it came out so very emotional. I do not think that I have to stress that it is not easy to play a son to a girl half your age or even lesser.
Oh! One last thing. It would be a blasphemy to not talk about his evergreen glamor. I think at this stage, you cannot even call that evergreen. It is totally either supernatural or Vampire-ish because only they are known to be so handsome at this age. I hope Manam fame, Vikram Kumar is hearing this and will soon plan a Vampire themed movie with Nagarjuna. I mean someone has to start that genre in Telugu and who better than the trendsetter Nag.
Happy birthday Nag.
–Column by Rohit (Opinions expressed are his own)
Articles that might interest you:
Ad : Teluguruchi - Learn.. Cook.. Enjoy the Tasty food