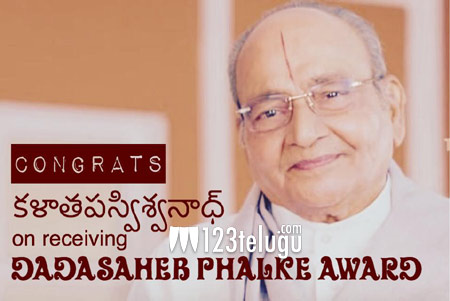 Firstly congratulations to Dada SahebPhalke Award, the highest honor for a film personality, for awarding it to our K. Viswanathgaru. It raised its stature with this. Then congrats to our Kala Tapasvi for coveting one more prestigious award and he is more worth than any award there is. What new can I say now, which has not already been told about this great man. Which movie should I praise of his which is not already praised some zillion times! Be it Sankarabharanam (Lord Siva's Ornament), SagaraSangamam(Union of oceans), SwarnaKamalam(Golden Lotus) or SwathiMutyam(Purest pearl) or SwayamKrushi(Self-hardwork) or many more.
Instead I have decided that I will jot down two less spoken about scenes that blew me away when I watched them for the first time. One such scene is from Sapthapadi(Seven steps). In the movie, the heroine is married off to someone other than the person she fell in love with. And the scene I was impressed with when her husband enters the bedroom, instead of finding her, he finds his Goddess, the one he worships daily in the temple. He starts singing "Aigirinandini"sthotram praising her as if she is the Goddess. That scene emphasizes two things. One a girl belongs to those who has her heart not to the person that traditions tie her up with and other important thing, which is very much relevant even today is, how a man should look at someone else's woman, like a Goddess. The brilliance of the director is not making this scene preachy and yet driving the point home.
The next scene would be in my top 10 all-time best scenes in the world of cinema. This is from SwathiMutyam. When Radhika enters through the gate of Kamal's house and he is looking away from her, the song in the background goes like "Rama Kanavemira" and then he turns towards her when the lines go "Ramanilalamanavalavanyaseema, dharaputhri, sumagaathrinadayaadi raga"and she comes walking towards him. That is just the beginning. Then the song shifts to the temple where a priest is singing the Swayamvaram episode of Rama Sita. The song goes on to explain how everyone tried to marry Sita but failed because they could not break the Siva Dhanussu. A parallel is then drawn between everyone who are afraid of the traditions and incapable of breaking them while Kamal without any fear lifts up and breaks the Siva Dhanussu of age-old traditions to marry his Sita, the widow in the movie. It takes lot of heart to compare Sita to Radhika's role in those days. Of course I did not get all this the first time I watched but if the song was picturized in a bad way I would not have watched it so many times to understand the brilliance behind that.
And that is why in my opinion K. Viswanathgaru is a genius director and he stuck to what he conveyed in movies like SwarnaKamalam, SagaraSangamametc that art is for self-realization and self-satisfaction and not for fame. He never budged down to fame in his career. And that is why he is called Kala Tapasvi, a well-deserved name for him and he deserves all the immense respect and accolades he command(through his work) today.
–Column by Rohit (Opinions expressed are his own)
Articles that might interest you:
Ad : Teluguruchi - Learn.. Cook.. Enjoy the Tasty food