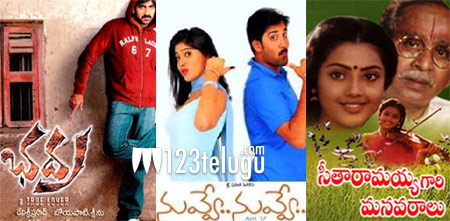 I found an article somewhere that said that there are 22 movies in Million dollar club till date. And all together they have made $39 million at USA Box office in just last 4 years. It comes down to at the least 240 crores in INR from which are huge.
And it will be more if we consider all the movies that released overseas over the years. So may be, the NRI audience should have a say on how they are represented in Telugu movies. There is a brilliant scene in Bhadra where Ravi Teja tells Meera Jasmine that she should not marry an NRI because NRIs are greedy about dollars and green cards and they forget the motherland etc. When his breathless dialogue stops, there would have been whistles even in the A centers in India. But what about the 39 million plus dollars paying consumers for Telugu cinema outside India. I bet there was pin drop silence in theaters overseas for that scene.
Do any of you remember the iconic dialogue by our very own Trivikram that goes something like this- "Kanna thallini Gudilodevudni, manamevelli choodaali.Vaallu mana Daggarikiraavaali Anukovadam Moorkhatvamanipinchukuntundhi." That is from Nuvve Nuvve and it is delivered perfectly by Prakash Raj. Let's not get into the nitty-gritty details of being an NRI here but let me just say that "gudilodevudni" you can see for few minutes and be happy. But "Kannathallini" you would want to see daily at least for six months, a limit set by the American government.
There are numerous such scenes in Telugu cinema from the beginning of the globalization era. Very recently, there was Mithunam where a whole movie is dedicated to showing the absence NRI kids for their aging parents. Also, whenever an emotionless fiancé who does not get the girl, in the end, is needed, the makers opt for an NRI. While they are at it, they also mock NRIs on how they come for 1 or 2 days even for their marriage.
This happened in so many movies that I have lost count. But as a consolation, once in a while there comes a movie like "Seetharamaiahgari Manavaralu" where NRIs are shown in the good light, show how well the kids are raised by NRIs and most importantly how much "We" miss home. And now looks like one more movie from a big producer is ready for release which is claiming to ask all the NRI sons and daughters the right questions their parents could not ask.
Hoping that such caricatures of NRIs will soon stop in Telugu cinema, I would like to end this article with dialogues from another cinema industry from India. Zarooraton ne par kaatdiyehai … roti paonkizanjeer ban gayihai(Necessities have cut our wings … bread has become shackles of my legs). Phirbhidilhai Hindustani(Still our hearts are very much Indian, as much as the Indians in India). And it hurts when we become the laughing stock of the movies we too pay and make blockbusters.
– Column by Rohit(Opinions expressed are his own)
Articles that might interest you:
Ad : Teluguruchi - Learn.. Cook.. Enjoy the Tasty food