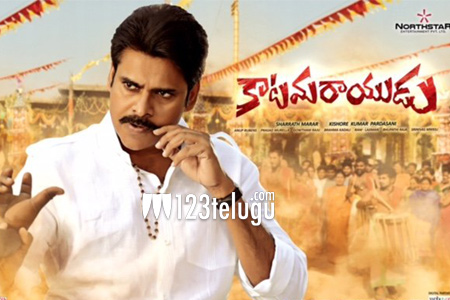 On Feb 23rd 2016, a news came out which was a heart thumping moment for Pawan fans. It was that Sardaar overseas rights were sold for a bomb, to be exact 10 crores. We all know that movie was a total washout and a loss venture for the investors. That is quite common. Nobody can guess a movie's outcome and Sardaar was a sequel to the runaway blockbuster Gabbar Singh and so the 10 crore figure made sense.
Cut to one year later, Pawan is now coming out of one of his biggest disasters. He is remaking a very bad movie which no one knew why. Fans too have very less hopes. I can say that because I am one among those. And then an article comes out on Feb 15th 2017 that Katamarayudu overseas rights were sold for 11.5 crores.
There is a saying about heroes that they are only as good as their last Friday's release. But in this case the saying should have been a hero's next Friday release is always bigger than his last release. It does not make sense. What changed in a year? The dollar rate was almost same. Katamarayudu had no pre-release hype except the fans usual euphoria. The original Veeram was dubbed into Telugu, released and now already playing in the TVs. The budget of Katamarayudu seemed way less than Sardaar too or at least the same. The result, as all know by now, is that Katamarayudu might not be a profitable venture overseas. Forget the reviews and ratings, I am saying the regular audience were least interested in this remake. And fans could only watch a movie so many times, unlike in India. So who decided the figure 11.5?
Off late both Pawan and Mahesh have started taking their remuneration from movie's profits instead of adding it to the budget. It is a very good initiative. But in order for them to earn more, the movies are being sold beyond reasonable amounts. This is not the case with Pawan's movies or Mahesh's movies alone. This is the case in overseas even for heroes like Nikhil, Nitin, Nani and anyone whose last film was a hit. For example, Nitin's next would definitely be sold for more than A Aa and even more than what A Aa actually made. Even though A Aa's budget might be more than his next. Same with Baahubali 2. Baahubali part 1 made the highest possible collections for a Telugu cinema and what indirectly means is that almost everyone watched that movie. So now if Baahubali 2 is sold for more than how much Baahubali 1 made in its total run, how is it even feasible to earn profits on it for the overseas distributors and exhibitors. I am pretty sure that is what will happen and the only way to make profits in that case is to increase ticket prices, which might push away some audience.
I agree that movies besides being an art form are primarily looked as a business and profits needs to be made. But this kind of model especially for overseas is questionable and the only ones making profits are the producers. Firstly there is no governing body for overseas distribution rights. Then there is no unity among distributors. If one does not accept the exorbitant price quoted by producers, the other is willing to beat him by paying it. And the actual producers does not seem to be bothered by this insanity.
If I have to come up with an idea right now, I would say overseas rights should be a percentage of movie's legally publicized budget and profits should be shared on percentage basis. The one who bids with the highest percentage for profit sharing should get the rights. That way a movie like Katamarayudu would have been sold for lesser price than AttarintikiDaaredi and if it really makes more then everyone is happy.
And before anyone can jump the gun and question my loyalties, let me just say I am a bigger PawanKalyan fan than most of you but even bigger fan of cinema and its prospects. A good cinema should be more important than the hyped up collections figures of your favorite star's movies.
–Column by Rohit (Opinions expressed are his own)
Articles that might interest you:
Ad : Teluguruchi - Learn.. Cook.. Enjoy the Tasty food