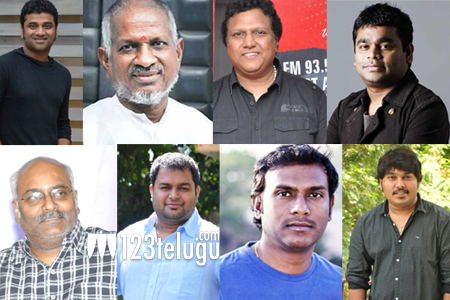 Let me ask you a question, who is the best music director of India? I know most of you would say, A R Rahman. So, let me ask you another question, who was the best music director in India before Rahman? May be not many like before but still majority of you would have thought of Ilayaraja. I have nothing but utmost respect for both of them. They are surely every bit the legends they are being called as. Now let me ask you a final question, tell me one Telugu Music Director who made his name popular all over India. My answer, at least, is none.
Yes, Devi Sri Prasad and Thaman compose in almost all the south Indian languages. M M Keeravani, though called M MKreem, in Bollywood is at least a recognizable name in Bollywood. But that's it, it stops there. And I am not even saying our Music Directors should have a name all over India. Both Rahman and Ilayaraja never intended for this fame but their talent got them all this fame. Our music directors are not any less talented.
The same DSP who made songs like KevvuKeka, LaskuTappa, etc also made songs like BommaniGeesthe, Naamanasunemeetake and latest NannakuPrematho which are nothing short of classic melodies. Similarly, Thaman has songs like ThelusaThelusa, Evayindho, Nuvve Nuvveetc to his credit in his fastest 50 career. And no one can question Keeravani with his long lasting career consisting of great classics like Raalipoyepuvva, OttesiCheppava, KalikiChilakalakoliki, JaamuRaathiri, Chukkallarachoopullara, Punyabhoominaadesam, Noraarapilichina, Galimeinaaj Chand nikhla, telusamanasa and much more.
The point I am trying to make here is that we don't have any shortage of talent but the scope for them to showcase their true potential is seldom explored in a cinema dictated by the commercial output. Telugu cinema is still an art. It has not completely turned into a commercial business yet but the first beating, in my most humble opinion, is being taken by the music scene. Besides these three giants, we have some real good talent in some new comers namely Mickey Meyers, Sai Karthik, Anup Rubens, Kalyani Malik and my personal favorite Sunny M R. All these have some very good potential to make it big but that potential is never tapped into.
Especially Mickey and Sunny could very well be the future of Telugu cinema music scene, the future that represents new age music and cinema. I would like to drop in a word or two about Sunny here that he had arranged and produced music for some huge Bollywood projects like Om Shanti om, YehJawanihaideewani, Race 2, Agent Vinod etc. But Telugu cinema is the one that made him a music director but we are still not successful in getting him the required recognition. Please listen to his albums Swamy Ra Ra, UyyalaJampala, BhaleManchiRoju, Dochay and decide for yourself.
I cannot write an article on the music scene in Telugu and not talk about the could-have-been legend Mr. Mani Sharma. His diversity in compositions in unmatched. His mass numbers too are classics like RammaChilakkamma, Lux Papa etc. And his melodies are unmatched like EndukePrayamu, Gala galapaaruthunna, Premantesuluvukaadhura, Ekanthangaunna, Nee style naakishtam and complete albums of RaavoyiChandamama and Murari. No one knows why he is in exile now. The echoes of his last classic song JaruguthunnadiJagannatakam from Krishnam VandeJagadgurum can still be felt.
All in all, there is abundant talent in Telugu cinema music scene but the lack of wiggle room our movies provide for our music directors is a major deterrent for any fame they could claim. With all due respect to the India's biggest cinema till date, Bahubali, I would like to say that all the departments got recognition for that movie except music. I don't know the reasons behind that but I would have loved to see Keeravani get recognized at the national and international level for his brilliance which he showcased in other movies like Seetaramayyagaarimanavaraalu, Alludugaaruvachaaru, Maatrudevobhava, Annmayya, Vedam, AatmaBandham etc. For me these are still his best and may be they had scope in them for his true talent.
–Column by Rohit (Opinions expressed are his own)
Articles that might interest you:
Ad : Teluguruchi - Learn.. Cook.. Enjoy the Tasty food