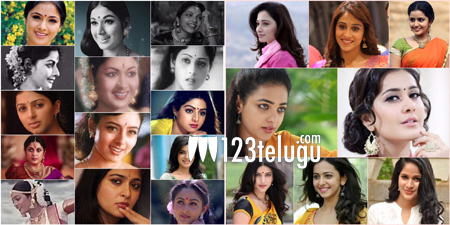 Telugu cinema has always been hero centric. There is no doubt about it, but every era and every generation had seen some iconic Heroines who proved they could stand on their own and make a movie click.
My earliest recollection of a heroine centric movie was Gunasundarikatha starring Sri Ranjani from 1949. Few years down the line an actress entered Telugu cinema, first with some minor roles, then as heroine and soon movies were written with her as central character. She then went on to become the unprecedented evergreen queen of Telugu cinema. Her name, with a prefix always before her name, still echoes in the annals of Telugu cinema as MahanatiSavitri. Her filmography is the perfect mix of different types of roles. She played a heroine, second heroine, acted in comedy, acted in socially relevant movies etc. Her movie Kanyasulkam is a bold step at the almost beginning of her career and in those days.
Then we had Bhanumathi the hero of the movies she acted in irrespective of who she acted with. Her screen presence was easily the best among the actreses, the Telugu cinema has ever seen. There have been tales of heroes being afraid to act with her because she would just eat them up with her performance. That there is a sign of a strong screen presence. And she was multi-faceted too. She was a great singer, composed songs and even directed movies. Her performances in movies like Batasari, Malliswari, Saarangadhara and Palnatiyudham are a textbook for any aspiring actresses and my favorite picks.
Vanisri came next and she lapped up many classics into her filmography to become the next undisputed queen of Telugu cinema. Her movies Secretary and Krishnaveni though had big heroes, got her more accolades.
Then came the awesome color movies and with those we had some awesome heroines glamming up the screens and given a chance impress us with their acting prowess. When I think of color movies, the first name that comes to mind is Kanchana. All our heroines are beautiful but Kanchana was drop dead gorgeous and totallty justified the shift from black and white to color cinema (Eastman color). Few years later there were three names namelyJayasudha, Jayaprada and Sridevi. This trio ruled Telugu cinema for a decade or two. Heroes acted with them, re-acted with them and audience started watching movies multiple times for them in the glammed up songs. This was the era when Telugu cinema songs became so beautiful that even Bollywood started copying us. Thanks to these three. And no they were not just eye candy, all three were and are awesome actresses. Movies like Trisulam, Anthuleni Katha, Vasanthakokila are just few examples of their talent.
When movies were shifting towards total commerciality two actresses entered Telugu cinema. One was Ramya Krishna and the other was Bhanupriya. Ramya though started off with author backed roles in Sankeerthanaetc she quickly shifted towards commercial cinema and became the next numeruno there. It was only during the latter part of her career she started doing performance oriented roles. She became the quintessential commercial heroine of Telugu cinema. She gave blockbusters with all the top heroes then. But her performances in movies like Ammoru, Ahwaanam, Annamayya and latest Baahubali became the hot topic during those movies' releases. Coming to Bhanupriya, she took the tangential path and became the preferred actress for the directors who made heroine-centric roles. Sitara, SrinivasaKalyanam, Swarnakamalam, Anveshanaetc were all movies made for her and to showcase her acting talent and dance skills.
The difference between commercial roles and performance oriented roles became quite small with the next duo, Soundarya and Simran. Because these two balanced their careers well doing both glamorous and performance oriented roles to become the top heroines of Telugu cinema until they were acting. Soundarya was the only actress, in all these years, to be compared to Savitri. She was spellbinding in Ammoru, PavitraBandham, Raja, Dongata, NinnePremista, 9Nelalu and went on to won so many awards and a huge fan following among the family audiences. Her movies were eagerly awaited by the families in those days. Simran on the other hand went onto to give the biggest blockbusters Telugu cinema has seen in the form of Samara simha Reddy, Narasimha Naidu, Kalisundamraa, NuvvuVastavani and many Tamil dubbed movies that became successful in her name.
Then came the era where new heroines came in every other Friday and vanished pretty fast. There were too many too fast. First notable name among them was Bhoomika. She is famous for giving her time's biggest blockbusters with top 3 heroes Mahesh, PawanKalyan and NTR. Then Trisha, my personal favorite. Trisha in Telugu cinema is synonymous with the village girl. She brought back the half-sarees and village centered roles into Telugu cinema. She stood next to mass heroes with huge following like Mahesh, PawanKalyan, Prabhasetc and got equal if not more accolades as them. I am counting but I think she is the one actress who acted with most number of Telugu heroes starting from Chiranjeevi to the latest Naga Chaitanya. She is seeing a new peak in her career this year in Tamil and who knows she might even act with more Telugu heroes.
This list would be incomplete without, Anushka and Samantha. Anushka started her career doing the typical Telugu cinema heroine roles but soon she could step up her game with Arundathi and there was no turning back after that. She was not just the numerouno actress but also a big star with huge following, no less than the biggest star heroes. Coming to Samantha, the blockbuster girl. She is one actress who bounced back every time after a flop with a huge blockbuster. If someone adds up the collections from all her blockbusters, that amount should be untouchable even by theBaahubali series.
One special mention for our very own Telugu actress who very selectively is making her own way in Telugu cinema, Swathi. Right from Danger to her latest Tripura and her Tamil movie Subramanyapuram, she has been choosing different roles and making a name for herself.
Lastly and definitely not the least we have the current queens ShrutiHaasan, Rashi Khanna, RakulPreet Singh, Regina, AnupamaParameswaran, LavanyaTripati, Tamannah and NityaMenen. They all are very talented ones and all are working very hard to make a name for themselves. But I would pick two names in these. One of NithyaMenen, because she is the best there is in terms acting. Her movies Mallimalliidhi rani roju, Ok Bangaram, etc just prove the abundance of talent she has. Next is Rashi Khanna. She has two major advantages over her peers which are like Rakul said in an interview, her styling and secondly her impeccable comic timing.
Here's wishing all the actresses of Telugu cinema a Happy Women's day. Even though Rakul said #NoWomen'sDay, let's make an exception for all these women who made our Telugu cinema beautiful and without whom our cinema is totally incomplete.
–Column by Rohit (Opinions expressed are his own)
Articles that might interest you:
Ad : Teluguruchi - Learn.. Cook.. Enjoy the Tasty food