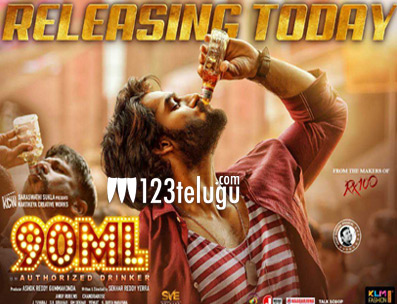 Release date : December 06, 2019
123telugu.com Rating : 2.75/5
Starring :  Kartikeya, Neha Solanki, Rao Ramesh
Director :  Sekhar Reddy Yerra
Producers :  Ashok Reddy Gummakonda
Music Director :  Anup Rubens

After a brief issue of censors, Karthikeya has brought his new film 90 ML to the theaters today. Lets see how it is.
Story:
Devadas (Karthikeya) is born with a fatal alcoholic syndrome and needs to drink 90ML liquor three times a day to survive. He falls in love with Suvasana (Neha Solanki) who hates alcohol. The twist in the tale arises when Jon Wik (Ravi Kishan) enters the love story and creates a chaos. What will Devadas do now? How will he manage his drinking problem, his lady love and the villain at the same time forms the rest of the story.
Plus Points:
Even though the comedy is very old school, it works well in the film. Ravi Kishan is very good in his role of Jon Wik and brings the house down with his comedy along with Baahubali Prabhakar and Adurs Raghu. The come episodes which come at regular interval have been designed well.
Hero Karthikeya has vastly improved when compared to his previous films. He has worked a lot on his dances and is superb in all the songs. He did his role quite well and carried the film on his shoulders. Rapper Roll Rida got a good role and did well.
Heroine Neha Solanki got a very key role and was impressive in her performance. Looks wise she is just okay but acting wise, she was impressive. Pragati did her mother's role well. The fights have been composed well.
The concept of the film is also okay. Rao Ramesh gets a key role and brings a lot of depth to the film. The first half has decent comedy and entertainment
Minus Points:
The film needs serious editing of at least 15 minutes straight. There are way too many songs and repeated break up scenes which keep coming in time and again. The fights also could have been trimmed.
One of the most biggest drawback is that the film glorifies alcoholism. The ending of the film and the manner in which drinking alcohol is quite cool is showcased in a over the top manner and could have been avoided.
Scenes wise, the film looks good but there is no proper flow. Scenes keep coming in as they wish. They are okay but have no direction at all. The format and the way the film is narrated is also old school.
Technical Aspects:
Production values of the film are pretty good. Music is impressive but too many songs spoil the fun. Editing is pathetic and so was the art direction. Dialogues are good and Karthikeya has been designed well in all the songs. Camerawork is decent and so were the fights.
Coming to the director Shekar Reddy, he has done just an okay job with the film. His concept looks interesting and he starts it off well in the first half. He evoked good comedy also but his narration is jaded in second half as scenes are repeated and ending is over the top.
Verdict:
On the whole, 90 ML is an out and out mass drama which has decent comedy. Scenes wise, the film looks good but there is no flow in the narration in the second half. The film is clearly aimed at the single screens and Karthikeya gives them enough mass elements. If you are the one who does not mind old school narration and formulaic story telling, this film is for you. Rest can have their options open.
123telugu.com Rating : 2.75/5
Reviewed by 123telugu Team
Articles that might interest you:
Ad : Teluguruchi - Learn.. Cook.. Enjoy the Tasty food