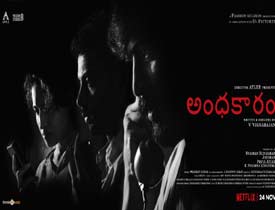 Release date : November 24th,2020
123telugu.com Rating : 2.75/5
Starring : Vinoth Kishan, Arjun Das, Pooja Ramachandran, Misha Ghoshal
Director : V. Vignarajan
Producers : Priya Atlee, Sudhan Sundaram, Jayaram, K Poorna Chandra
Editors: Sathyaraj Natarajan
DOP : A M Edwin Sakay
Music : Pradeep Kumar
Young actor Arjun Das, who shot to fame with the 2019 film, Khaidi is back with a film, titled, Andhakaaram. Touted as a mysterious thriller, the film had a direct release on Netflix today. Let's see how it is.
Story:
Andhakaaram revolves around three characters named Indran, a psychiatrist, a cricket coach Vinod and a visually challenged Suryam portrayed by Kumar Natarajan, Arjun Das, and Vinoth Kishan respectively. What is the common point that binds these three characters? What is each story's backdrop? To know the connection, you have to watch the film.
Plus Points:
The dark and realistic setup created throughout the film is decent. Some mysterious elements that happen in cricket coach, Vinod's life are executed in an impressive manner and raise curiosity on what is going to happen next.
Vinoth Kishan as a visually challenged person is too good with his part. His pain and struggle to fight the hurdles have been presented in a convincing manner. Arjun Das is okay in his lead role and his makeover for the role is good and the young actor gives a sincere attempt.
Kumar Natarajan as a psychiatrist is convincing in his given role which is a backbone for the film. Last fifteen minutes where all the suspense in the plotline reveals step by step has been handled nicely.
Minus Points:
Firstly, the film's runtime is almost three hours which is a painful thing. In general, wrapping up this kind of dark and mysterious thrillers with short and crisp screentime will make the audience get hooked but the team went ahead with long runtime which is a minus for sure.
Though Kumar Nararajan's character is good it is not designed in a convincing manner and it leaves many questions unanswered in the minds of the audience.
Arjun Das's character establishment and his phone conversation with an unknown person lacks soul in it and has no proper presentation as well. The first hour in the film will leave the audience clueless as to what is happening as the proceedings lack proper connectivity.
Technical Aspects:
Cinematography by A M Edwin Sakay is one of the main highlights as his camera work for a few slow-motion shots is impressive. He tried to bring in the dark and rustic screen atmosphere with his lens in an impressive manner. The background score by Pradeep Kumar is decent and helps a few crucial scenes to get exposed in an even better way.
Editing by Sathyaraj Natarajan is below par as he had the scope to cut short the proceedings to make the narration even more gripping but he failed with it.
Coming to the director V. Vignarajan, has come up with a different theme with his thriller and that should be appreciated but his narration has many loopholes and is quite lengthy. If he would have focused more on giving clarity on Dr. Indran's role, the overall impact on the film could have been better.
Verdict:
Overall, Andhakaaram is a thriller that should have been executed in an even better manner. Various subplots and the interlinks between key characters lack depth and leave the audience with mixed feelings. But still, the film offers a passable watch because of its suspense but one needs to be prepared for the lengthy runtime.
123telugu.com Rating : 2.75/5
Reviewed by 123telugu Team
Articles that might interest you:
Ad : Teluguruchi - Learn.. Cook.. Enjoy the Tasty food