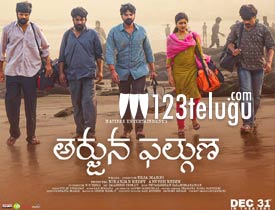 Release Date : December 31,2021
123telugu.com Rating : 2.25/5
Starring: Sree Vishnu, Amritha Aiyer, Senior Naresh, Sivaji Raja, Subba Raju, Devi Prasad, Rangasthalam Mahesh, Raj Kumar Kasireddy, Chaitanya Garikipati
Director: Teja Marni
Producers: Niranjan Reddy, Anvesh Reddy
Music Director: Priyadarshan Balasubramanian
Cinematography : Jagadeesh Cheekati
Editor: Viplav Nyshadam
Sree Vishnu is back with a new film called Arjuna Phalguna. The film is out today and let's see how it is.
Story:
Arjun(Sree Vishnu) has four close friends and can go to any extent for them. As one of his friends(Rangasthalam Mahesh) gets into neck-deep problems financially, Arjun takes a daring step and decides to become a drug peddler. He, along with his friends smuggles drugs in Araku but gets obstructed by a ruthless cop(Subba Raju). How Arjun and his friends go through hell and come out of this issue is the whole film all about.
Plus Points:
Sree Vishnu is a sincere actor and does well in a role that does not give him much scope to perform. His comic timing is good and Vishnu carries the film on his shoulders with his able performance.
Heroine Amritha Aiyer has a good screen presence and does well in her village girl's role. Rangasthalam Mahesh gets an important role and performs quite well. The other guys who played the friends were also okay.
Naresh is decent in his crucial role. A few thrills like the train chasing scene and the whole smuggling episode have been shot well. Special mention to the young music director Priyadarshan who has given solid music and BGM.
Minus Points:
Arjuna Phalguna's major disadvantage is the lack of consistency in the proceedings. Though a few thrills are good, the rest are rushed and over the top. The logic goes for a toss and things happen so easily for the hero.
The so-called emotions do not work and the film has many issues in the first half. The director wastes so much time establishing the story and the twist comes only during the interval time. Also, the so-called comedy and romance do not work.
The characters that are chosen, do well but their characters are not etched properly in the narrative and that is the reason they look weak throughout the film. Just to create several twists, the director Teja has extended the story and made the film dull in many areas.
Technical Aspects:
As said earlier, the music and BGM are quite good. The dialogues featuring the Godavari slang are also good. Editing is worse as so many scenes could have been edited in the first half. The production values of the film are very good.
Coming to the director Teja Marni, he has done a disappointing job with the film. His narration is forced and the emotions go for a toss. The manner in which he extracts the performances is good but his overall attempt is quite disappointing, to say the least.
Verdict:
On the whole, Arjuna Phalguna is a silly and over-the-top crime drama that fails to entertain. The slow pace and logicless narration make this film a boring watch. Except for Sree Vishnu's sincere performance, this film has nothing much to offer.
123telugu.com Rating: 2.25/5
Reviewed by 123telugu Team
Articles that might interest you:
Ad : Teluguruchi - Learn.. Cook.. Enjoy the Tasty food