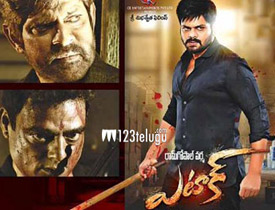 Release date : April 1st, 2016
123telugu.com Rating : 2.5/5
Director : Ram Gopal Varma
Producer : Sweta lana, Varun, Teja, C. V. Rao
Music Director : Ravi Shankar
Starring : Manchu Manoj, Surabhi

Maverick film maker, RGV is back with yet another hard hitting drama Attack. The film which stars Manchu Manoj, Jagapathi Babu and Prakash Raj has hit the screens today. Let's see how it is.
Story:-
The story of the film is quite simple and is based on the assassination of a powerful businessman named Guru Raj(Prakash Raj). This incident upsets Guru Raj's elder son Kali(Jagapathi Babu) and he decides to take revenge on his father's killers.
But twist in the tale arises when he too gets killed like his father. Left with no choice, Guru Raj's third son, Radha(Manoj) takes up things in his hands and decides an counter attack.
Rest of the story is as to how Radha manages to take his revenge and where does Guru Raj's second son(Vadde Naveen) feature in this entire set up.
Plus Points:-
Even though the story idea is ages old, the way it has been set up in the backdrop of old city is pretty good. As in all RGV films, camera work is superb. Especially, all the arial shots which showcase old city have been shot exceptionally well.
Prakash Raj is decent in his cameo but it is Manchu Manoj who is the savior of the film. He becomes quite active post interval and does a decent job in his role. Manoj's get up and gritty look during the climax suits his character well.
Jagapathi Babu is also ok in his brief role. Vadde Naveen makes a good comeback in a very important role and performs supremely well. The assassination of Prakash Raj has been shot in an gritty manner and sets the film well during the start.
Minus Points:-
One of the biggest drawbacks of Attack is the lack of clarity. It takes a lot of time to understand who is behind the revenge drama and which character does what. RGV, who showcases his bad guys with utmost clarity and detail, leaves the thread open and confuses the audience with too many characters.
Even the actor that he chose as the villain, Abhimanyu Singh looks silly and repetitive in his role. Poonam Kaur looks weird and over the top in her loud character. Surabhi's role is quite limited as she is wasted in the film.
Climax of the film has been stretched to umpteen lengths for no reason. The last five minutes feel like half an hour as RGV goes into way too much detail to wrap up things.
Technical Aspects:-
As said earlier, camera work is top notch as the crime backdrop has been showcased well. Even though the film is under 2 hours, a number of scenes could have been easily edited. Screenplay is yet another disaster as it confuses the audience with too many characters entering the scene.
Coming to RGV, like always, his story idea and selection of stars is apt. But the way he drags things without reason and executes major scenes without any conviction and clarity leaves a lot to be desired.
Verdict:-
On the whole, Attack is yet another attempt from RGV which goes wayward. RGV himself needs to be blamed as he dragged a simple story line and made it quite confusing for the audience. Except for Manchu Manoj's sincere efforts, this film has nothing much to offer and can only be given a shot if you have absolutely nothing to do.
123telugu.com Rating : 2.5/5
Reviewed by 123telugu Team
Articles that might interest you:
Ad : Teluguruchi - Learn.. Cook.. Enjoy the Tasty food