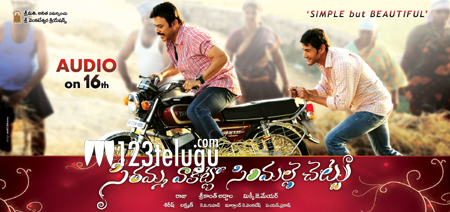 The audio album of the eagerly awaited film 'Seethamma Vakitlo Sirimalle Chettu' has been released yesterday evening in a very traditional manner. The audio album has been composed by Mickey J Meyer and some of the songs have already caught the attention of movie lovers. Victory Venkatesh and Superstar Mahesh Babu will be seen as brothers in this film, so the songs have been evenly divided between them. Let us see if this album can live up to the expectations.
1, Song: Seethamma Vakitlo
Singers: Chitra
Lyrics : Anantha Sriram

Anantha Sriram, Mickey J Meyer and Chitra deserve a standing ovation for this number. They have joined forces to come up with a wonderful melody that will end up as an evergreen Telugu classic. Chitra's voice has a certain ethereal quality and she uses that to full effect in this song. Anantha Sriram's lyrics are wonderfully poetic. Mickey has come up with his career best composition for this song and his musical score makes superb use of native Telugu sounds and instruments. It is very traditional and soothing. Brilliant!
2.Song: Yem Cheddam
Singers: Ranjith, Sreeramchandra , Karthik
Lyrics: Sirivennela

This is a fast paced number that will be used to introduce the characters of Venkatesh and Mahesh Babu in the movie. Sirivennela Seetharama Sastry's lyrics are good and are in keeping with the theme of an 'entry' song. Ranjith, Sri Ramchandra and Karthik have rendered the number with good energy levels. Music is peppy and the song has a modern feel to it. The song will take some time to grow on you.
3.Song: Aaraduguluntaada
Singers: Kalyani
Lyrics: Anantha Sriram

This is another brilliant number from the album. 'Aaraduguluntaada' makes a superb impression instantly and the song will be shot on Samantha as she visualizes Mahesh Babu. Kalyani has done a superb job with the vocals here and the subtle inflections in her tone elevate the song to a new level. Anantha Sriram's lyrics are very effective and when coupled with Samantha's terrific expressions, this song will create a sensation among students and young adults. Mickey has given a very melodious soundtrack for this number, making this an instant winner.
4.Song: Inka Cheppaale
Singers: Rahul Nambiar, Shwetha Pandit
Lyrics: Anantha Sriram

'Inka Cheppaale' is a romantic duet that has been rendered well by Rahul Nambiar and Shwetha Pandit. Lyrics are just about ok. This number will be shot on Mahesh Babu and Samantha, so expect colourful visuals. Percussion instruments and the synthesizer dominate the soundtrack. Overall, this is a breezy number that is decent to listen to.
5.Song: Meghallo
Singers: Karthik, Sreeramachandra
Lyrics: Sirivennela
This is a wedding song that has been written by Sirivennela Seetharama Sastry. We can assume that this number will be shot on Venkatesh and Mahesh Babu's sister in the movie. Karthik and Sreeramachandra have done a good job with the vocals. Mickey's music is apt for the setting of the song, with a lot of native Telugu sounds. Overall, this is a good number to listen to.
6. Song: Vaana Chinukulu
Singer : Karthik, Anjana Soumya
Lyrics : Anantha Sriram

This is a peppy duet that has a typical Telugu film song flavour. Karthik and Anjana Soumya have rendered this number well and with good energy. As per the buzz, this number will be shot on Venkatesh and Anjali. Anantha Sriram's lyrics are ok and do the job. Mickey has given the song a nicely rustic tune and traditional instruments have been utilized well. This song will catch on well with the masses.
7. Song: Maree Anthaga
Singer : Sreeramachandra
Lyrics : Sirivennela

This is a solo number that has been rendered by Sreeramachandra. The lyrics indicate that the song will be used by the hero to pacify his upset and grief stricken wife/lady love, so we can assume it will be shot on Venkatesh and Anjali. Sirivennela's lyrics are very nice. Music is very pleasant and the song will make a good impression instantly. Married couples will connect well with this number.
Verdict :
The audio album of 'Seethamma Vakitlo Sirimalle Chettu' is a melodious treat for Telugu film lovers. In keeping with the film's theme, the songs have a very fresh and soothing quality about them. The album has succeeded in increasing the expectations on this eagerly awaited film. The title track "Seethamma Vakitlo" and Samantha's "Araduguluntaada" will be instant chart busters. "Inka Cheppaale", "Mari Antaga" and "Vaana Chinikulu" will prove to be popular melodies as well. Good job Mickey!
Reviewed by Mahesh S Koneru
Articles that might interest you:
Ad : Teluguruchi - Learn.. Cook.. Enjoy the Tasty food