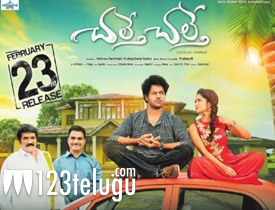 Release date : February 23, 2018
123telugu.com Rating : 2/5
Starring : Vishwadev Rachakonda, Priyanka Jain
Director : Pradeep KK
Producers : Srinivasa Rao Potluri, Pradeep Kumar Koneru
Music Director : Pradeep KK
Cinematographer : D. R. Venkat
Editor : Upendra
Continuing with the trend of low budget films, yet another film which has hit the screens today is Chalte Chalte. Let's see how it is.
Story:
Santhosh(Vishwadev Rachakonda) is a taxi driver who meets Shruthi(Priyanka Jain) during one of his journey's. The pair falls in love with each other and even their parents say yes to their love story. As time passes by, Shruthi starts hating Santhosh all of a sudden. Why does she hate Santhosh? do the couple get back together? To know the answers, you need to watch the film on the big screen.
Plus Points:
This is Vishwadev's second movie, the first being Pittagoda. He has evolved as an actor and came up with a matured performance when compared to his previous movie. Rao Ramesh is great as hero's father and the dialogues mouthed by him offer some life lessons.
The interval bang stands as the highlight of the movie. A few scenes featuring the lead pair were executed well in the second half. The director did a good job in showing the difference between love and marriage. The emotional bonding between the father and son is portrayed well. A few scenes between Rao Ramesh and Sayaji Shinde give emotional depth to the movie.
Minus Points:
The love track between the lead pair looks dull and offers nothing new. The story of the movie is pretty routine as it runs on the tried and tested formula. The fights between the lead pair, their breakup, they coming together at the end, stuff like this is seen in every other movie these days.
The movie lacks certain emotions which is essential while showcasing a love story. The music score for this movie is unimpressive and that affects the movie further. Predictable storyline and routine screenplay damage the pace of the movie. The dialogues are okay in parts but do not create any impact for major portions of the movie.
Technical Aspects:
The production values are good and the visuals look rich. A few unwanted scenes in the first half should have been edited for a decent output. Cinematographer Venkat does a fine job behind the camera. Pradeep KK took up the directional and musical duties for this movie. He does a fine job with the background score but his directional work is below par. His narration lacks focus as all his scenes do not give the film much depth making it difficult for the audience.
Verdict:
On the whole, Chalte Chalte offers nothing new for the audience. A routine love story and badly written comedy may not appeal to major sections of the audience. Apart from a few emotional scenes in the second half, this movie fails to create any sort of impact and ends up as a skippable fare this weekend.
123telugu.com Rating : 2/5
Reviewed by 123telugu Team
Articles that might interest you:
Ad : Teluguruchi - Learn.. Cook.. Enjoy the Tasty food
TAGS:
Chalte Chalte Cinema Review
,
Chalte Chalte Film Review
,
Chalte Chalte Movie Review
,
Chalte Chalte Movie Review in Telugu
,
Chalte Chalte Review
,
Chalte Chalte Review and Rating
,
Chalte Chalte Telugu Cinema Review
,
Chalte Chalte Telugu Movie Review
,
Chalte Chalte Telugu Movie Review and Rating
,
Chalte Chalte Telugu Review
,
Chalte Chalte telugu Review and Rating
,
Vishwadev Rachakonda Chalte Chalte Telugu Movie Review