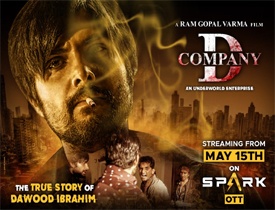 Release date : May 15,2021
123telugu.com Rating : 2.75/5
Starring : Ashwat Kanth, Rudr Kant, Naina Ganguly, Irra Mor
Director : Ram Gopal Varma
Producer : Sagar Machanuru
Music Director : Paul Praveen
Cinematography : V. Malharbhat Joshi
Editor : Sanga Pratap Kumar (Bobby)
RGV is making back-to-back films and his latest presentation is D Company. The film is now out on the brand new Spark OTT and let's see how it is.
Story:
D Company showcases the rise of Dawood Ibrahim(Ashwat Kanth) from a small-time goon to a local don in Mumbai. The story is about how Dawood worked under his brother Shabir Ibrahim and eliminated some of the big heads of Mumbai and become a famous name in the crime world.
Plus Points:
Firstly, the film is a far better film than RGV's latest films that are coming out on OTT's. He does not add many gimmicks and narrates the story of Dawood in a simple manner.
Ashwat Kanth who plays Dawood looks lost initially but from the halfway mark, he makes some sense and acts well in the last 15 minutes. Rocky Mahajan, who plays Samad Khan is pretty good.
The manner in which Dawood's brother is killed has been showcased well by RGV. The detailing and the local issues have been showcased well. The real-life references of so many noted dons and their lives are good.
Minus Points:
RGV is a director who has worked with the likes of Amitabh Bachchan. But these days, in all his films, he is working with B Grade actors. The main aspect that comes to your mind is why in the world has RGV not taken some noted faces when he is making a film on Dawood.
Some popular actors would have made a world of difference to this film. Some of the noted dons are played by B-grade actors and this gives the film a dull look. D Company has too much voice-over. Until the first 15 minutes, you have to bear RGV's loud voice over and the icing on the cake is his singing.
Also, there is nothing new or novel that RGV showcases in this film. All the scenes of gang wars are routine and have been showcased in RGV's films already.
Technical Aspects:
It has been a long time since we have seen decent camera work in RGV films and thankfully, in D Company, the visuals are good. But some of the dubbing done for key actors is very bad. The BGM needs a special mention as the film is elevated in many areas with a good score. The runtime is good and so was the production design showcasing Mumbai.
Coming to RGV, he made sense with this film as he showcased his old spark in a few scenes and raised a curiosity level. RGV was known for his solid casting but here in D company, he uses new and dull actors who do not help the film and make RGV's efforts look dull.
Verdict:
On the whole, D Company is all about the backstory of Dawood Ibrahim before he became a famous don. The film has some good visuals and a few gangster-based scenes are well executed. But the routine story and lack of gripping elements will bore the audience in a few areas. The film is better than RGV' previous duds and can be given a shot if you are a fan of his gangster style of dramas.
123telugu.com Rating : 2.75/5
Reviewed by 123telugu Team
Articles that might interest you:
Ad : Teluguruchi - Learn.. Cook.. Enjoy the Tasty food