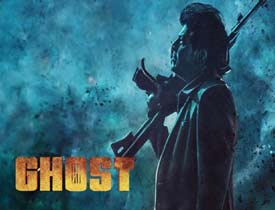 Release Date : November 04, 2023
123telugu.com Rating : 2.5/5
Starring: Shiva Rajkumar, Anupam Kher, Jayaram, Prashanth Narayanan, Archana Jois, and Satya Prakash
Director: MG Srinivas
Producer: Sandesh Nagaraj
Music Director: Arjun Janya
Cinematographer: Mahendra Simha
Editor: Deepu S Kumar
Related Links : Trailer
Recently released Kannada superhit, Ghost, featuring Shiva Rajkumar in the lead role, has made its way into the Telugu market. Read our review to know how the movie is.
Story:
An anonymous person named Big Daddy (Shiva Rajkumar), and his gang execute a daring takeover of a central jail in Karnataka, taking both inmates and former CBI officer Vamana Srinivasan (Prashanth Narayanan) as hostages. The government assigns ACP Charan Raj to resolve the situation and secure the release of the ex-CBI officer. To unravel the mysteries surrounding Big Daddy's identity, motives, and the eventual outcome, one must watch this film.
Plus Points:
The plot maintains a high level of intrigue in the first half, with the director adeptly holding the audience's attention. The narrative moves at a speedy pace, accompanied by well-composed action sequences.
Shiva Rajkumar delivers a commendable performance in a role that relies on minimal dialogue, perfectly complementing his charismatic style.
Jayaram's portrayal of Charan Raj fits his role satisfactorily, with several scenes enhanced by a powerful musical score.
Minus Points:
While the story and screenplay are relatively strong in the first half, the second half encounters challenges in maintaining the same level of engagement. The director struggles to sustain interest, leading to a sense of over-extension in the latter part of the film.
The movie features several extravagant scenes that may occasionally leave the audience questioning their realism.
Specific sequences, particularly in the second half, could benefit from more impactful dialogues. Some moments may evoke nostalgia for older films, and the flashback episode lacks the impact of a well-constructed backstory for the central character.
Dubbing issues stand out as a significant concern, with the Telugu voiceovers not seamlessly matching the actors. It's even surprising to note that Jayaram's on-screen voice and inner monologue have distinct voices.
The character portrayed by Archana Jois contributes little to the film, and the presence of unfamiliar characters may hamper the connection with the Telugu audience.
Technical Aspects:
While the director introduces an engaging plot, the film struggles to maintain that level of engagement. A more robust screenplay could have elevated Ghost to a higher level of success.
Arjun Janya's music adds to the film's appeal, enriching the overall experience. Mahendra Simha's cinematography meets the required standards, but the film's editor, Deepu, could have made more judicious cuts in the second half to create a smoother viewing experience. The dubbing is bad.
Verdict:
On the whole, Ghost is a mediocre heist action drama. While it has its moments with an interesting first half, decent action scenes, and Shiva Rajkumar's solid screen presence, the film struggles in the second half, along with an excess of over-the-top moments, ultimately positioning it as a mediocre offering. It caters to action enthusiasts but falls short of delivering an exceptional cinematic experience for a wider audience.
123telugu.com Rating: 2.5/5
Reviewed by 123telugu Team
Articles that might interest you:
Ad : Teluguruchi - Learn.. Cook.. Enjoy the Tasty food