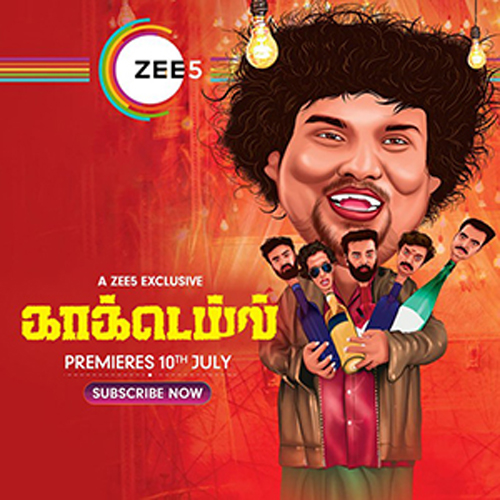 Cast : Yogi Babu, Mithun Maheswaran, KPY Bala, Sayaji Shinde
Directed by: Ra.Vijaya Murugan
Produced by: P. G. Muthiah, M Deepa
Cinematography by: R. J. Raveen
Editing by: S.N. Fazil
So, continuing the series of reviewing movies and shows during the lockdown period, our today's pick is the Tamil film Cocktail which has star comedian Yogi Babu in a lead role. The film is available on Zee5 and let's see how it is.
What's it about
Four close friends, headed by Don(Yogi Babu) have a solid drink party at their friend's house and pass out. They wake the next morning only to find the dead body of a girl in the room. Meanwhile, in another case, an idol is lost and a sincere cop, Raja Manicken(Sayaji Shinde) is after the criminals. The two stories get connected after a point and create more panic. Who is this girl that has been killed? What's this idol theft all about? and how do Don and his gang save themselves? Does that form the rest of the story?
What's good?
Yogi Babu delivers what he is expected of in the film. He is good in his role and carries the film on his shoulders. His one-liners are pretty good. Sayaji Shinde is also neat as the cop. The film starts off an interesting note and the plot is set up well. Also, the thought of the crime angle is also set well in the story. A few situational comedy scenes in very tense serious moments have been thought of well by the director.
What's bad?
The film is a rip off of several films like Hangover and has a similar story of young guys getting into trouble without their knowledge. Even though the story idea is good and has set up well in the Tamil nativity, the narration goes for a toss. There is no seriousness in the proceedings as things are showcased in an over the top manner.
For the most part of the film, things are shown in a way how the guys are escaping the scenario rather than showing what is going on and what's the whole issue. The climax is silly and the director has used scenes from many films to make a film and narrated it in a silly manner.
Final Word
Overall, Cocktail is a rip off from several English and Hindi crime comedies and faulters in its narration. Yogi Babu tries hard to bring a fun factor with his situational comedy but the film is over the top and bores you completely ending as a tedious watch during this lockdown..
Rating: 2/5
Articles that might interest you:
Ad : Teluguruchi - Learn.. Cook.. Enjoy the Tasty food