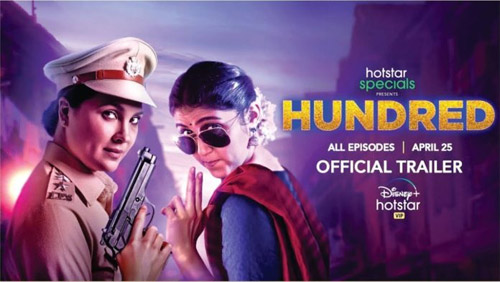 Starring : Lara Dutta Bhupathi, Rinku Mahadeo Rajguru, Karan Wahi, Taher Shabbir, Sudhanshu Pandey
Director : Ruchi Narain and Ashutosh Shah
Producers : Ruchi Narain, Ashutosh Shah, Shabbir
So, continuing the series of reviewing movies and suggesting shows during the lockdown period, our today's pick is the latest web series Hundred starring Lara Dutta. The action-comedy is available on Disney Hotstar.
What's it about?
Nethra(Rinku Rajguru) is a young girl who is pressurized by all the typical family problems that a middle-class girl has. If this was not enough, she is diagnosed with a brain tumor, and doctors say Nethra cannot live more than 100 days. On the other hand, is ACP Saumya(Lara Dutta) who is not taken seriously at her job irrespective or her post. One fine day, upset with her life, Nethra tries to commit suicide and Saumya saves her. They discuss life and find out that their lives are alike and Samyukta manages to convince Nethra to have an aim in life and join her in her mission to nab criminals who are a bad disease to society.
What's Good?
The casting of the web series is spot on as it was good to see Lara Dutta make a comeback. She is solid as the selfish cop and the comedy angle in her character is also good. But it is Rinku Rajguru who is the best part of this web series. She as an in confident girl does pretty well and is a treat to watch.
After a long time, Parmeet Sethi gets a good role as Lara's boss and he does well. The handsome looking Karan Wahi gets a dark role as a rapper and he also does the best. The women empowerment angle is also good in the series. Rohini Hattangadi, who plays a modern-ma-in-law is cute.
The initial two episodes of the web series establish the key characters nicely and the later two episodes also give a good idea about the plot and setting. The humor angle has been established well through the web series. The BGM, dialogues, and camera work look top-notch and give this web series a great look. The series is ended well with a lead to the season 2.
What's Bad
The concept of the web series has nothing new to showcase at all as such a theme has been tried in many films before. There are many scenes where logic goes for a toss. The comradery between the two ladies and how they want to break free is highlighted well but in all this, the narration gets disappointing in the middle episodes and things get boring. There are some emotions that look forced especially in Lara Datta's character which is not justified properly as it has many fluctuations.
Final Word
Overall, Hundred is a web series that is slightly funny, encourages women empowerment, and has good performances by the lead cast. The proceedings are clean so that everyone can watch it but the predictable nature of the story and some over the top scenes are a bit of a letdown. Barring that, this web series ends up an okay watch if you nothing else to do this lockdown.
123telugu.com Rating : 3/5
Articles that might interest you:
Ad : Teluguruchi - Learn.. Cook.. Enjoy the Tasty food